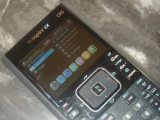 Ce week-end, nous fêtons le grand retour de Ndless sur TI-Nspire avec enfin une version compatible avec l'OS 3.6 !

Plus aucun besoin de chercher à downgrader en 3.1 désormais, puisque Ndless 3.6 marche sur les dernières OS TI-Nspire en date, aussi bien 3.6.0.546 que 3.6.0.550.

La procédure d'installation est différente de celle de Ndless 3.1, puisque les failles utilisées sont bien évidemment différentes.
Tutorial d'installation :
viewtopic.php?f=57&t=14087
En gros, il vous faudra:
envoyer les fichiers 'ndless-installer.tns' et 'ndless-ressources_36.tns' dans un dossier 'ndless' au 1er niveau de la calculatrice
sur la calculatrice, ouvrir le fichier 'ndless-installer.tns' et appuyer sur
Notons que contrairement à Ndless 3.1, Ndless 3.6 est désactivé par tout redémarrage de la calculatrice.
Mais en contrepartie, une fois les fichiers envoyés vous n'avez plus besoin d'ordinateur pour l'installer et il vous suffira donc de reproduire le dernier point ci-dessus après chaque redémarrage.

This weekend, we celebrate the return of Ndless on the TI-Nspire, with finally a version compatible with OS 3.6!

There is no longer any need to try to downgrade now, since Ndless 3.6 runs on the latest TI-Nspire OS to date : 3.6.0.546 as well as 3.6.0.550.

The installation process is different from that of Ndless 3.1, since the exploits used are obviously different.
Installation tutorial :
viewtopic.php?f=57&t=14087&lang=en
In short, you will need to:
from the computer, send the files 'ndless_installer.tns' and 'ndless_ressources_36.tns' into a 'ndless' folder at the user-accessible root level of the calculator

(directly in 'My Documents')

.
on the calculator, open the file 'ndless_installer.tns' and press:
Note that unlike Ndless 3.1, Ndless 3.6 is disabled by any restart of the calculator.
But in return, once you've transfered those files to your calculator, you will no longer need a computer to install it again - you can only just repeat the last step above

Les programmes Ndless 3.1 ne comportant pas d'adresse de routine en dur dans leur code, c'est-à-dire la plupart, fonctionneront sans aucun problème sur Ndless 3.6 sans aucune modification.

C'est notamment le cas de nDoom et des émulateurs Nintendo, entre autres.
Quelques autres programmes Ndless 3.1 (plus rares ou non) ont été mis à jour avec une compatibilité pour Ndless 3.6 et fonctionneront désormais indifféremment avec les deux versions :

The Ndless 3.1 programs that do not contain hardcoded routines address in their code, which is most, will work seamlessly on Ndless 3.6 without modification.

This is particularly the case of nDoom and Nintendo emulators, among others.
Some other Ndless 3.1 programs (rarer or not) have been updated for compatibility with Ndless 3.6 and now work interchangeably with both versions

polydumper 4.0

(critor)

nsNandMgr 2.0

(critor)

mViewer CX 4.3

(critor)

Pour extraire les éléments
nécessaires à l'émulation légale d'une Nspire

Extract needed files to emulate your TI-Nspire

Le couteau suisse de la mémoire
Flash-NAND sur TI-Nspire

Swiss-knife for the Flash-NAND of the TI-Nspire

Le célèbre lecteur d'images

Image reader for

PNG, JPG, GIF
nClock

(Levak)

nProtect

(Excale)

Pour afficher l'heure,
mais est aussi une horloge multifonctions

Display time and much more

Pour protéger l'explorateur de fichiers de la Nspire
de certaines visites indiscrètes

Protect you Nspire filesystem from unwanted visits
Certains programmes n'ont plus de raison d'être en 3.6 et ont simplement été mis à jour pour ne rien faire si ils le détectent et donc éviter de faire des bêtises:
Some programs aren't "appropriate" anymore on OS 3.6, so they've been updated to simply "not do anything" if 3.6 is detected, so that costly mistakes are avoided.
nTNOC

(critor)

nPatch

(critor)

Supprime des fichiers inutiles pour gagner de la mémoire
Corrige un bug au niveau de la taille de l'OS avec Ndless
D'autres programmes Ndless 3.1 plus rares et/ou mineurs n'ont hélas pas (encore) pu être mis à jour par leur auteur avec la compatibilité Ndless 3.6, et vous devez donc pour le moment les éviter avec ce dernier:
Other rarer and / or minor Ndless 3.1 programs have unfortunately not (yet) been updated by their author with Ndless 3.6 compatibility, so you need to avoid them so far :
Merci Extended (et autres), et Enjoy

Thanks Extended (and others), and Enjoy