Nover 3 (overclock automatique pour tous)
File hierarchy
Downloads
Uploaded files
(

13976

)
TI-Nspire
(2456)

---

Utilitaires
(346)
Screenshot
Aperçu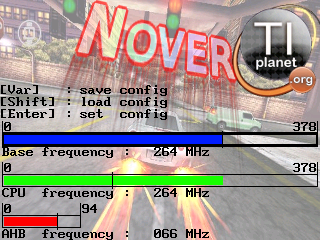 Informations
Auteur

Author

:
Xavier Andréani
Type :
Assembleur nécessitant un kernel
Taille

Size

:
860.79
Ko
KB
Mis en ligne

Uploaded

:
12/08/2013 - 22:43:15
Mis à jour

Updated

:
24/12/2020 - 00:19:29
Uploadeur

Uploader

:
critor
(
Profil
)
Téléchargements

Downloads

:
8762
Visibilité

Visibility

:
Archive
publique
Shortlink

:
http://ti-pla.net/a19595
Description
Programme d'overclocking.

Permet de monter le processeur des TI-Nspire classiques de 120 à 150MHz en faisant plus qu'en doubler la vitesse!!!

Permet de monter le processeur des TI-Nspire CX/CM de 132 à autour de 200-240MHz!!!



Installation:
Envoyez nover.tns dans /ndless/startup et redémarrez la calculatrice.
Elle recherche alors automatiquement votre meilleur overclock possible. Pendant cette recherche qui n'a lieu qu'à l'installation, la calculatrice peut redémarrer ou se bloquer. C'est totalement normal en tant que vérification de la stabilité - il vous suffit de la redémarrer dans ce dernier cas pour que l'installation continue. Une fois de retour à l'écran d'accueil de l'OS ainsi qu'à tous les redémarrages suivants, vous disposerez d'une calculatrice accélérée.

Send nover.tns in /ndless/startup and restart your calculator. It will then automatically look for your best possible overclock. During this process which is only performed upon installation, the calculator may reboot or freeze. This is perfectly normal, being a part of the stability check - just reboot your calculator and the process will go on. Once back at the OS home screen and after each further reboot, you'll be able to benefit from the overclocked speed.



Programme dangereux sur TI-Nspire CX/CM si mal utilisé! Soyez sûr d'avoir bien lu et compris le "readme"!
Archive contents
Contenu de l'archive
Action(s)

Size

Taille

File

Fichier

18.00

Ko

KB

nover/license-gplv2-en.txt
21.94

Ko

KB

nover/license-gplv2-fr.txt
6.98

Ko

KB

nover/lisezmoi.txt
272.63

Ko

KB

nover/nover.tns
6.16

Ko

KB

nover/readme.txt
13.94

Ko

KB

nover/sources/charmap.h
1.67

Ko

KB

nover/sources/console.c
458

octets

bytes

nover/sources/console.h
2.47

Ko

KB

nover/sources/console.o
952

octets

bytes

nover/sources/Makefile
3.24

Ko

KB

nover/sources/nand.c
2.22

Ko

KB

nover/sources/nand.h
2.21

Ko

KB

nover/sources/nand.o
16.16

Ko

KB

nover/sources/nover.c
387.48

Ko

KB

nover/sources/nover.elf
15.14

Ko

KB

nover/sources/nover.o
272.63

Ko

KB

nover/sources/nover.tns
6.90

Ko

KB

nover/sources/screen.c
594

octets

bytes

nover/sources/screen.h
8.21

Ko

KB

nover/sources/screen.o
1.54

Mo

MB

nover/sources/s_screen.c
150.70

Ko

KB

nover/sources/s_screen.o
1.30

Ko

KB

nover/sources/tools.c
302

octets

bytes

nover/sources/tools.h
1.48

Ko

KB

nover/sources/tools.o
News articles referring to this archive
News mentionnant cette archive