Après le 1er dumping d'un OS
TI-Nspire CAS+
en
mai 2012
nous continuons ce soir avec un nouveau grand événement dans l'histoire de ces modèles: le tout premier dumping d'un Boot1 TI-Nspire CAS+, réalisé par mes soins et avec l'aide de Goplat enfin de retour parmi nous!

Il s'agit du Boot1 du prototype TI-Nspire CAS+ P1-EVT2 prêté depuis des mois par le musée Datamath.org
(et qu'il va bien falloir rendre un jour

)
et sur lequel tourne l'OS 1.0.1.0.334T.
La méthode utilisée utilise la console DataLight RS232. Cette console étant désativée sur les modèles ultérieurs, il nous faudra trouver une autre méthode.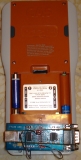 C'est donc ce même Boot1 qui lors du démarrage de ce prototype nous accueille en affichant
"Texas Instruments"
au lieu de
"TI-Nspire"
: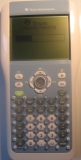 En voici pour vous un petit aperçu!


Il fait bien 512Ko comme sur les TI-Nspire ClickPad de 2007.
Comme déjà vu dans le bootlog RS232 de ce prototype, le Boot1, nommé
"Boot Loader Stage 1"
, n'a pas de numéro de version et est simplement identifié par sa date de compilation: 27 février 2006.
On notera que la fréquence processeur de 78MHz est en fait codée en dur dans le Boot1.
On remarquera aussi que ce Boot1 confirme la possibilité de lancer un logiciel de diagnostics, bien que sa présence n'ai jusqu'à présent jamais été confirmée sur aucune CAS+.
Maintenant qu'un premier Boot1 TI-Nspire CAS+ a enfin été dumpé, les choses sérieuses vont enfin pouvoir commencer sur ce modèle, puisque contrairement au fichier d'OS, le fichier du Boot1 est censé être directement exécutable par le processeur OMAP!

Le développement d'un émulateur, la recherche de failles qui pourraient avoir été conservées dans les versions ultérieures, et le développement d'un kernel pour exécuter du code assembleur sont enfin d'actualité sur TI-Nspire CAS+!

A suivre...

After performing the 1st dump of a TI-Nspire CAS+ OS in
may 2012
, today is another great day!
The 2nd greatest event in TI-Nspire CAS+ history has just occured: the first dumping of a TI-Nspire CAS+ Boot1, performed by myself with Goplat's help!
The Boot1 is the one coming with the P1-EVT2 CAS+ prototype I've had on loan from datamath .org for months/years, which was running OS 1.0.1.0.334T.
The method uses the RS232 console Datalight. This console is disabled on later models, so we'll need to find another method.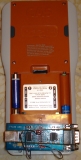 It's this Boot1 which is showing us
"Texas Instruments"
instead of
"TI-Nspire"
when booting on this prototype.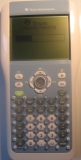 The Boot1 is stored in a 512KB Flash NOR ROM, like on later TI-Nspire:

As already seen in the RS232 bootlog from this prototype, the Boot1 is named
"Boot Loader Stage 1"
and has no version number - it is simply identified by its build date: 27 February 2006.
Note that the CPU frequency of 78MHz is actually hard-coded into the Boot1.
Note also that Boot1 confirms the possibility of launching a diagnostics software, although its presence have never been confirmed so far on any CAS+.
Now that the first boot1 TI-Nspire CAS+ has finally been dumped, let's go on!

archives_voir.php?id=8757