Bien qu'elle ne soit pas distribuée via le site de Texas Instruments qui en est toujours à la version 3.9.0.463 du 2 juin 2014, l'on vient de nous signaler que les TI-Nspire CX neuves achetées cette année peuvent venir avec une version d'OS plus récente, la
3.9.1.38
.
Even though it's not distributed through TI's site, which remains at version 3.9.0.463 dated June 2nd, 2014, we've just been made aware that brand-new Nspire CX calculators bought this year can be equipped with a newer OS version,
3.9.1.38
.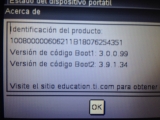 Ce nouvel OS viendrait de plus avec une nouvelle version du Boot2, la 3.9.1.34.
This new OS would also come with a new Boot2 version, 3.9.1.34.
Les premiers éléments qui nous ont été communiqués indiqueraient :
que notre utilitaire DowngradeFix 3.9 ne fonctionne pas sur cette version
qu'il est interdit de réinstaller les versions 3.9.0 à partir de cette version
The first pieces of information that were given to us indicate that:
our DowngradeFix 3.9 utility doesn't work on that version
downgrading to 3.9.0.463 from 3.9.1.38 is forbidden
En conséquence, il n'est à ce jour pas possible de downgrader les TI-Nspire CX en version d'OS 3.9.1, et par extension tout aussi impossible d'y bénéficier de la puissance de Ndless

As a consequence, to date, downgrading TI-Nspire CX calculators from OS version 3.9.1.38 is impossible, and therefore, taking advantage of Ndless' power is impossible as well

Toutefois, le délai de 17 jours depuis la publication de DowngradeFix 3.9 nous semble beaucoup trop court pour qu'il s'agisse d'une parade officielle à DowngradeFix 3.9, surtout que la version se trouve apparemment ici sur des TI-Nspire CX neuves qui ont été produites il y a un certain temps...
However, the fact that it's been only 17 days since DowngradeFix 3.9 was published, seems way too short to us for this 3.9.1.38 OS to be an official counter-measure to DowngradeFix 3.9, all the more the brand-new Nspire CX calculators running 3.9.1.38 that were mentioned to us seem to have been manufactured a while ago...
On pourrait espérer, à priori, que la faille n'est pas corrigée dans cette version, et qu'une correction d'adresses suffira à y faire fonctionner DowngradeFix 3.9

We could hope that this version still has a hole, and that fixing addresses embedded into the exploit would be enough to make DowngradeFix 3.9 work

Cependant, pour confirmer ou infirmer cela, il faut commencer par récupérer, d'une façon ou d'une autre, une image de cet OS 3.9.1, puisqu'il n'est pas diffusé sur le site officiel de Texas Insturments. Par conséquent, faites-vous connaître si vous êtes un des "chanceux" propriétaires d'une calculatrice équipée de cette version d'OS

However, in order to confirm or infirm this, the first thing to do is to somehow retrieve a copy of that new 3.9.1 OS version, since it's not provided by TI's official site. Therefore, notify us if you're one of the "lucky" owners of calculators running such an OS version

En vous remerciant.
Thanks in advance.