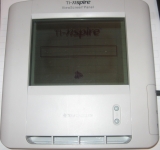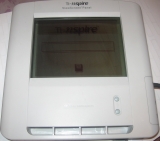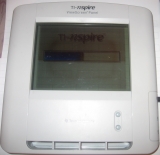 Les tablettes de rétroprojection
TI-Nspire ViewScreen
sont de véritables calculatrices
TI-Nspire
dépourvues de clavier. On reconnaît en effet l'écran de chargement de ces dernières, ainsi que les icônes de reprogrammation des partitions
Boot2
et
Diags
si l'on maintient au démarrage la touche haut enfoncée, ou bien les deux touches simultanément.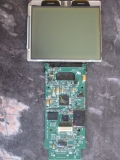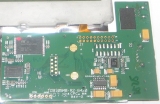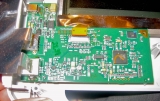 A l'intérieur, nous avions déjà remarqué qu'elles réutilisaient en fait le matériel des
TI-Nspire CAS+
, prototypes non finaux distribués dans les classes pilotes en 2006-2007 et incompatibles avec les
TI-Nspire
de production commercialisées à compter de 2007. On retrouve en effet répartis sur les deux faces les mêmes composants principaux :
TI-OMAP NP31AZZG

(processeur 32-bits ARMv5/ARM9 78MHz)

HYB18L256160

(SDRAM 32Mio)

SST 39VF400A

(Flash-NOR 512Kio, pour le

Boot1

)

ST NAND256W3A

(Flash-NAND 32Mio, pour tout le reste)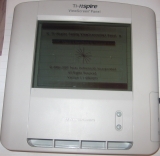 La tablette de rétroprojection
TI-Nspire ViewScreen
dispose de deux ports USB utilisables une fois démarrée :
un USB type A pour afficher l'écran d'une

TI-Nspire

monochrome ou couleur
un USB type B pour afficher l'écran d'une

TI-84 Plus

,

TI-84 Pocket.fr

ou

TI-82 Advanced
Mais hélas elle ne lance pas le protocole de transfert USB des
TI-Nspire
et ne peut donc pas recevoir par cette voie de fichiers depuis un ordinateur ou une autre calculatrice
TI-Nspire
. Si bien que nous n'avons pas pu lui appliquer les méthodes de
dumping
développées pour d'autres modèles
TI-Nspire
et que les images
Boot1
et
Boot2
/système utilisées par la
TI-Nspire ViewScreen
restent donc non sauvegardées à ce jour.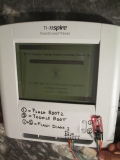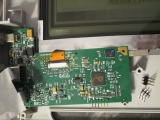 Contrairement aux
TI-Nspire CAS+
, la tablette
TI-Nspire ViewScreen
dispose d'une riche connectivité interne.
Nous savions déjà qu'il y avait une sortie série TTL sur
JMP02
, et avons
récemment
trouvé une entrée série TTL fonctionnelle sur
JMP01
. Nous ne voyions hélas aucun moyen évident de l'exploiter, puisque ne disposant justement d'aucune image compatible à envoyer.
Sur une autre piste nous nous demandions si le connecteur
J7
manquant avec ses 2x10=20 broches n'était pas pour un
JTAG ARM
, surtout avec juste à côté des marques d'un connecteur 2x7=14 broches qui pourrait alors être un
JTAG TI
.
Après vérification à l'ohmmètre tout concorde, les broches censées être équivalentes étant bien reliées entre elles - l'hypothèse est validée !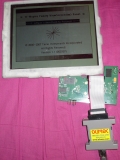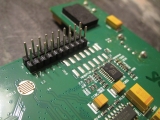 Soudons donc un véritable connecteur sur
J7
. Il y a besoin pour cela de broches espacées de 2.54mm, ce qui est un standard.
Malheureusement, une fois connecté à travers une interface
JTAG Olimex TMS320-JTAG-USB XDS100-V2
rien n'est détecté :
Code: Select all

openocd.exe
Open On-Chip Debugger 0.9.0 (2015-08-15-12:41)
Licensed under GNU GPL v2
For bug reports, read
http://openocd.org/doc/doxygen/bugs.html
Info : only one transport option; autoselect 'jtag'
adapter speed: 1500 kHz
TapName Enabled IdCode Expected IrLen IrCap IrMask
-- ------------------- -------- ---------- ---------- ----- ----- ------
Warn : Using DEPRECATED interface driver 'ft2232'
Info : Consider using the 'ftdi' interface driver, with configuration files in interface/ftdi/...
Info : device: 6 "2232H"
Info : deviceID: 67348176
Info : SerialNumber: TIWBH0NSA
Info : Description: Texas Instruments Inc.XDS100 Ver 2.0 A
Info : max TCK change to: 30000 kHz
Info : clock speed 1500 kHz
Warn : There are no enabled taps. AUTO PROBING MIGHT NOT WORK!!
Error: JTAG scan chain interrogation failed: all ones
Error: Check JTAG interface, timings, target power, etc.
Error: Trying to use configured scan chain anyway...
Warn : Bypassing JTAG setup events due to errors
Warn : gdb services need one or more targets defined
Voici le fichier de configuration utilisé :
Code: Select all

#
# Texas Instruments XDS100v2
#
# http://processors.wiki.ti.com/index.php/XDS100#XDS100v2_Features
#

interface ft2232
ft2232_device_desc "Texas Instruments Inc.XDS100 Ver 2.0"
ft2232_layout xds100v2
adapter_khz 1500
scan_chain
Mais notons que cette manipulation est toute nouvelle pour nous et que nous ne sommes donc sûrs de rien. Nous ignorons si le fichier de configuration bien évidemment non documenté par
TI
est correct, si l'interface
JTAG
utilisée est fonctionnelle et compatible avec le processeur
TI-OMAP NP31AZZG
de la tablette
TI-Nspire ViewScreen
, et même si il y a un ordre particulier à respecter pour les connexions et allumages des différents éléments... N'hésite pas à nous partager tes lumières si tu as de l'expérience là-dedans.