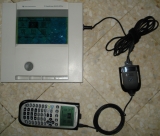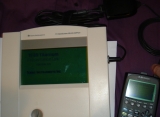 Dans un
article précédent
, nous testions pour toi le
TI-89 Presentation Link
.
Il s'agit d'une adaptateur USB permettant d'exporter l'écran de tout
TI-89 Titanium
vers une tablette de rétroprojection
TI-ViewScreen
ou vers l'
interface vidéo

TI-Presenter
.
En réalité c'est une véritable interface disposant de circuits intégrés non triviaux, puisque affichant temporairement un écran spécifique à chaque connexion :
TI-89 Titanium
Presentation Link
Version 1.00

Texas Instruments Inc.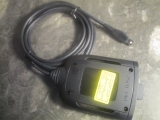 Nous avons aujourd'hui le plaisir d'avoir récupéré pour toi un prototype de niveau DVT de cette interface USB.
Rappelons les étapes de développement d'un nouveau produit chez
Texas Instruments
:
PROTO
EVT

(Engineering Validation Test)

DVT

(Design Validation Test)

PVT

(Production Validation Test)

MP

(Mass Production)
A partir du niveau DVT, nous avons habituellement quelque chose de très proche des modèles de production, parfois même identique.
Il s'agit donc ici d'un prototype DVT avec un numéro 0252 gravé dans sa coque, et disposant d'un autocollant complété de façon manuscrite :
TI-89T Presentation Link
CODE: TI008
S: NO: 197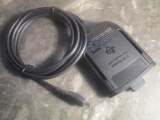 De l'autre côté, un autocollant cette fois-ci imprimé nous indique :
Prototype - Not for Sale
This device has not been authorized as required by the rules of the Federal Communications Commission. This device is not, and may not be, offered for sale or lease, or sold or leased, until authorization is obtained.
La connexion de l'interface affiche le même écran d'annonce en version 1.00 évoqué ci-dessus, ce qui pourrait vouloir dire que le matériel DVT était déjà mûr et a été réutilisé à l'identique pour la production de masse.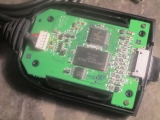 Tentons de confirmer cela en ouvrant la bête.

Effectivement, nous y trouvons exactement les mêmes puces principales que dans le test du modèle de production :
une

LH28F320BFHE-PBTLZ2

de chez

Sharp

: Flash-ROM de

4 Mio

un

MC68 SEC000PB16

de chez

Morotola

: microprocesseur

32-bits