Bienvenue sur TI-Planet.org !
Ce forum, ainsi que le chat intégré, est un lieu d'échange public sur les calculatrices de toutes marques
(Texas Instruments principalement)
, les cours
(mathématiques, physique, informatique...)
ainsi que tout les sujets s'y rapportant, de près ou de loin.
Les thèmes abordés sont principalement :
Entraide et discussions autour des calculatrices

(résolution de problèmes, sav de programmes, news...)

Programmation informatique

(dans plusieurs langages, relatifs aux calculatrices: TI-Basic, ASM, C, Nspire Basic, Axe...)

Soutien et aide scolaire (principalement mathématiques, physique, algorithmes ...)
Il existe néanmoins
des
sections
plus libres, où les membres peuvent poster ce qu'ils souhaitent,
dans le respect des règles
(voir plus bas).
- Règles -
Pour que le site puisse continuer à fonctionner correctement et efficacement, il faut que chacun respecte ces règles.
Lorsque vous postez un message sur le forum ou sur le chat, nous considérons que vous avez
lu
,
compris
et
accepté
le présent règlement.

En cas de non respect, des sanctions peuvent être prises.

Les règles sont les suivantes :
Topics en double :

Afin d'éviter qu'un même sujet se retrouve plusieurs fois sur le forum, nous vous conseillons de rechercher avant sur le forum si votre question/demande n'a pas déjà été postée.


Pour cela, vous disposez du

moteur de recherche

interne au site. Recherchez simplement des

mots clefs.

.


Si vous trouvez un topic avec le même problème que vous, mais que le sujet date de plusieurs années, il sera alors peut-être préférable que vous lanciez un nouveau fil de discussion.




Catégories :

Il existe plusieurs catégories sur le forum. Vous devez placer correctement votre discussion suivant son sujet ou le modèle de calculatrice concerné:
(Si un topic est mal situé, l'équipe du site se réserve le droit de le placer dans la bonne section)



Orthographe et mise en forme :

Pour que l'on se comprenne, il est important que tout le monde parle dans un français correct. Par "correct", nous n'entendons pas un langage soutenu, mais plutôt un français "normal",

sans fautes

d'orthographe (au minimum !), et surtout pas en langage SMS. L'équipe de modération se réserve le droit d'éditer (ou supprimer sur le tchat) le message si celui-ci est incompréhensible. ( si vous ne maîtrisez pas le français, vous pouvez toujours écrire en anglais, en espagnol, ou dans la langue qui vous convient. L'équipe du site maîtrise plusieurs langues pour vous répondre (même si l'anglais est préférable) ).. Les messages en

majuscule

sont à éviter.



Titre :

Pour que votre topic sur le forum soit bien référencé, il est important d'utiliser un titre clair et cohérent. Évitez les titres génériques du genre

"Probleme nspire"

. Expliquez plutôt rapidement votre souci ou votre demande, en quelques mots:

"Problème nspire écran blanc sur ndless"

. Il est également conseillé d'indiquer le

modèle de calculatrice

dans le titre de votre publication.



Respect d'autrui et légalité :

Sur un espace de discussions comme le forum ou le tchat, il est important que tout le monde se respecte, et respecte la loi. Il est donc

formellement interdit

de faire les choses suivantes, que ce soit sur le chat ET sur le forum:


Tenir des propos racistes, injurieux, diffamatoires ou sexistes
Poster des messages gratuitement provocateurs et/ou incitant à la haine
Poster un message comportant de la publicité vers des activités commerciales au profit de l'auteur du message ou des petites annonces intempestives à caractère personnel
Poster des informations personnelles

(nom, adresse, numéro de téléphone, photo...)

sur une personne, sans le consentement de celle-ci, même si les informations sont publiques (Facebook, etc...).
Poster un message dont le contenu se révélerait illégal ou ne respecterait pas les lois sur le copyright (partage de ROM, détournement du mode examen...)





L'équipe du forum se réserve le droit de supprimer, sans préavis, les messages non conformes.





Bienséance et convivialité :

Même si cela n'est pas obligatoire, nous vous conseillons:



de dire "Bonjour" et "Merci";
d'éviter d'utiliser en masse ou uniquement les émoticônes, et les "lol", "mdrrr", etc.;
de faire preuve de tolérance, de patience et de pédagogie quand vous répondez : évitez la condescendance et le dogmatisme, la critique constructive du contenu d'un message fait partie des échanges autorisés et souhaités sur TI-Planet, mais l'attaque nominative est mal venue;
sur le forum, de venir régulièrement voir votre topic pour voir si quelqu'un a répondu ou cliquer sur "surveiller", en bas, pour être informé par mail d'un nouveau message;
d'éditer le titre de votre topic sur le forum avec la balise

[Résolu]

devant et le sigle , si votre problème/requête a été solutionné(e).

POSTER UN MESSAGE SUR LE FORUM OU SUR LE TCHAT SIGNIFIE L'ACCEPTATION DE RÈGLES CI-DESSUS


En cas de problème, vous pouvez nous contacter par mail : info@tiplanet.org , ou par message privé à l'équipe du site.
Bonne navigation sur le forum!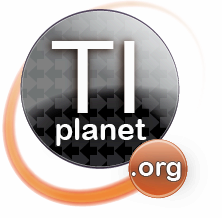 Welcome to TI-Planet.org!
This forum (and the chat) is a place of public exchange on calculators of all brands
(Texas Instruments mainly)
, courses (mathematics, physics, computer science ...) as well as all subjects relating thereto, near or far.
The main topics are:
Help and discussions about calculators

(problem solving, program savvy, news ...)

Computer programming

(in several languages, relating to calculators: TI-Basic, ASM, C, Nspire Basic, Axe ...)

Support and school support (mainly mathematics, physics, algorithms ...)
- Rules -
For the website to continue to function properly and efficiently, everyone must abide by these rules.
When posting a message on the forum, we consider that you have
read
,
understood
and
accepted
this regulation.

In case of non-compliance, sanctions may be imposed

These rules are:
Duplicate topic:

In order to avoid the same subject being repeated several times on the forum, we advise you to search before on the forum if your question / request has not already been posted.


For that, you can use the internal

search engine

. Search simply for

keywords.

.


If you find a topic with the same problem as you, but the topic is very old ( several years) , then it may be better to start a new thread.




Categories:

There are several categories on the forum. You must place your discussion correctly according to its subject or the relevant calculator model:


(If a topic is misplaced, the site team reserves the right to place it in the correct section)

Spelling and formatting:

For it to be understood, it's important that everyone speaks in correct english. By "correct", we don't hear a sustained language, but rather a "normal" english, without grammatical mistakes, and especially not in SMS language.!
The moderation team reserves the right to edit the message if it is incomprehensible. ( If you do not speak english, you can always write in French, Spanish or in the language that suits you. The team of the site proficient in several languages to answer you (even if English is preferable) )..

Uppercase posts

are also prohibited.



Title:

For your topic to be well referenced, it is important to use a clear and consistent title. Avoid generic titles such as

"nspire problem"

. Explain quickly your concern or your request, in a few words:

"nspire problem white screen with ndless"

. It is also advisable to indicate the

calculator model

in the title of your post.



Respect for others and legality:

On forum, it is important that everyone respects themselves, and respects the law. It is therefore

absolutely forbidden

to do the following things:


Racist, offensive, defamatory or sexist statements
Post free messages provoking and inciting hatred
Post a message featuring advertising to commercial activities for the benefit of the author of the message or unwanted personal ads
Post publicly personals informations (name, address, phone number, photo ...) on a person.
Post a message whose content would turn out to be illegal or violate copyright laws (ROM sharing, hack of the exam mode ...)





The forum team reserves the right to immediately remove unwanted messages without prior notice.





Conviviality and other

Though this is not mandatory, we advise you to:



Say "Hi" and "thanks"
Avoid using too many / just smilies, and "lol", "rofl", "xD"...
To show tolerance, patience and pedagogy when you answer. Avoid condescension and dogmatism. Constructive criticism of the content of a message is part of the authorized and desired exchanges on ti-planet, but the nominative attack is inappropriate.
To come regularly to see your topic to see if someone has responded.
To edit the tittle of your topic with

[Solved]

and , if your problem/query has been resolved.

POSTING A MESSAGE ON THE FORUM MEANS ACCEPTANCE OF RULES ABOVE


In case of problem, you can contact us by mail : info@tiplanet.org , or by message to the team of ti-planet.