RubEX
Hierarchy of files
Downloads
Files uploaded
(

12219

)
TI-83 Premium CE / 84+CE
(1441)

---

Jeux
(354)
Screenshot
Aperçu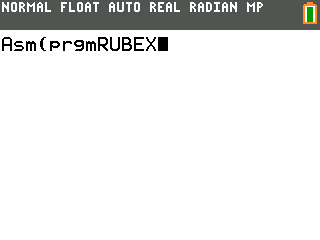 Informations
Auteur

Author

:
LogicalJoe
Type :
Assembleur
Mis en ligne

Uploaded

:
04/04/2017 - 15:02:37
Téléchargements

Downloads

:
460
Visibilité

Visibility

:
Archive
publique
Shortlink

:
http://ti-pla.net/a895531
Via

Via

:


ATTENTION ! Si votre TI-83 Premium CE ou TI-84 Plus CE (Edition Python ou non), a l'OS 5.5/5.6, vous ne pouvez plus lancer des programmes/jeux ASM directement ; il vous faudra d'abord lancer le jailbreak arTIfiCE.
WARNING ! If your TI-83 Premium CE or TI-84 Plus CE (Python Edition or not) has OS 5.5/5.6, you will no longer be able to launch ASM programs/games ; you will first need to run the arTIfiCE jailbreak.
Description
RubEX, simulateur de Rubik's cube pour TI-83 Premium CE.
Possibilité de le mélanger soi-même, ou de laisser la calculatrice faire.
Tente de le résoudre, pendant que la calculatrice comptera ton nombre de coups.

---------------------

RubEX is the first graphic Magic Cube emulator for the TI-84 Plus CE. Scramble it yourself or have the calculator auto-scramble it. Solve it while the calculator counts your moves. RubEX is a must-have for any Magic Cube enthusiast with a TI-84 Plus CE.