SQRXZ CE
Hierarchy of files
Downloads
Files uploaded
(

11694

)
TI-83 Premium CE / 84+CE
(1304)

---

Jeux
(329)
Screenshot
Aperçu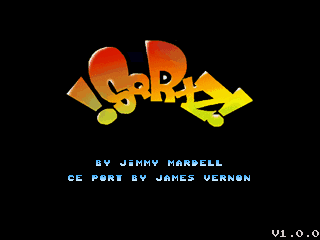 Informations
Auteurs

Authors

:
JamesV, Jimmy Mardell
Type :
Assembleur
Mis en ligne

Uploaded

:
04/02/2017 - 19:34:49
Téléchargements

Downloads

:
426
Visibilité

Visibility

:
Archive
publique
Shortlink

:
http://ti-pla.net/a834497
Via

Via

:

Description
Portage de l'adaptation Ti-85/86 du jeu PC par Jimmy Mardell, maintenant pour TI-83 Premium CE. Sqrxz est similaire à Super Mario Bros. Tu contrôles une espèce de blatte sur pattes (un Sqrxz), bref un insecte pas très charmant, et dois le faire arriver au bout de pas moins de 16 niveaux très dangereux répartis sur 5 mondes. Ennemis et pièges seront au rendez-vous.

-----

Jimmy Mardell's TI-85/86 clone of the PC game ported to the TI-84+CE. Sqrxz is similar to Mario Bros. The goal is to control an ugly bug (a Sqrxz) through a dangerous world filled with traps and enemies such as Blobs, Hedgehogs, Bats and more. Features 5 worlds comprising a total of 16 levels with many puzzles and traps to solve! World Editor is available separately to build your own worlds.
News articles referring to this archive
News mentionnant cette archive