Block Dude CE
File hierarchy
Downloads
Uploaded files
(

13638

)
TI-83 Premium CE / 84+CE / 82APy
(1802)

---

Jeux
(431)
Download
Télécharger
Licence

License

: WTFPL

Télécharger
Download
(ext.)
Screenshot
Aperçu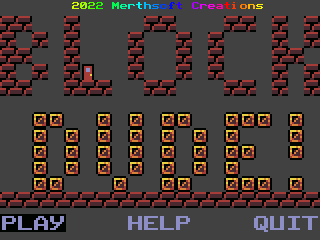 Informations
Auteurs

Authors

:
Shaun McFall, Brandon Sterner, Aleksandr Makarov
Type :
Assembleur
Mis en ligne

Uploaded

:
07/09/2022 - 10:55:42
Téléchargements

Downloads

:
29
Visibilité

Visibility

:
Archive
publique
Shortlink

:
http://ti-pla.net/a3047472
Via

Via

:


ATTENTION ! Si votre TI-83 Premium CE ou TI-84 Plus CE (Edition Python ou non), a l'OS 5.5 ou plus, vous ne pouvez plus lancer des programmes/jeux ASM directement ; il vous faudra d'abord lancer le jailbreak arTIfiCE.
WARNING ! If your TI-83 Premium CE or TI-84 Plus CE (Python Edition or not) has OS 5.5 or later, you will no longer be able to launch ASM programs/games ; you will first need to run the arTIfiCE jailbreak.
Description
Adaptation couleur de
Block Dude
, le célèbre jeu de casse-tête préchargé d'usine dans les TI-83+ et TI-84+.
Empile les blocs pour atteindre la sortie. Attention à ne pas rester coincé(e).
----------
Based on the classic PuzzPack favorite by Brandon Sterner, Block Dude is a simple yet challenging puzzle game where you
navigate levels, relocating boxes to find your way to the exit. Play through 11 levels and try to minimize your move count!
----------
Source:
https://github.com/merthsoft/blockdudece
News articles referring to this archive
News mentionnant cette archive