Contagion CE
Hierarchy of files
Downloads
Files uploaded
(

12308

)
TI-83 Premium CE / 84+CE
(1459)

---

Jeux
(355)
Screenshot
Aperçu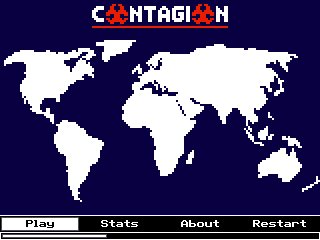 Informations
Auteurs

Authors

:
epsilon5, EverydayCode
Type :
Assembleur
Mis en ligne

Uploaded

:
21/11/2020 - 15:52:43
Téléchargements

Downloads

:
105
Visibilité

Visibility

:
Archive
publique
Shortlink

:
http://ti-pla.net/a2658159
Via

Via

:


ATTENTION ! Si votre TI-83 Premium CE ou TI-84 Plus CE (Edition Python ou non), a l'OS 5.5/5.6, vous ne pouvez plus lancer des programmes/jeux ASM directement ; il vous faudra d'abord lancer le jailbreak arTIfiCE.
WARNING ! If your TI-83 Premium CE or TI-84 Plus CE (Python Edition or not) has OS 5.5/5.6, you will no longer be able to launch ASM programs/games ; you will first need to run the arTIfiCE jailbreak.
Description
Contagion CE est un jeu de simulation de virus interactif (similaire à Plague, Inc. sur smartphone) pour les calculatrices TI-83 Premium CE / TI-84 Plus CE. Contagion CE présente 4 difficultés, des mutations, une vue des transports, et bien plus encore. Pour jouer en classe ou gagner du temps, Contagion CE permet d'enregistrer afin de conserver sa progression.

-----

Contagion CE is an interactive virus simulation game (similar to Plague, Inc. for mobile devices) for the TI-84 Plus CE/TI-84 Premium CE calculators. Contagion CE features 4 difficulties, mutations, a transportation view, and more. Whether you're playing in class or just to burn time, Contagion CE lets you save, so you never have to worry about losing your progress. With all of the customization, there is never a dull moment. Download and play it now!
News articles referring to this archive
News mentionnant cette archive