HousePaint CE
File hierarchy
Downloads
Uploaded files
(

13566

)
TI-83 Premium CE / 84+CE / 82APy
(1789)

---

Jeux
(426)
Screenshot
Aperçu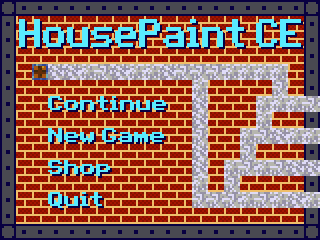 Informations
Auteur

Author

:
Sam
Type :
Assembleur
Mis en ligne

Uploaded

:
24/05/2019 - 18:00:05
Mis à jour

Updated

:
08/05/2020 - 13:08:26
Téléchargements

Downloads

:
606
Visibilité

Visibility

:
Archive
publique
Shortlink

:
http://ti-pla.net/a2118860
Via

Via

:
raw.githubusercontent.com

ATTENTION ! Si votre TI-83 Premium CE ou TI-84 Plus CE (Edition Python ou non), a l'OS 5.5/5.6/5.7, vous ne pouvez plus lancer des programmes/jeux ASM directement ; il vous faudra d'abord lancer le jailbreak arTIfiCE.
WARNING ! If your TI-83 Premium CE or TI-84 Plus CE (Python Edition or not) has OS 5.5/5.6/5.7, you will no longer be able to launch ASM programs/games ; you will first need to run the arTIfiCE jailbreak.
Description
Jeu de type labyrinthe. Repeins entièrement les murs de chaque pièce sans lever le pinceau en un minimum de coups. Attention à ne pas rester coincé.

-----

This fun maze game works just like the App Store game of the same name. The objective: Fill in every square.
News articles referring to this archive
News mentionnant cette archive