HP Prime (Color) Tunnel v1.03
Hierarchy of files
Downloads
Files uploaded
(

11479

)
HP-Prime
(170)

---

Jeux
(11)
Screenshot
Aperçu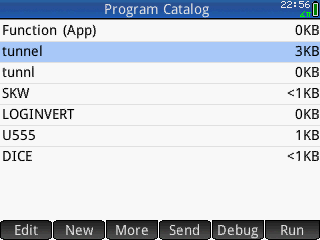 Informations
Auteur

Author

:
DJ Omnimaga
Type :
Basic
Taille

Size

:
1.56
Ko
KB
Mis en ligne

Uploaded

:
09/08/2013 - 06:34:45
Mis à jour

Updated

:
05/02/2015 - 05:38:08
Uploadeur

Uploader

:
DJ Omnimaga
(
Profil
)
Téléchargements

Downloads

:
752
Visibilité

Visibility

:
Archive
publique
Shortlink

:
http://ti-pla.net/a19577
Description
UPDATE: Now runs at 90 FPS instead of 60!
This is the official release of my HP Prime port of my HP 39gII Tunnel clone written in BASIC, now adapted for the larger screen and color display. It is probably the first ever game ever made available for download for this calculator model. It might require some optimizing because I'm still new to HP 39gII/Prime BASIC programming, but it still shows how fast the HP Prime on-calc language can be compared to their TI/Casio counterparts.
Because of how incredibly fast this calc is, this is why I manage to get such high framerate even with redrawing the entire screen rectangles and score text every frame.
As for the multicolor and 3D-ish text effects, they are possible because the HP Prime lets you use text with no background, so all you have to do is superpose multiple copies of that text, gradually changing its color and position through a FOR loop. This also lets you use bold text.
Note: This game was coded using the HP Prime emulator and tested on a real calc by Critor, before the calc's release. As a result, I do not know what method this calc will use for file transfer yet. However, I know that if you ever want the source code, just open the hpprgm file in Wordpad, then you'll see the source in weird format. It is still somewhat readable, though, so you can use it to copy the game by hand or for code use (give me credits if you do, though!)
To play, just use the UP and DOWN keys and quit with ON.
This is the xLIBC version of my color Tunnel game, for use with Doors CSE 8.0 on the TI-84 Plus C Silver Edition. Originally released for the HP Prime graphing calculator and written in HP PPL language, this 84+CSE demake was adapted to run within the limitations of the lower end 15 MHz platforn, as well as those of TI-BASIC and xLIBC. UPDATE: Car is now made of a sprite instead of two rectangles and score displays faster, taking advantage of new xLIBC commands to save extra speed.
Visit codewalr.us for more games from me and a large friendly English-speaking calculator forum!
Archive contents
Contenu de l'archive
News articles referring to this archive
News mentionnant cette archive