The Legend of Zelda: Dark Link Quest
Hierarchy of files
Downloads
Files uploaded
(

12678

)
TI-82+/83+/84
(1382)

---

Jeux
(502)
Screenshot
Aperçu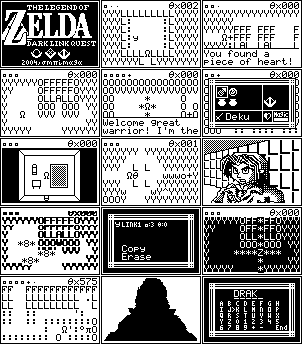 Informations
Auteur

Author

:
DJ Omnimaga
Type :
Basic nécessitant une bibliothèque
Taille

Size

:
522.34
Ko
KB
Mis en ligne

Uploaded

:
28/05/2013 - 07:58:38
Mis à jour

Updated

:
05/02/2015 - 05:39:13
Uploadeur

Uploader

:
DJ Omnimaga
(
Profil
)
Téléchargements

Downloads

:
438
Visibilité

Visibility

:
Archive
publique
Shortlink

:
http://ti-pla.net/a15440
Description
Jeu Zelda sorti en 2004 sur TI-84 Plus. C'est l'un des seuls projet de Zelda sur TI qui a finit par aboutir. Il a été créé en TI-BASIC étendu avec les librairies ASM de l'époque. En Anglais seulement
Description originale:
The Legend of Zelda: Dark Link Quest is my first *successful* attempt at Action-RPG programming. In 2002, I started making one, but my BASIC skills were not high enough to make such a game. Now, after more than 3 years of experience in TI-BASIC programming, I finally did it: a TRUE Zelda is finally available on your TI-83+!!!!!! It's in BASIC, so it's slow (not as slow as some other games I tested though) but it keeps most Zelda features, from the Hookshot item to the classic smooth scrolling when Link reaches the edge of the screen!!! It also features 180 rooms to explore, 3 swords from Ocarina of Time, lot of side quests (heart containers and empty bottles), many GFX never seen before on the home screen and more! WARNING: GAME MAY CRASH THE CALCULATOR AFTER INSTALLING UNDER OS 1.13!!!! ALSO FOR SPEED REASONS A REGULAR 83+ IS NOT RECOMMENDED.
This is the xLIBC version of my color Tunnel game, for use with Doors CSE 8.0 on the TI-84 Plus C Silver Edition. Originally released for the HP Prime graphing calculator and written in HP PPL language, this 84+CSE demake was adapted to run within the limitations of the lower end 15 MHz platforn, as well as those of TI-BASIC and xLIBC. UPDATE: Car is now made of a sprite instead of two rectangles and score displays faster, taking advantage of new xLIBC commands to save extra speed.
Visit codewalr.us for more games from me and a large friendly English-speaking calculator forum!
Archive contents
Contenu de l'archive
Action(s)

Size

Taille

File

Fichier

202.09

Ko

KB

zeldadlq_ti_graph_link_compatible.zip
163

octets

bytes

old animated screenshots/screenshots.txt
17.85

Ko

KB

old animated screenshots/version007.gif
63.17

Ko

KB

old animated screenshots/version022.gif
18.51

Ko

KB

old animated screenshots/version038.gif
45.58

Ko

KB

old animated screenshots/version045.gif
42.84

Ko

KB

old animated screenshots/version070.gif
21.25

Ko

KB

archive/PICTURE1.8XG
6.11

Ko

KB

archive/PICTURE2.8XG
532

octets

bytes

archive/ZB1.8XP
166

octets

bytes

archive/ZB1B.8XP
234

octets

bytes

archive/ZB1C.8XP
280

octets

bytes

archive/ZB1D.8XP
159

octets

bytes

archive/ZB1E.8XP
143

octets

bytes

archive/ZB1F.8XP
142

octets

bytes

archive/ZB1G.8XP
684

octets

bytes

archive/ZB2.8XP
876

octets

bytes

archive/ZB2B.8XP
157

octets

bytes

archive/ZB2B1.8XP
150

octets

bytes

archive/ZB2B2.8XP
194

octets

bytes

archive/ZB2B3.8XP
89

octets

bytes

archive/ZB2C.8XP
254

octets

bytes

archive/ZB2D.8XP
381

octets

bytes

archive/ZB3.8XP
171

octets

bytes

archive/ZB3A.8XP
335

octets

bytes

archive/ZB3A0.8XP
102

octets

bytes

archive/ZB3A1.8XP
108

octets

bytes

archive/ZB3A2.8XP
93

octets

bytes

archive/ZB3A3.8XP
140

octets

bytes

archive/ZB3A4.8XP
92

octets

bytes

archive/ZB3A5.8XP
100

octets

bytes

archive/ZB3C1.8XP
123

octets

bytes

archive/ZB3N0.8XP
111

octets

bytes

archive/ZB3N1.8XP
215

octets

bytes

archive/ZB4.8XP
1.70

Ko

KB

archive/ZB4A.8XP
1.48

Ko

KB

archive/ZB4B.8XP
491

octets

bytes

archive/ZB4C.8XP
1.49

Ko

KB

archive/ZB4D.8XP
133

octets

bytes

archive/ZB4E.8XP
84

octets

bytes

archive/ZB4F.8XP
183

octets

bytes

archive/ZB4G.8XP
123

octets

bytes

archive/ZB4H.8XP
118

octets

bytes

archive/ZB4I.8XP
95

octets

bytes

archive/ZB4J.8XP
713

octets

bytes

archive/ZB4K.8XP
279

octets

bytes

archive/ZBDW.8XP
277

octets

bytes

archive/ZBLF.8XP
1.63

Ko

KB

archive/ZBOSS.8XP
1.79

Ko

KB

archive/ZBOSS2.8XP
1.57

Ko

KB

archive/ZBOSS3.8XP
586

octets

bytes

archive/ZBOSS4.8XP
278

octets

bytes

archive/ZBRG.8XP
278

octets

bytes

archive/ZBUP.8XP
119

octets

bytes

archive/ZD6B.8XP
119

octets

bytes

archive/ZD6C.8XP
513

octets

bytes

archive/ZD8.8XP
321

octets

bytes

archive/ZD8B.8XP
355

octets

bytes

archive/ZDEAD.8XP
391

octets

bytes

archive/ZDOOR1.8XP
430

octets

bytes

archive/ZDOOR10.8XP
1.27

Ko

KB

archive/ZDOOR11.8XP
288

octets

bytes

archive/ZDOOR12.8XP
527

octets

bytes

archive/ZDOOR13.8XP
823

octets

bytes

archive/ZDOOR14.8XP
499

octets

bytes

archive/ZDOOR15.8XP
232

octets

bytes

archive/ZDOOR2.8XP
252

octets

bytes

archive/ZDOOR3.8XP
388

octets

bytes

archive/ZDOOR4.8XP
370

octets

bytes

archive/ZDOOR5.8XP
324

octets

bytes

archive/ZDOOR5B.8XP
891

octets

bytes

archive/ZDOOR6.8XP
232

octets

bytes

archive/ZDOOR7.8XP
1.07

Ko

KB

archive/ZDOOR8.8XP
610

octets

bytes

archive/ZDOOR9.8XP
831

octets

bytes

archive/ZDOORA.8XP
396

octets

bytes

archive/ZE1LOAD.8XP
170

octets

bytes

archive/ZE2LOAD.8XP
246

octets

bytes

archive/ZESP1.8XP
153

octets

bytes

archive/ZESP2.8XP
908

octets

bytes

archive/ZFIX.8XP
397

octets

bytes

archive/ZHDW.8XP
367

octets

bytes

archive/ZHEART2.8XP
524

octets

bytes

archive/ZHEART3.8XP
416

octets

bytes

archive/ZHLF.8XP
537

octets

bytes

archive/ZHOUSE.8XP
417

octets

bytes

archive/ZHRG.8XP
396

octets

bytes

archive/ZHUP.8XP
3.06

Ko

KB

archive/ZINTRO.8XP
105

octets

bytes

archive/ZITEM.8XP
656

octets

bytes

archive/ZITEM1.8XP
740

octets

bytes

archive/ZITEM2.8XP
377

octets

bytes

archive/ZITEM3.8XP
1.29

Ko

KB

archive/ZITEM4.8XP
3.53

Ko

KB

archive/ZLOAD.8XP
162

octets

bytes

archive/ZLOAD2.8XP
618

octets

bytes

archive/ZLOAD3.8XP
450

octets

bytes

archive/ZLOAD4.8XP
783

octets

bytes

archive/ZLOAD5.8XP
174

octets

bytes

archive/ZLOAD6.8XP
2.28

Ko

KB

archive/ZMAP1.8XP
2.09

Ko

KB

archive/ZMAP2.8XP
2.61

Ko

KB

archive/ZMAP3.8XP
2.79

Ko

KB

archive/ZMAP4.8XP
2.59

Ko

KB

archive/ZMAP5.8XP
2.23

Ko

KB

archive/ZMAP6.8XP
2.34

Ko

KB

archive/ZMAP7.8XP
2.41

Ko

KB

archive/ZMAP8.8XP
1.34

Ko

KB

archive/ZMAP9.8XP
1.41

Ko

KB

archive/ZMAPA.8XP
1.50

Ko

KB

archive/ZMENU.8XP
598

octets

bytes

archive/ZMS.8XP
586

octets

bytes

archive/ZSAVE.8XP
312

octets

bytes

archive/ZSDW.8XP
299

octets

bytes

archive/ZSLF.8XP
300

octets

bytes

archive/ZSRG.8XP
680

octets

bytes

archive/ZSTOP.8XP
297

octets

bytes

archive/ZSUP.8XP
439

octets

bytes

archive/ZSWTCHD1.8XP
717

octets

bytes

archive/ZSWTCHD2.8XP
604

octets

bytes

archive/ZSWTCHD3.8XP
394

octets

bytes

archive/ZT2.8XP
332

octets

bytes

archive/ZT3.8XP
577

octets

bytes

archive/ZTK1.8XP
610

octets

bytes

archive/ZTK2.8XP
598

octets

bytes

archive/ZTK3.8XP
539

octets

bytes

archive/ZTK4.8XP
461

octets

bytes

archive/ZTREASUR.8XP
215

octets

bytes

RAM/Part 1/INSTALL1.8xp
115

octets

bytes

RAM/Part 1/INSTALL2.8xp
777

octets

bytes

RAM/Part 2/DLQ.8xp
908

octets

bytes

RAM/Part 2/R.8xp
107

octets

bytes

RAM/Part 2/SETCON.8xp
107

octets

bytes

RAM/Part 2/SHIFT.8xp
106

octets

bytes

RAM/Part 2/theta.8xp
406

octets

bytes

RAM/Part 2/Z.8xp
344

octets

bytes

RAM/Part 2/ZADW.8xp
312

octets

bytes

RAM/Part 2/ZALF.8xp
171

octets

bytes

RAM/Part 2/ZAPDW.8xp
898

octets

bytes

RAM/Part 2/ZAPI.8xp
171

octets

bytes

RAM/Part 2/ZAPLF.8xp
171

octets

bytes

RAM/Part 2/ZAPRG.8xp
171

octets

bytes

RAM/Part 2/ZAPUP.8xp
311

octets

bytes

RAM/Part 2/ZARG.8xp
327

octets

bytes

RAM/Part 2/ZAUP.8xp
467

octets

bytes

RAM/Part 2/ZD0.8xp
424

octets

bytes

RAM/Part 2/ZD1.8xp
149

octets

bytes

RAM/Part 2/ZD1B.8xp
107

octets

bytes

RAM/Part 2/ZD1C.8xp
493

octets

bytes

RAM/Part 2/ZD2.8xp
432

octets

bytes

RAM/Part 2/ZD3.8xp
382

octets

bytes

RAM/Part 2/ZD4.8xp
498

octets

bytes

RAM/Part 2/ZD6.8xp
407

octets

bytes

RAM/Part 2/ZD7.8xp
149

octets

bytes

RAM/Part 2/ZD8A.8xp
133

octets

bytes

RAM/Part 2/ZD8C.8xp
132

octets

bytes

RAM/Part 2/ZDEL.8xp
836

octets

bytes

RAM/Part 2/ZDOOR.8xp
230

octets

bytes

RAM/Part 2/ZE1.8xp
107

octets

bytes

RAM/Part 2/ZE1A.8xp
107

octets

bytes

RAM/Part 2/ZE1B.8xp
108

octets

bytes

RAM/Part 2/ZE1C.8xp
108

octets

bytes

RAM/Part 2/ZE1D.8xp
404

octets

bytes

RAM/Part 2/ZE2.8xp
104

octets

bytes

RAM/Part 2/ZE2A.8xp
104

octets

bytes

RAM/Part 2/ZE2B.8xp
97

octets

bytes

RAM/Part 2/ZE2C.8xp
97

octets

bytes

RAM/Part 2/ZE2D.8xp
186

octets

bytes

RAM/Part 2/ZE3.8xp
117

octets

bytes

RAM/Part 2/ZE3A.8xp
133

octets

bytes

RAM/Part 2/ZE3B.8xp
245

octets

bytes

RAM/Part 2/ZE3C.8xp
97

octets

bytes

RAM/Part 2/ZE3D.8xp
108

octets

bytes

RAM/Part 2/ZE3E.8xp
172

octets

bytes

RAM/Part 2/ZE4.8xp
107

octets

bytes

RAM/Part 2/ZE4A.8xp
129

octets

bytes

RAM/Part 2/ZE4B.8xp
107

octets

bytes

RAM/Part 2/ZE6A.8xp
107

octets

bytes

RAM/Part 2/ZE6B.8xp
89

octets

bytes

RAM/Part 2/ZFA.8xp
115

octets

bytes

RAM/Part 2/ZFADEIN.8xp
99

octets

bytes

RAM/Part 2/ZFADEIN2.8xp
101

octets

bytes

RAM/Part 2/ZFADEOU2.8xp
119

octets

bytes

RAM/Part 2/ZFADEOUT.8xp
141

octets

bytes

RAM/Part 2/ZFAIRY.8xp
89

octets

bytes

RAM/Part 2/ZFB.8xp
133

octets

bytes

RAM/Part 2/ZHEALTH.8xp
251

octets

bytes

RAM/Part 2/ZHEART.8xp
315

octets

bytes

RAM/Part 2/ZHIT.8xp
262

octets

bytes

RAM/Part 2/ZHIT1.8xp
323

octets

bytes

RAM/Part 2/ZHIT2.8xp
157

octets

bytes

RAM/Part 2/ZHIT3.8xp
276

octets

bytes

RAM/Part 2/ZHIT4.8xp
268

octets

bytes

RAM/Part 2/ZHIT6.8xp
220

octets

bytes

RAM/Part 2/ZHIT8.8xp
101

octets

bytes

RAM/Part 2/ZI.8xp
189

octets

bytes

RAM/Part 2/ZLOADMAP.8xp
590

octets

bytes

RAM/Part 2/ZLSPR.8xp
159

octets

bytes

RAM/Part 2/ZM.8xp
112

octets

bytes

RAM/Part 2/ZMAP.8xp
90

octets

bytes

RAM/Part 2/ZMAPB.8xp
141

octets

bytes

RAM/Part 2/ZPIC.8xp
147

octets

bytes

RAM/Part 2/ZPLANT.8xp
112

octets

bytes

RAM/Part 2/ZS.8xp
122

octets

bytes

RAM/Part 2/ZST.8xp
101

octets

bytes

RAM/Part 2/ZST2.8xp
96

octets

bytes

RAM/Part 2/ZT.8xp
96

octets

bytes

RAM/Part 2/ZT1.8xp
526

octets

bytes

RAM/Part 2/ZTALK.8xp
94

octets

bytes

RAM/Part 2/ZTK.8xp
14.19

Ko

KB

extra_readme.txt
7.73

Ko

KB

logo.gif
587.00

Ko

KB

readme.doc
9.28

Ko

KB

screenshots.gif
6.66

Ko

KB

version_history.txt