HP 39gII Grayscale Tunnel
File hierarchy
Downloads
Uploaded files
(

13977

)
HP-39Gii
(6)

---

Jeux
(1)
Screenshot
Aperçu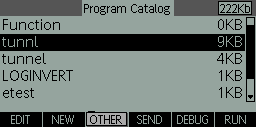 Informations
Auteur

Author

:
DJ Omnimaga
Type :
Basic
Taille

Size

:
5.18
Ko
KB
Mis en ligne

Uploaded

:
19/03/2013 - 19:53:23
Mis à jour

Updated

:
05/02/2015 - 05:47:02
Uploadeur

Uploader

:
DJ Omnimaga
(
Profil
)
Téléchargements

Downloads

:
557
Visibilité

Visibility

:
Archive
publique
Shortlink

:
http://ti-pla.net/a11824
Description
Un tunnel pour HP 39gII, programmé avec le langage BASIC-like directement sur la calculatrice.
-Niveaux de gris
-Texte en caractères gras
-10 images par secondes en mode 66 MHz (4 en mode USB ou piles faible)
http://www.youtube.com/watch?v=p_28R1d1R5U
Testé sur le firmware ver 04/Sep/2012 révision #17818. Source et exécutable inclus.
This is the xLIBC version of my color Tunnel game, for use with Doors CSE 8.0 on the TI-84 Plus C Silver Edition. Originally released for the HP Prime graphing calculator and written in HP PPL language, this 84+CSE demake was adapted to run within the limitations of the lower end 15 MHz platforn, as well as those of TI-BASIC and xLIBC. UPDATE: Car is now made of a sprite instead of two rectangles and score displays faster, taking advantage of new xLIBC commands to save extra speed.
Visit codewalr.us for more games from me and a large friendly English-speaking calculator forum!