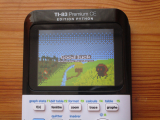 Envie d'allumer le feu ?
Fire And Flames
est un nouveau jeu par
slimeenergy
pour ta
TI-83 Premium CE
.
As-tu la rage d'être confiné ce soir après des mois de sacrifices dans l'intérêt des autres, pile au moment du retour des beaux jours ? Ce jeu de type puzzle va réveiller le pyromane qui sommeille en toi.

Dans
Fire And Flames
tu dois donc ravager par le feu chacun des niveaux qui te sont proposés au minimum jusqu'à la proportion qui t'est indiquée.
Mais attention à ne pas te piéger toi-même et te brûler...

Pas moins de 8 niveaux différents te sont proposés.
Briquet, bombe à napalm, lance-flammes, charge creuse, lance-roquettes antichar... pas moins de 5 armes différentes sont au service de tes pulsions incendiaires.
En prime le jeu intègre un tutoriel qui t'explique très rapidement les différents éléments de l'interface ainsi que les armes au premier lancement.
Un jeu décidément très riche conçu avec soin, bravo !

Fire and Flames
rentre dans la catégorie des programmes en langage machine dits
ASM
, compilé à partir de code source
C
qui est inclus.
Or attention, suite à un
acte irresponsable
d'un enseignant de Mathématiques français avec ses gesticulations aveugles dans le contexte de la réforme du lycée,
Texas Instruments
a réagi en supprimant la gestion de tels programmes depuis la mise à jour
5.5.1
.
Si tu es sur une des versions ainsi bridées, tu peux quand même en profiter sans trop d'efforts. Il te faut :
installer

arTIfiCE

pour remettre la possibilité de lancer des programmes

ASM