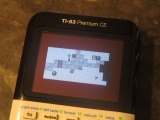 Banchor: Legend of the Hellspawn
, est un jeu de
James Vernon
sorti en 2009 pour calculatrices
TI-86
.
Mais tu vas avoir de quoi égayer ton week-end, car
James Vernon
vient de le porter pour calculatrices couleur
TI-83 Premium CE
et
TI-84 Plus CE
.
Notons que les graphismes sont portés à l'identique et que le jeu sera donc monochrome avec un cadre couleur, ce qui pourra rappeler à certains l'ordinateur

Mais en contrepartie, la fluidité est absolument remarquable.

Banchor: Legend of the Hellspawn
est un jeu de type
RPG
dont le
gameplay
est comparable à
le premier du nom. La légende raconte que
Banchor
, un puissant démon issu des profondeurs de l'enfer, faisait autrefois des ravages sur l'humanité. Nombre de guerriers audacieux perdirent la vie en l'affrontant. Mais finalement Zehos, un grand sorcier, le renvoya dans les profondeurs infernales et scella la porte avec cinq cristaux magiques. La paix régna pendant quelques siècles, et les cinq cristaux furent perdus et oubliés.
Mais aujourd'hui, dans le vaste royaume de Viridian, le mal est de retour. Le bon roi Heath est soudain devenu tyranique, faisant disparaître sa fille la princesse Saphir, tolérant la présence de bêtes sauvages et démons, coupant l'approvisionnement de ton village, décrétant la fermeture du port et emprisonnant tous les guerriers dans ses donjons.
Tu es Rex, l'un des guerriers emprisonnés. Dépêche-toi de t'échapper, de trouver une épée et de partir à la recherche de la vérité...
archives_voir.php?id=1210483
http://www.ticalc.org/archives/files/fi ... 46970.html