Avec la découverte des logiciels TI-Nspire 3.6 dans une
actualité précédente
, nous remarquions qu'il y avait eu des changements au niveau de la connectivité.
Nous ne sommes donc pas supris de découvrir aujourd'hui une nouvelle version du logiciel de transfert dédié, le TI-Nspire Computer Link 3.6 !

Par rapport aux logiciels TI-Nspire, le TI-Nspire Computer Link a l'avantage de n'inclure aucune émulation/simulation de la calculatrice, ce qui lui permet de démarrer beaucoup plus rapidement, de permettre des transferts beaucoup plus intuitifs (pas besoin de les chercher dans une obscure partie de l'interface) et de ne nécessiter aucun numéro de licence pour son utilisation.
En apparence, la version 3.6 paraît identique à la version précédente 3.2.
Suite à nos expériences précédentes, il semble que son installation n'est nécessaire que si vous devez transférer des données avec une TI-Nspire sans-fil munie de l'OS 3.6.
Mais si vous l'installez, vous perdez en contrepartie la possibilité de transférer des données avec des TI-Nspire sans-fil munies des OS antérieures 3.1 et 3.2.
Il n'est à notre connaissance plus possible de conserver la connectivé avec tous les OS TI-Nspire à partir du même logiciel désormais.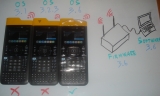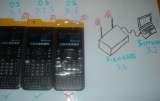 Dans l'état actuel de nos connaissances, le choix de l'installer ou pas n'influe en rien sur le fonctionnement des calculatrices connectées en USB filaire.
With the discovery of the TI-Nspire 3.6 softwares in a
previous news
, we noticed that there were some connectivity changes.
We are therefore not suprised to discover today a new 3.6 version of the TI-Nspire Computer Link !

Compared with TI-Nspire softwares, the TI-Nspire Computer Link has the advantage not to include any emulation or simulation of the calculator, which allows it to start much faster, which makes transfers much more intuitive (no need to look for such things in an obscure hidden part of the interface) and which requires no license number.
Apparently , version 3.6 looks identical to the previous version 3.2.
Following our previous experiences, it seems that the installation is only necessary if you need to transfer data with a wireless TI-Nspire running OS 3.6.
But if you install it, you lose the possibility of transferring data with wireless TI-Nspire running earlier OSes 3.1 and 3.2.
To our knowledge it is now impossible to keep wireless connectivity with all TI-Nspire OSes from the same software anymore.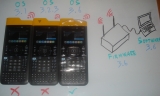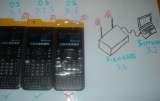 As far as we know, the choice to install or not has no consequence on wired USB connectivity. You can go on using any OS in that case.