Dans une
news précédente
, Adriweb vous publiait un test logiciel de la nouvelle Casio ClassPad II fx-CP400 reçue en échantillon de la part de
TSPromotion
.
In a
previous news
, Adriweb published a software test of the Casio ClassPad II fx-CP400 sample he received from
TSPromotion
.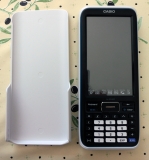 Aujourd'hui nous allons découvrir ensemble son matériel.
Today let's discover its hardware together.
La calculatrice s'ouvre très facilement lorsqu'on a le truc. Il suffit de retirer les 6 vis présentes au dos
(dont 4 dans le compartiment piles)
. C'est ensuite toute la façade avant
(écran et clavier inclus)
qu'il faut désolidariser du boîtier. En commençant par désolidariser l'un des coins, le reste vient quasiment tout seul.

The calculator is quite easy to open once you get the trick. After removing all 6 screws on the back
(including 4 inside the battery compartement)
, the entire front plate
(screen and keyboard included)
must be detached from the case by forcing on one of the corners

Voici donc le matériel ClassPad II fx-CP400:
And now, you get the ClassPad II fx-CP400 hardware: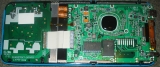 Le matériel se compose donc de deux cartes électroniques distinctes:
la carte d'alimentation RJA527047-001V01

(LY777-E4W)

la carte mère en tant que telle RJA527046-001V02

(LY777-1)
The hardware consists of two distinct PCBs :
the power supply board RJA527047-001V01

(LY777-E4W)

the motherboard RJA527046-001V02

(LY777-1)
Il semblerait donc s'agir de la 2ème version de la carte mère, mais de la 1ère version de la carte d'alimentation.
Notons que cette organisation en 2 cartes distinctes laisse entière liberté à Casio pour une version future de la machine alimentée par batterie rechargeable, surtout que le système le supporte déjà.
It seems that is the second version of the motherboard, but of the first version of the power supply board.
We can take that with two distinct boards, a future version powered by a rechargeable battery would be quite easy, and the system already supports it.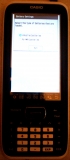 La carte mère semble avoir une organisation très proche de ce que l'on connaît sur les dernières calculatrices Casio graphiques USB
(Casio Graph 35+/75/95, Casio Prizm fx-CG10/20)
.
The motherboard seems to have a setup close to the ones found on most recent Casio graphic calculators USB
(Casio fx-9750Gii/fx-9860Gii, Casio Prizm fx-CG10/20)
.
Elle s'articule fort simplement autour de 3 circuits intégrés:
à l'emplacement U101, une puce processeur sur laquelle nous n'apprendrons rien de cette façon puisqu'elle est noyée sous une goutte d'epoxy solidifié

(ce qui est habituel chez Casio)

à l'emplacement U231, une grosse puce mémoire SDRAM M12L128168A de chez ESMT - 2M x 16-bits x 4 banques, ce qui nous donne une capacité de 16Mo de mémoire vive RAM
à l'emplacement U221, une puce mémoire Flash NAND S99 50338 de chez Spansion - mais hélas nous n'en apprendrons pas plus sur sa capacité pour le moment car son datasheet n'est pas publique bien que datant de 2010
Edit : Il est

possible

que la puce de Spansion soit en fait une NOR Rom de 64 Mo, d'après un membre d'Omnimaga qui à l'air de s'y connaître en cp400, d'après ce qu'il a posté.
It's build around 3 integrated chipsets:
at position U101, a processor chip on which we can't get more information for now, as it's been drowned in a solid epoxy drop

(which is usual with Casio)

at position U231, a huge SDRAM memory chip - M12L128168A from ESMT - 2M x 16-bits x 4 banks, which results in a 16 MB RAM
at position U221, a NAND Flash memory chip - S99 50338 from Spansion - however its datasheet is not public
Edit : It appears that the Spansion chip

might

in fact be a NOR Rom with a capacity of 64 MB, according to a cp400-savvy-looking Omnimaga member who posted a bit more details
.
Pour la RAM, même si c'est bien moins que les TI-Nspire ou HP-Prime, ce n'est pas rien.
Mais ne vous réjouissez pas trop vite... Car sur Casio Prizm la puce RAM faisait aussi 2Mo, mais seulement 64Ko étaient accessibles à l'utilisateur. Ici, dans un rapport similaire, seuls 512Ko restent au final utilisables!

About the RAM, the RAM chip was also 2MB on the Casio Prizm, but only 64KB were available for the user. And here in a similar way, we've only got 512 KB available for the user!

About the NAND Flash ROM, if the informations found on
the official website are accurate
, the chip should have a capacity of 32MB, but only 5.5MB would remain available for the end user.
Niveau connectivité nous attend une grosse surprise avec:
aux emplacements HS401 et CN501, les connexions avec la carte d'alimentation par nappes
à l'emplacement CN401, la connexion mini-Jack pour le transfert de données entre calculatrices
à l'emplacement CN102, la connexion mini-USB pour un ordinateur
à l'emplacement CN703, un connecteur non soudé!
About the connectivity, a huge surprise awaits us. We've got:
at positions HS401 et CN501, the connections to the power supply board
at position CN401, the mini-Jack connector to transfer data between calcuators
at position CN102, the mini-USB connector for a computer
at position CN703, an unsoldered connector!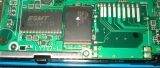 Ce connecteur CN703 de par la répartition de son brochage à 9 contacts plus un contact latéral, ainsi que la forme de la place vide qui lui est réservée sur la carte est clairement un connecteur pour lecteur de cartes mémoire SD!

Contrairement aux anciens modèles Casio ClassPad, il est donc ici possible de rajouter un lecteur de cartes SD à la calculatrice!

This CN703 connector with its pinout of 9 contacts and one lateral contact, and by its shape that gives an empty space on the board is clearly a connector for an SD memory card reader!

Unlike older Casio Classpad models, it is possible to add a SD card memory reader to the ClassPad II !

Il n'est pas sûr que Casio ait pour projet de le proposer un jour puisque cela consituerait un module dont l'usage serait interdit par la réglementation des examens dans certains pays
(dont la France)
.
Des traces logicielles d'un lecteur de cartes SD ont déjà été trouvées sur TI-Nspire et même sur Casio Prizm fx-CG10/20, sans que cela ne se concrétise jamais.
En fait, ces lecteurs semblent utilisées lors de la phase de développement du matériel, et permettent de reprogrammer ou émuler facilement le contenu de la mémoire ROM lors de tests. En effet pas besoin de jeter la calculatrice si une partie critique du code développé ne fonctionne pas puisqu'il suffit ici bêtement de changer la carte SD.
We're not sure if Casio has a future project for this since it would a forbidden module by exam regulations of some countries
(including France)
.
Traces of SD memory card reader support were already found on TI-Nspire and even on Casio Prizm fx-CG10/20 operating systems, also they were clearly missing from the hardware.
In fact, it seems those readers are used during hardware development where they give a way to reprogram or emulate easily the content of the ROM memory during tests - and so avoid permanently bricking the calculator prototypes with bad code: you just need to switch the SD card.
Par contre, la communauté pourrait clairement se demander si il n'y aurait pas de possibilité pour qu'on l'ajoute nous-même un lecteur de cartes SD fonctionnel - une 10aine de grosses soudures de ce type ne sont clairement pas la mer à boire!

However, the community could clearly wonder if there wouldn't be some possibility for us to add a working SD card reader ourselves