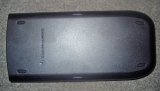 Ceci a peut-être l'air pour vous d'un couvercle de calculatrice TI-84 Plus?

This might look like, to you, a TI-84 Plus cover ?

Mais en fait ce soir, ce couvercle dissimule la calculatrice de vos rêves, la dernière née de la famille des TI-z80: la nouvelle TI-84 Plus Color Silver Edition !

But actually, tonight, that cover hides your dreams' calculator, the latest member of the TI-Z80 family: the new TI-84 Plus Color Silver Edition !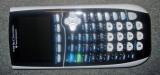 Il est donc maintenant venu temps de découvrir ce trésor sous toutes ses coutures !

The time has now come to discover every aspect of this treasure!

Regardons un peu le dos:
Let's see the backside: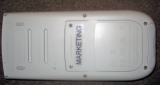 La calculatrice comporte ici un gros sticker
"Marketing"
.
Juste en dessous, on ne trouve pas les numéros de brevet mais la mention
"Patent pending"
, indiquant que les brevets couvrant ce modèle étaient en cours de dépôt lors de sa fabrication.
The calculator shows a large
"Marketing"
sticker.
Right below, no list of patent numbers, but the
Patent pending
mention instead, indicating that patents relevant to this model are still pending at the time the device was manufactured.
En lieu et place du compartiment piles se trouve une trappe verrouillée par deux vis. En effet cette trappe ne contient pas de pile mais une batterie rechargeable !

Instead of the classic battery removable cover is a cover locked by two screws. Indeed, a rechargeable battery has replaced the non-rechargeable batteries!

La batterie est en fait une 3.7L0800SP, identique aux batteries low-cost équipant les TI-Nspire CM chinoises. Elle offre 3,7Volts sous 800mAh, soit une énergie de 2,96Wh.
Il y a donc entière compatibilité avec les batteries TI-Nspire et cette batterie pourra donc, en cas de besoin, être avantageusement remplacée par celle d'une TI-Nspire CX ou TouchPad pour un gain d'autonomie.
The rechargeable battery is a 3.7L0800SP, which is contained in the cheap rechargeable batteries of the chinese TI-Nspire CM. It packs 800 mAh under 3.7V, i.e. 2.96 Wh. The rechargeable battery is therefore fully compatible with the Nspire series', and should the need arise, could be replaced by the CX or Touchpad rechargeable batteries, for higher duration.
On remarque également au dos un bouton
'reset'
qui fait ici son apparition dans la famille des TI-z80. Habituellement on se contentait de retirer une pile pour faire un reset.
Mais ici sur ce modèle, il n'est pas possible de retirer de piles... Et débrancher la batterie est une opération que l'on ne peut réaliser à loisir, puisque la trappe y donnant accès est verrouillée par des vis. D'où l'apparition fort logique de ce bouton
'reset'
, TI a vraiment pensé à tout !

Also noticeable is the first appearance in the TI-Z80 series of a
'reset'
button on the back. Users are accustomed to remove a battery in order to perform a reset; of course, on this model, no joy. Unplugging the rechargeable battery requires unscrewing, because as mentioned above, the cover has screws. It's therefore pretty logical that a
'reset'
button appears, TI thought about it!

Jetons un dernier coup d'oeil vers le numéro de série:
Let's have a glance at the serial number: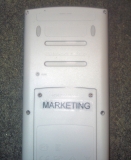 La mention
"K-1212"
qui lui fait suite nous indique que cette calculatrice a été fabriquée dans l'usine K
(Chine)
il y a fort peu de temps en décembre 2012.
The
"K-1212"
letters behind the serial number indicate that this calculator was recently manufactured in the K
(China)
factory, in December 2012.
En fait, à quelques petites modifications près, la TI-84 Plus C Silver Edition est basée sur la boîtier TI-84 Plus. Nul étonnement que nous puissions alors l'utiliser avec les différents supports TI-84 Plus:

Actually, besides minor modifications, the TI-84 Plus C Silver Edition's cover is based on the TI-84 Plus cover. It's therefore no wonder that we can use it with existing TI-84 PLus stands

Sur le dessus, on constate la connectivité habituelle des TI-84 Plus avec le port série mini-Jack et la prise mini-USB:
On the top side of the calculator, the usual 84+ connectivity: mini-jack serial port, mini-USB plug: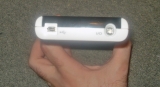 Sur les côtés de la calculatrice en bas, on remarque de part et d'autre deux contacts métalliques:
On the calculator's sides, at the bottom, we can see a couple metal contacts:
Ils conviennent lors de l'utilisation d'une station de recharge, lorsque l'on dispose de plusieurs calculatrices de ce type en classe par exemple:
They're suitable for charging bays, for instance in classroom environments, when one has multiple calculators of the same model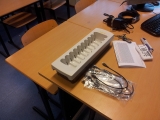 Sur le côté droit en haut, on constate une autre petite différence par rapport au boîtier TI-84 Plus originel.
Il s'agit en fait d'une diode témoin pour la charge de la batterie, qui s'allume lorsque la calculatrice est connectée en USB à une source d'alimentation externe:
On the top right side, there's another small difference from the original 84+ cover.
It's a LED indicating the battery charging process, lighting up when the calculator is connected to a powered USB host: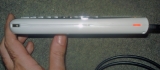 Sur le dessous, on note que la façade du clavier est amovible, exactement comme sur les TI-84 Plus Silver Edition:
On the bottom, the keyboard's faceplate is removable, just like on the 84+ Silver Edition:
La TI-84 Plus C Silver Edition dispose donc des mêmes possibilités de personnalisation!

The 84+ C Silver Edition therefore has the same customization possibilities as the 84+ Silver Edition!

Bref, un superbe modèle que nous avons hâte d'allumer pour vous au prochain épisode !

In other words, a great model that we're very eager to boot up for you, in the next episode!