Venant
à peine
de vous annoncer les mises à jour de la HP-39gII, nous ne sommes pas étonnés aujourd'hui de découvrir de nouvelles mises à jour pour sa calculatrice soeur, la HP-Prime.
D'une part, le logiciel de connectivité passe de la build 5098 du 13 août 2013 à la build 5442 du 25 novembre 2013.
Il n'y a visiblement aucun changement de l'
esprit
du logiciel, qui ne permet pas aisément d'importer sur la calculatrice un fichier tiers
(téléchargé sur Internet notamment)
. Aucun menu n'est prévu à cette fin, et le simple glisser/déposer ne marche pas mieux contrairement à ce qui se fait chez les autres constructeurs. Il faut copier les fichiers tiers dans sous-dossier bien caché et redémarrer le logiciel avant de pouvoir les transférer, une manipulation qui aurait été acceptable dans les années 90, mais pas en 2013.
Si l'on rajoute à cela le fait que la calculatrice n'est pas vendue avec un câble de connexion inter-calculatrices et qu'aucun menu de transfert n'a été trouvé à ce jour, cela semble davantage faire partie d'une politique globale voulue et non de simples erreurs de jeunesse.
Il semblerait que HP tente en fait de garder un certain contrôle sur le contenu utilisable sur ses machines, et de tout faire passer/transiter par son logiciel de connectivité qui à ce jour accepte péniblement les fichiers tiers, et demain peut-être les filtrera ou même les refusera complètement. Il est possible que ce soit dans l'optique d'une meilleure sécurité/fiabilité pour les examens, ou encore à des fins commerciales pour se laisser la possibilité de lancer une future plate-forme de contenu payante. Une possibilité qui certes fera grincer des dents parmi les défenseurs des droits des utilisateurs, mais que l'on ne pourrait certainement pas reprocher à HP après le plébiscite de la mode lancée par l'AppleStore, et poursuivie par le GoogleStore et le WindowsStore.
L'émulateur lui passe de la build 5106 du 13 août 2013 à la build 5447 du 25 novembre 2013. Son écran
"à propos"
nous apprend que le moteur CAS est passé de la version 1.1.0 à 1.1.0-27, mais hélas donne moins d'informations.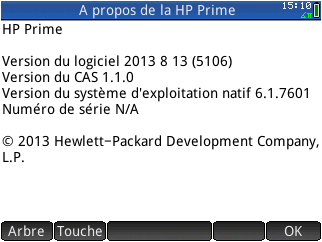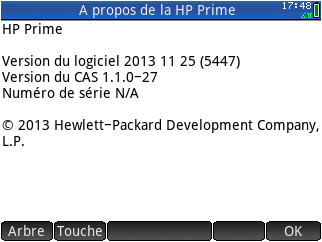 Passons donc au firmware
(microgiciel/microprogramme)
ou encore OS
(Operating System pour système d'exploitation)
en tant que tel. L'écran
"à propos"
de la calculatrice ne nous en apprend pas davantage, se montrant aussi peu bavard: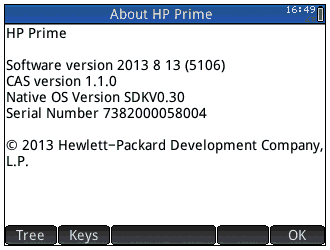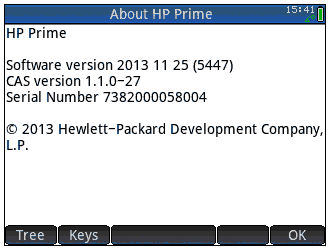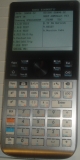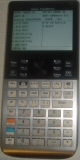 Toutefois, il y a sur la calculatrice un menu de diagnostics auquel nous n'avons pas accès sur l'émulateur. Il nous avait déjà appris que le dernier firmware en build 5106 du 13 août 2013 était la version SDKV0.30. Nous apprenons ici grâce à lui, que le nouveau firmware en build 5447 du 25 novembre 2013 est la version SDKV0.32.
Mais, l'on remarque aussi un choix supplémentaire sur cet écran:
"A.Version Info"
. Ce denier nous précise un autre numéro de version, V1.02 pour la
"Released Version"
.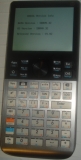 Ayant retrouvé cette information à l'éditeur hexadécimal dans les fichiers, on peut rajouter que le SDKV0.30 était numéroté V1.00. Il y aurait donc plusieurs numérotations pour les versions de firmware HP-Prime:
une numérotation interne pour les développeurs

(SDKV0.23, SDKV0.25, SDKV0.26, SDKV0.30, SDKV0.32)

et une numération externe publique pour les firmwares mis à la disposition des utilisateurs

(1.00 pour le SDKV0.30, 1.02 pour le SDKV0.32)
Le numéro de build suggère plus de 340 recompilations du système depuis la dernière version et donc un travail acharné permanent avec une moyenne supérieure à 3 recompilations par jour
(week-end inclus)
!

Hélas, on confirme rapidement que l'application suites n'a fait objet d'aucune amélioration, avec toujours le bug interdisant aux suites de démarrer au rang zéro
(ce qui est le cas pour la plupart des suites en France, et va péniliser les élèves des Premières générales et technologiques)
, et celui empêchant de définir correctement un système de suites récurrentes
(Terminales S et ES spécialité Mathématiques)
. Nulle surprise, puisque ces bugs n'ont pas non plus été corrigés sur la HP-39gII.
C'est à regret que je me dois donc honnêtement de continuer à mettre en garde contre ces modèles actuellement inadaptés aux public et programme scolaires français.
Je comprends toutefois qu'il y ait pu y avoir d'autres priorités dans les corrections de bugs, et qu'il faut d'abord cibler le marché international avant de statisfaire aux besoins mathématiques spécifiques de chaque pays.
Changelog complet officiel en anglais :
Code: Select all

HP Prime – Release Notes
-------------------------

Date Released: 11/25/2013

Internal Versions
Firmware Version: 2013 11 25 (5447)
Emulator Version: 2013 11 25 (5447)
Connectivity Kit: 2013 11 25 (5442)

Description
This is a defect fix release of the HP Prime firmware, emulator, and connectivity kit. The specific fixes are listed in the table below. There were a number of stability, on-calculator help and memory usage improvements not listed in the table.

Backward Compatibility
This release of the Connectivity Kit is backward compatible with the HP Prime 1.0 firmware. However, some unexpected results may occur sending data from the Calculator to the Connectivity Kit when using prior versions. HP recommends that you upgrade your calculator to the matching 1.0.1 version of the firmware for best results.


Release Notes
-------------------------
Removed unused "Method" variable in advanced graphed.
Resolved issue with OTHER box display in help catalog.
Resolved issue with Gamma function in degrees mode.
Resolved problem with WAIT(0) on PC emulator and PC keyboard.
Resolved issue with cursor position in CAS while using |x| template.
Resolved problem with INPUT help line not adding a space before variable name.
Resolved potential problem while editing function inside advanced graphed plot view.
Changed EDITLIST and EDITMAT to work with user defined variables.
Resolved issue with unit not waking after USB connection.
Resolved issue with Base menu key not working in RPN mode.
Resolved issues with running spreadsheet in RPN mode.
In RPN mode, symb screen and dialogs will now add ' 'automatically if symbolic input is required.
Assorted improvements and corrections in on-calc help.
Pressing ENTER will now open chooser in a dialog, or toggle checkbox.
Improved memory use when calling a CAS function with local variables inside a user program.
Added calendar in corner popup. Click on battery, then time to access.
Resolved issue with list editor and larger items.
Resolved issue with entering a complex number into a real matrix in the matrix editor.
Increased terminal character count limit.
Help in data streamer views now linked to on-calc help entry.
Pressing HELP in chars, templates, and math character menu now linked to on-calc help.
Improved fraction toggle with complex numbers.
Improved note sending to multiple units.
Resolved issue where formatting was lost in app info screen.
Integrals such as sin(x)*ln(x) return results using special integral functions Si(x) and Ci(x).
Improved display of units with very high powers.
Removed limit on numerical SIGMA function.
Resolved issue where START app customization function did not always run on application start.
Pasting in a very large piece of text could sometimes cause the emulator to crash.
"Connect To" menu added in emulator allowing user to specify which device will receive communication links.
Added Si and Ei into help tree.
Exported variables not always initialized in some cases.
"1234"[n] now works to access a specific character in a string with no memory copy.
Matrix declarations in programs allow local variable usage.
MAKEMAT now works with complex matrices.
Ans(n) to get access to prior results.
WAIT(-1) will also be interruptible by a screen touch event.
Added display of remaining time in exam mode to exam password screen.
Many improvements and enhancements to CAS.
Resolved issue with list/matrix editor and larger items. Improved conversion from real to a complex numerical matrix inside editor.
Added new graphical commands FILLPOLY and TRIANGLE.
Added INTERSECT and DIFFERENCE list commands.
Improved drawing of F1-F0 items in CAS view.
Fixed issue with STARTVIEW not causing redraw in some situations.
Added numerical .+ and .- commands.
Changed matrix limit to 20000 items, and list limit to 10000 items.
Resolved issue with SHIFT-UP/DOWN in the symb screen.
Resolved issues with user app programs.
Resolved issue with using ?<command> in the CAS screen.
Renamed finance PMTV variable to more standard PMT naming.
Using "to" in solver could conflict with built in command word.
Added ability to specify start of row/column header in spreadsheet from a program.
Resolved issue with string REPLACE command.
Resolved issue with DMS values not having ' or " for some numbers.
Improved memory use while calling function app AREA command.
Improved IFERR to work when no ELSE clause defined.
Improved the templates and entry of matrices to support use of (,) decimal mode.
Resolved issue where a user program that brings up the terminal could cause a crash in the program catalog.
Improved memory use in deeply recursive user functions.
Updated units to use NIST2010 values. Units now also show in menu when VALUE is not selected.
Resolved issue with MKSA and _mol unit.
Improved rendering of characters on hardware. Improved J character.
Resolved issue where having more then 10 arguments did not have enough boxes in DEBUG/RUN dialogs.
Resolved issues with ITERATE command.
Resolved issue where program arguments >16 did not error with CHECK.
Resolved issue with exact(1e14) not returning correct value.
Resolved issue with CASE having more then 126 levels.
Resolved issue where the CAS would create strange variables such as x*y.
Resolved issue with many apps disabled using exam mode, the APPS screen could draw strangely.
Disabled ability to move app position while in exam mode.
Resolved issue in RPN mode, which prevented entry of a complex in the 1i-1 form.
Resolved issue where USIMPLIFY did not handle case where all units cancelled.
Resolved issue where diff command in graphed could cause a crash.
Resolved situation where pressing APPS could crash the calculator.
On note tout-de-même de très nombreuses corrections de bugs, donc des bugs mathématiques notamment sur les matrices.