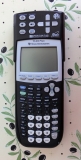 Chase Crispin nous publie aujourd'hui une nouvelle vidéo de sa calculatrice graphique parlante, la
TI-84 Plus munie du module vocal Orion
. Cette fois-ci, il nous invite à découvrir les rôles des 11 touches spécifiques au module.
On y découvre notamment le menu de configuration audio du module accessible par la touche 'pref', et que voici retranscrit:
Today, Chase Crispin publishes a new video clip of his voice-enabled graphing calculator, the
TI-84 Plus equipped with the Orion voice module
. This time, he provides information about the 11 special keys onto the module.
Among the video clip's contents are the audio configuration menu, accessible through the 'pref' key. A retranscription of the menu follows:
Code: Select all

Graph options
Navigation tone duration
200 milliseconds
400 milliseconds (défaut / default)
600 milliseconds
800 milliseconds
1 second
Equation playback duration
2 seconds
3 seconds
4 seconds (défaut / default)
5 seconds
6 seconds
8 seconds
10 seconds
12 seconds
14 seconds
16 seconds
Negative value noise
Off
Level 1
Level 2 (défaut / default)
Level 3
Level 4
Level 5
Negative value vibration
Enabled (défaut / default)
Disabled
Coordinate annoucement
Only X
Only Y
Only numbers
X before Y (défaut / default)
Y before X
Reset graph settings
Speech options
Voice
Paul's voice (défaut / default)
Harry's voice
Frank's voice
Dennis' voice
Betty's voice
Ursula's voice
Wendy's voice
Rita's voice
Kate's voice
Pitch
1
2
3 (défaut / default)
4
5
6
7
8
9
10
Menu item number announcement
off (défaut / default)
on
Reset speech settings

Orion help
Battery status
Firmware version
Serial number
Quiet mode
Disabled
Enabled (défaut / default)
Reset all
Exit
Suprise: on apprend principalement que notre module contient les voix de plusieurs personnes, et que c'est Paul qui avait la parole jusqu'à présent. Une belle parité pour choisir le compagnon de son choix, puisqu'il y a:
4 voix masculines: Paul, Harry, Frank et Dennis
5 voix féminines: Betty, Ersila, Wendy, Rita et Kate
Et oui... Tel le chat qui a neuf vies, le module vocal TI-84 Plus Orion lui a 9 voix.

Si notre module gère donc déjà plusieurs voix, il en deviendrait encore plus facile de lui rajouter une voix à l'accent français dans une mise à jour future !

A condition bien sûr que la demande existe...

There's a surprise: we're learning about the fact that the module contains voice data for multiple persons. Paul was the default speaker until now in our previous experiments, but there are others, with a gender parity for choosing one's companion, as the module provides:
4 male voices: Paul, Harry, Frank and Denis
5 female voices: Betty, Ersila, Wendy, Rita and Kate
Cats are said to have 9 lives, and the TI-84 Plus Orion voice module has 9 voices

Given that the module already supports multiple voice tones, it would be even easier to add a French voice in a future update!

But that requires consumer demand for such a feature...