Dans une
news précédente
, nous jetions un premier coup d'oeil sur notre nouvelle TI-84 Plus C Silver Edition couleur, et
par la suite
nous en découvrions le matériel.
In a
previous news item
, we were having a first glance at our new 84+ C Silver edition, and
later
, we discovered the hardware.
Allumons-la enfin !

Nous nous voyons accueillis par une popup d'aide comme sur les OS TI-84+ "classiques" 2.53MP et 2.55MP. La popup est ici accompagnée du logo Texas Instruments en couleur !

Un bandeau permanent en haut de l'écran rappelle les paramètres de mode courant, l'état de la batterie et l'activation ou pas des touches

et

.
Let's turn it on, at last!

The calculator welcomes us with a help popup, just like the "classic" 84+ running OS 2.53MP and 2.55MP do. The popup contains a colorful Texas Instruments picture!

A permanent bar on top of the screen shows the current mode parameters, the battery state, and the state of the

and

keys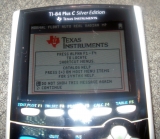 Avant d'aller plus loin puisque c'est notre premier allumage, regardons donc les versions d'OS et de Boot Code, la combinaison d'auto-test étant restée



:
Nous nous voyons donc ici présenter un OS 4.0 tournant sur un Boot Code 4.0.
Before proceeding any further, as it's the first time we're booting it up, let's have a look at the OS and boot code versions. The self-test key combo has stayed the same



:
We can see a 4.0 OS running on a 4.0 boot code.
Dans ce test, nous allons nous intéresser à ce qu'apporte la nouvelle définition 320x240 de l'écran sur les diverses applications de la calculatrice.
In this test, we will focus on the new functionality provided by the new 320x240 screen resolution on the various built-in applications (part of the OS) of the calculator.
Dès l'écran de calcul avec sa grande police on remarque la différence, puisque l'on est capable d'y faire rentrer 10x26 caractères contre 8x16 pour les anciennes TI-82/83/84 !

The difference is noticeable right from the home screen, as 10x26 characters can fit into it, instead of 8x16 characters for the old TI-82/83/84!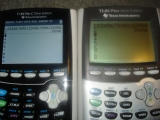 Ce grand confort se retrouve également dans l'éditeur de programmes qui permet de visualiser 9 lignes de code sur 26 colonnes contre 7 lignes sur 16 colonnes auparavant !

De quoi saisir les programmes et les corriger de façon beaucoup plus agréable et productive/constructive!

The screen estate can also be found in the program editor, which shows 9 lines of 26 columns, instead of 7 lines of 16 columns in earlier models!

That shall make program typing and fixing much more pleasant and productive!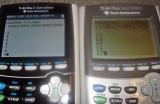 Mais d'autres applications non textuelles profitent avantageusement de la nouvelle définition.
Par exemple, l'éditeur de listes pour les statistiques permet désormais une visualisation simultanée de 5 listes avec 11 valeurs chacune, contre seulement 3 listes avec 7 valeurs chacune auparavant:
However, other non-text applications are also making good use of the higher screen resolution.
For instance, the list editor for stats now enables simultaneously viewing 5 lists of 11 values each, rather than only 3 lists of 7 values each: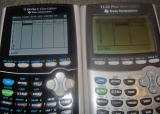 Certes, pour nombre de problèmes de statistiques/probabilités, c'était souvent largement suffisant. Mais passons plutôt à l'éditeur de matrices:
Auparavant, les plus grandes matrices visualisables et éditables sans besoin de défilement étaient en 7x3.
Or, des petites matrices en 4x4 ou 5x5 ne sont pas rares dans les problèmes, et étaient donc peu intuitives à saisir via cet éditeur.
Désormais, il sera possible de saisir des matrices 11x5 sans aucun besoin de défilement, ce qui conviendra à nombre de problèmes !

Granted, for many probability/statistic problems, 3 x 7 was often largely enough. But let's now see the matrix editor:
On earlier models, the largest matrices which can be viewed and edited without scrolling were 7x3. However, small 4x4 or 5x5 matrices aren't that infrequent in problems, and typing such matrices into this editor was therefore not so convenient. From now on, we'll be able to type in 11x5 matrices without scrolling, which will be more than enough for lots of problems!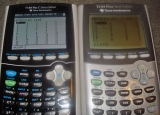 De même, auparavant, les tableaux de valeurs vous permettaient de visualiser simultanément sans défilement 7 valeurs pour 2 fonctions/suites, ce qui est insuffisant pour nombre de problèmes.
Désormais, nous passons à 11 valeurs pour 4 fonctions/suites !

Likewise, the value table used to let users view 7 values for 2 functions/sequences simultaneously, which is insufficient for many problems.
Now, we have 11 values for 4 simultaneous functions/sequences!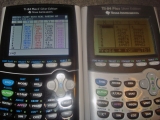 Passons maintenant à l'écran graphique.
Il présente une large bordure qui permet d'afficher diverses informations
(coordonnées, équations, etc.)
sans masquer une partie des courbes. Ce défaut des anciens modèles est enfin corrigé !

Let's move on to the graph screen.
There's a large border, in which multiple information bits
(coordinates, equations, etc.)
can be displayed without overwriting a part of the curves. This limitation of older models is now fixed, at last!

Si l'on enregistre une capture d'écran, visiblement cela n'enregistre que la partie graphique sans ses bordures.
On appréciera en passant l'aperçu affiché pour le contenu des variables images dans le menu des variables

Selon le menu de gestion mémoire, les variables images font toujours 21956 octets, et il n'y a donc pas de compression.
21956 octets est d'ailleurs beaucoup trop pour la RAM, puisque seuls les premiers 32Ko sont librement utilisable par l'utilisateur sans assembleur. Aussi, ces images sont archivées automatiquement à leur création.
It seems that screenshots do not contain the borders, only the graphics part.
Also noteworthy, and enjoyable, is the image preview displayed in the VAR menu

According to the MEM menu, image variables are always 21956 bytes, and therefore, there's no compression.
By the way, 21956 bytes is too large for being stored in RAM, as only the first 32 KB are freely usable by users without assembly. These images are automatically archived upon creation.
Bon il nous faudrait maintenant déterminer exactement quelle est la définition en pixels de ces images.
En partant du zoom décimal, une petite transformation permet de faire correspondre les différents pixels à des coordonnées entières consécutives

OK, so let's try to determine the exact number of pixels in these images.
We'll use ZoomDec as a starting point, and make a small transformation to have pixels correspond to successive integer values

Les captures d'écran prises par la nouvelle TI-84 Plus C Silver Edition sont donc en 265x165 pixels utilisables, contre 95x63 sur les anciennes TI-82/83/84!

Therefore, the screenshots taken by the new 84+ C Silver Edition contain 265x165 usable pixels, instead of 95x63 on the old 82/83/84!

Pour un total de 43725 pixels, une taille de 21956 octets nous indique que chaque pixel est donc codé sur 4-bits, et ne peut donc se voir attribuer que 24=16 couleurs différentes, en tous cas via le TI-Basic et les fonctions de dessin.
The grand total being 43725 pixels, a size of 21956 bytes means that each pixel is coded on 4 bits, and therefore is limited to 24=16 different colors - at least, through TI-Basic and drawing functions.
Voyons un peu maintenant le texte sur l'écran graphique
Nos calculatrices pour l'écran graphique disposent en fait de deux polices:
Let's have a look at the text on the graph screen.
For the graph screen, the calculators have two fonts:
une petite police en largeur variable de 6 pixels de haut sur les anciennes TI-82/83/84, elle est maintenant 12 pixels de haut sur la nouvelle TI-84 Plus C Silver Edition

the small, variable-width font used to be 6 pixels high on the old 82/83/84, it's now 12 pixels high on the new 84+ C Silver Edition

une grande police en largeur fixe de 8x6 pixels sur les anciennes TI-82/83/84, et maintenant 16x12 pixels sur la nouvelle TI-84 Plus C SE

the large fixed-width font, 6x8 pixels on the old 82/83/84 and now 12x16 on the 84+ C SE
Verticalement sur l'écran graphique il rentre donc:
13 lignes de texte en petite police contre 10 auparavant;
10 lignes de texte en grande police contre 8 auparavant
Vertically, the graph screen can contain:
13 lines of small font text, instead of 10;
10 lines of large font text, instead of 8
Horizontalement sur l'écran graphique il rentre aussi:
22 colonnes de texte en grande police contre 16 auparavant;
un nombre variable de colonnes en petite police, puisque la largeur des caractères est ici variable
Horizontally, the graph screen can contain:
[*]22 columns of small font text, instead of 16;
[*]a variable number of small variable-width font characters[/list]
On voit alors poindre un problème: les programmes TI-Basic pour les anciennes TI-82/83/84 qui faisaient usage de l'écran graphique auront un affichage corrompu sur ce nouveau modèle, puisque la plupart des fonctions de dessin dépendent non pas des pixels mais des coordonnées ici complètement différentes!
Some trouble is coming our way: those TI-Basic programs aimed at old 82/83/84 calculators, which used the graph screen, will display garbage on this new model, as most drawing functions do not depend on pixels, only on coordinates... which have changed!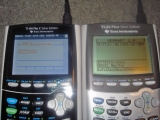 Ces programmes nécessiteront une version spéciale pour TI-84 Plus C Silver Edition. Peut-être que le mieux serait alors une adaptation leur permettant de tourner correctement sur les deux modèles, nous y réfléchirons tous ensemble.
These programs will have to be ported to the 84+ C SE. Maybe the best solution would be some kind of adaptation layer enabling such programs to run on both model types, we'll collectively think about it.
Résumons la chose à l'attention des futurs utilisateurs/programmeurs suite à nos tests:
Here's a summary of our above tests, aimed at future users / programmers:
[tableborder=1]
TI-84 Plus C Silver Edition
TI-81/82/83/84
320x240
96x64
265x165
95x63
16x12
8x6
Hauteur petite police
(pixels)
Small font height
(pixels)
12
6
10x26
8x16
Ecran graphique + grande police
(caractères)
Graph screen + large font
(characters)
10x22
8x16
Ecran graphique + petite police
(lignes)
Graph screen + small font
(lines)
13
10
[/table]
Avec la TI-84 Plus C Silver Edition TI n'a donc pas seulement passé l'écran en 320x240, mais a adapté l'ensemble des applications de l'OS de façon raisonnée à cette nouvelle définition !

A bientôt pour d'autres découvertes !

On the TI-84 Plus C Silver Edition, TI did more than raising the screen resolution to 320x240: they adapted all built-in applications to the new screen resolution in a reasonable manner!

See you soon for other discoveries!