En magasin on trouve nombre de calculatrices de la série Casio Graph:
Graph 25+Pro

(ou fx-7400Gii)

Graph 35+USB

(ou fx-9750Gii)

Graph 75

(ou fx-9860Gii)

Graph 85

(ou fx-9860G)

Graph 85 SD

(ou fx-9860G SD)

Graph 95

(ou fx-9860Gii SD)
C'est la foire...
Mais ce qui est moins visible, c'est que ces modèles sont eux-mêmes les ingrédients d'une véritable salade, puisqu'ils peuvent entre autres venir un OS 2.00, 2.01 ou même 2.02
(sauf pour les Graph 85)
.
Il n'y a aucune mise à jour pour l'OS 2.02 sur le site de Casio, ce qui est normal puisqu'il n'est préinstallé que sur des calculatrices utilisant un nouveau matériel basé sur un processeur SH4
(et non plus SH3)
, et est donc incompatible avec les calculatrices utilisant l'ancien matériel.
Ce nouveau matériel cause d'ailleurs nombre de problèmes, puisqu'une écrasante majorité des add-ins (applications dans le monde TI) assembleur se révèlent incompatibles, et que le SDK de Casio n'a toujours pas été mis à jour pour générer des add-ins compatibles avec le nouveau matériel.
Mais heureusement, l'OS 2.01 apporte nombre de corrections et améliorations par rapport à l'OS 2.00, et permet donc après mise à jour de bénéficier des avantages logiciels de l'OS 2.02 sans en avoir les inconvénients matériels.
Parmi ces avantages, on peut citer un meilleur choix du mode de calcul adapté à la situation, exacte ou approché - ce qui pouvait donner des résultats complètement différents et donc totalement faux avec l'OS 2.00:
Vous trouverez
chez nous
les programmes de mise à jour en OS 2.01 pour les Casio Graph 75, Graph 85 et Graph 95.
Et pour la Casio Graph 35+USB me direz-vous?
Et bien Casio n'a jamais publié aucune mise à jour pour ce modèle.
Or, comme je le découvrais il y a un peu plus de 2 ans, ce modèle dispose pourtant bien d'une ROM Flash de 4Mo exactement comme les Graph 75, Graph 85 ou Graph 95!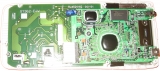 La ROM est donc bel et bien reprogrammable avec un nouvel OS, et Casio n'a tout simplement pas pris la peine de développer de programme de mise à jour pour ce modèle d'entrée de gamme. Il est donc impossible officiellement de le mettre à jour.
Mais heureusement TI-Planet a pensé à toi et te sort aujourd'hui le tuto qui va te permettre de mettre à jour ta Graph 35+USB avec le nouvel OS 2.01 et de calculer mieux!

Tout est possible sur
TI-Planet
!

Tutoriel de mise à jour des Casio Graph 35+USB en OS 2.01
In stores we can find many different monochrome graphic Casio calculators:
fx-7400GII
fx-9750GII
fx-9860G
fx-9860G SD
fx-9860GII
fx-9860GII SD
But what is less visible, is that those models can come with OS 2.00, 2.01 or 2.02.
There is no update for OS 2.02 on the Casio site, which is normal since it comes preinstalled only on calculators using the new hardware based on an SH4 processor
(different from the SH3 processor in the old hardware)
, and is therefore incompatible with the calculators using the old hardware.
This new hardware also causes many problems, since the majority of add-ins are incompatible with it, and since the Casio SDK has not been updated yet to generate add-ins compatible with the new hardware.
But fortunately if you still have a calculator with the old OS 2.00, OS 2.01 brings many bugfixes and improvements over the 2.00 OS, and you can therefore enjoy the software benefits of OS 2.02 without having the hardware drawbacks after updating.
These benefits include a better choice of the calculation mode, exact or approximate - which could give completely different and therefore totally wrong resultes with OS 2.00:
2.01 update installers for the fx-9860G and fx-9860GII can be found on the Casio site.
And what about the fx-7400GII?
Casio has simply never released any update installer for this model.
However, this model has a 4MB Flash ROM, exactly like the fx-9860G and fx-9860GII!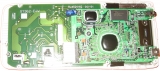 So the ROM can perfectly be reflashed with a new OS and Casio just didn't bother to develop an update installer for this entry-level model. Therefore, it is impossible to update
officially
.
But fortunately, I've released a tutorial which will allow you to update your fx-9750GII to the new OS 2.01 and calculate better!
Tutorial to update the Casio fx-9750GII from OS 2.00 to OS 2.01