Pour la rentrée 2019, selon le nouveau programme de
Physique-Chimie
de la
Seconde Générale et Technologique
, il faudra programmer des tracés en langage
Python
:
mouvement plan d'un objet ponctuel
nuage de points
vecteurs vitesse et variations
C'est bien, puisque ta
NumWorks
est la seule calculatrice à permettre tout ça, et depuis bien longtemps grâce à son module graphique
kandinsky
.

Mais le tracé de la flèche d'un vecteur avec des instructions graphiques absolues est algorithmiquement tout sauf trivial à un niveau Seconde.
Une solution peut être l'utilisation d'un module
Python
offrant des instructions graphiques relatives, que les élèves ont été habitués à utiliser pendant toute leur scolarité au collège avec le langage
, comme par exemple le module
turtle
.
Et bien ça tombe bien, puisque
turtle
sur ta calculatrice
NumWorks
pendant ces vacances !

Un portage d'excellente facture puisque Jean-Baptiste est même aller jusqu'à l'intégrer à la perfection, en listant et décrivant correctement le module et ses nouvelles fonctions apportées dans la boîte à outils !

La liste très complète de fonctions permet même de contrôler la taille et la couleur du stylo de la tortues, pour de très larges possibilités de tracés :

Code: Select all

from turtle import *
def spiral(N_iteration):
N_iteration *= 25
for i in range(N_iteration):
# Change pen color
gray=255-(i*255/N_iteration)
pencolor(int(gray),int(gray*0.75),int(gray*0.25))
# Draw a segment of the spiral
forward(i*0.1)
left(10)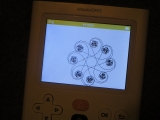 Il est parfaitement possible de rajouter ce module à une vraie calculatrice :

Code: Select all

from kandinsky import *
from turtle import *
pensize(1)
def starx(a,s,d):
h0=0
h=h0
a0=a
while a==a0 or (h-h0)%360 or (a-a0)%360:
forward(d)
left(a)
h+=a
a+=s
Toutefois, cela implique à ce jour la programmation d'un
firmware
non officiel, ce qui bien que relativement simple n'est absolument pas une solution pérenne.

Espérons donc que ce module ou un équivalent sera bientôt intégré au
firmware
officiel.
firmware

1.8.0 bêta

précompilé avec ce module
soumission au firmware officiel avec code source
viewtopic.php?f=102&t=21922