Première exécutation de code natif (C et assembleur) non officiel sur HP-Prime, grâce au tout premier firmware tiers !

First unofficial native (C and assembly) code run on the HP-Prime, thanks to the first third-party firmware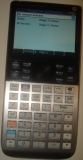 En
novembre 2013
, je vous démontrais qu'il était possible de programmer un firmware modifié sur HP-Prime, la plus puissante calculatrice graphique à ce jour qui fut lancée pour la rentrée 2013. Une expérience précédente sur ce thème, menée par Lionel Debroux et moi en août 2013, avait échoué, car le firmware modifié n'avait en réalité pas été transféré à la machine.
Toutefois, je n'avais modifié que des données
(un message affiché)
. Il restait à savoir si c'était possible de modifier du code exécutable, et devant l'indifférence généralisée que suscitait ce genre d'expériences au sein de la communauté HP, j'avoue être passé à d'autres projets comme mViewer GX.
In
november 2013
, I proved it was possible to flash a modified firmware to the HP-Prime, the most powerful graphing calculator to date which was released for back to school 2013. A previous experiment on modifying firmware, made by Lionel Debroux and I in August 2013, had failed because the modified firmware hadn't actually been transferred to the calculator.
However, I only modified some data
(a displayed string)
. It remained to be seen if it was possible to modify some executable code, and due to the widespread indifference regarding such experiments within the HP community I moved on to other projects like mViewer GX.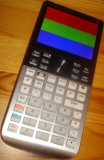 Non, l'image ci-contre n'est pas une photographie d'un quelconque écran de diagnostic ou d'un document mViewer GX...
Lionel Debroux qui s'est acheté une HP-Prime entre temps a poursuivi nos expériences, et vient de réussir à se compiler son propre firmware, dans lequel il a inclus le code assembleur
(langage machine)
nécessaire à l'affichage d'une mire RVB
(rouge/vert/bleu)
.

Ce soir est donc un grand soir dans l'Histoire de la HP-Prime, où nous réalisons d'une pierre deux coups. Nous démontrons d'une part que contrairement à la TI-Nspire il est à ce jour possible de compiler et programmer n'importe quel firmware compatible sur HP-Prime, et d'autre part nous y réalisons la première exécution de code assembleur non officiel !

Après huit mois de perdus, la voix du succès est donc enfin grande ouverte à la communauté HP: corrections des bugs du firmware officiel, création d'un shell/kernel pour permettre l'exécution de code assembleur depuis le firmware officiel et bénéficier d'une puissance encore plus extraordinaire pour les programmes, portage de Linux...
Reste à savoir si cette grande avancée fera enfin l'effet d'un électrochoc tant attendu, ou si la communauté HP va poursuivre dans sa torpeur pourtant surprenante après les merveilles et miracles réalisés sur les gammes HP-48 puis HP-49, condamnant la HP-Prime à l'oubli en l'absence d'initiatives officielles s'y substituant.
No, the picture on the right isn't showing you some meager diagnostic screen or mViewer GX document...
Lionel Debroux, who bought a HP-Prime in the meantime, has continued our experiments and has just successfully built his own firmware, in which he included some assembly code to display a RGB pattern
(red/green/blue)
.

Tonight is a big day in the history of the HP-Prime. Unlike the TI-Nspire, we've demonstrated you that it is possible to build and flash any compatible firmware on the HP-Prime, and in the same time we've performed the first execution of third-party assembly code on the HP-Prime !

After eight months lost, the success door is finally wide open to the HP community: fixing bugs for the official firmware, building a shell / kernel to allow the execution of assembly code on the official firmware and benefit from even more powerful programs, porting Linux...
Whether this great advance is going to wake up the HP community from its apathy or not, a surprising one after the wonders and miracles performed on the HP-48 and HP-49 calculator families... is a good question. It's one of the chances for the user community to save the HP-Prime from being forgotten, unless HP changes its mind and does all this by itself.
viewtopic.php?t=14939&p=167592#p167590