Edit pour ceux qui n'ont pas lu les news d'avant: Cela ne fonctionne que sur Clickpad/Touchpad, pas sur CX!
Suite à la sortie inattendue de nLaunch dans une
news précédente
, j'ai trouvé que la
première news
d'application n'était pas à la hauteur des possibilités de l'outil en question.
Transformer une TI-Nspire numérique en TI-Nspire CAS, c'est d'un commun...

Repoussons plutôt les frontières du possible!
Depuis des mois vous nous réclamez Ndless 3.2, afin de pouvoir à la fois bénéficier des programmes Ndless pour l'OS 3.1 et des programmes Lua pour l'OS 3.2.
En effet, jusqu'à présent, pour bénéficier des deux il vous fallait soit disposer de deux calculatrices, soit trouver un ordinateur pour installer l'OS nécessaire. Et dans les deux cas, ce n'est pas possible pendant un examen.
Alors non, je ne vais pas sortir Ndless 3.2 ce soir, mais je vais déjà vous faciliter grandement la vie en vous permettant de faire cohabiter sur votre calculatrice les deux OS 3.1 et 3.2!

Ce n'est pas chose facile ici car les TI-Nspire ClickPad/TouchPad disposent de 32Mo de mémoire NAND dont seulement 27Mo utilisables en tant que système de fichiers. Les OS 3.x vont de 7Mo pour les versions allégées avec TNOC à plus de 10Mo!
Alors certes, 2 OS ça rentre dans vos documents Nspire... mais il faut compter que l'OS installé lui aussi occupe une place au moins équivalente hors du dossier des documents Nspire... Bref, il faut compter 3 OS 3.x et ça ne rentrera pas...

C'est pour ça que l'on va sortir une version légèrement modifiée de nLaunch, j'ai nommé
nLaunch 'switcher'
. La seule différence est que lorsque l'on change d'OS, l'OS précédent n'est pas effacé mais remis dans les documents Nspire et peut donc être réactivé plus tard. Il n'y a plus besoin que de deux copies d'OS entre lesquels on va pouvoir tout simplement basculer!

L'ancien OS sera ici récupéré lors d'un changement d'OS en tant que
'/nlaunch/phoenix.back'
. Il suffira de le renommer à nouveau en tant que
'/nlaunch/phoenix'
pour le remettre en service en seulement quelques touches!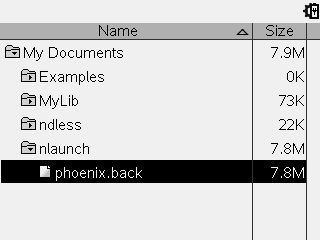 Le petit bémol, est qu'à chaque fois comme le nouvel OS nécessite une installation, il faudra 2 redémarrages de la calculatrice
(installation + lancement)
d'une durée totale d' 1min 20s avant de pouvoir l'utiliser.
C'est-à-dire 1min 20s pour pouvoir basculer entre les deux écrans suivants: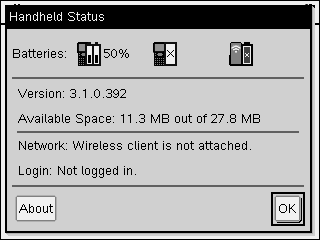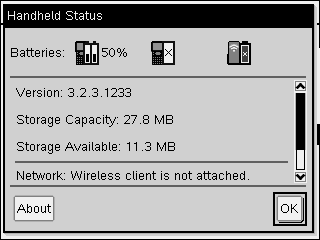 Autrement dit, il n'est pas question de changer 42 fois d'OS pendant un devoir ou examen non plus...
Autant être honnête et vous montrer de quoi ça a l'air avant que vous ne décidiez d'aller plus loin ou pas dans cette voie.
Nous allons donc prendre le programme Ndless 'particles' et le programme Lua 'HelloChipmunk27':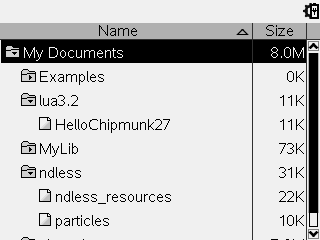 'Particles' ne fonctionne qu'avec Ndless 3.1 et donc qu'avec l'OS 3.1.
'HelloChipmunk27' est un programme Lua tirant parti du moteur physique de l'OS 3.2 et ne fonctionne donc qu'avec ce dernier.
Voici donc une vidéo qui vous montre ce qu'il y aura à faire pour lancer successivement ces deux programmes:
Voilà, si vous êtes partant, suivez les instructions dans notre
Ndless 3.2 Switching Pack
afin d'obtenir ça!
Certes, c'est encore un peu lourd mais nous venons de repousser significativement les frontières du possible sur TI-Nspire: pour la première fois depuis 2007, nous avons une sorte d'embryon de dual boot!

Soyons sûr que d'autres solutions plus pratiques verront sans doute le jour bientôt, car avec la possibilité de modifier des OS et les lancer, la seule limite désormais, c'est tout bonnement notre capacité d'imagination!

Vous aimez ?

Pack
"Ndless 3.2 Switching"
prêt à être utilisé:
archives_voir.php?id=10141
Installation détaillée pas à pas:
viewtopic.php?t=11025&p=134150&lang=fr
Yesterday
we got the release of nLaunch, an OS launcher for the TI-Nspire ClickPad/TouchPad.
After nLaunch installation, all what was needed to install and run an OS was to copy or rename the new OS file to
'/nlaunch/phoenix'
.
And what if we could have some kind of a dual boot between Ndlessed OS 3.1 and OS 3.2 ?
We could then benefit from the best of both worls with Ndless 3.1 programs and Lua 3.2 programs!

But it's not so easy as TI-Nspire ClickPad/TouchPad only have 32MB NAND, and only 27MB are usable for the filesystem.
All 3.x TI-Nspire OSes take something between 7MB
(when optimized with TNOC)
and 10MB! >:(
One 3.x OS file is ok. Two 3.X OS files are going to fit too.
But in order to always be able to switch between both OSes, you'll have to keep both files and one of them has to be the installed OS... meaning that three 3.X OS files have to exist simultaneously in your TI-Nspire, which is not possible.
That's why we made a small modification to nLaunch, named 'nLaunch Switcher'. When you put a new OS in
/nlaunch/phoenix
, you get back the previously installed OS in
'/nlaunch/phoenix.back'
and you'll be able to reinstall it later.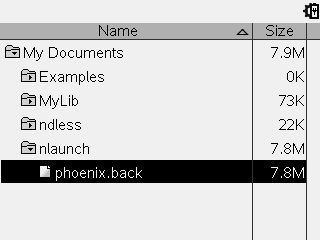 So, no need to keep a copy of the installed OS image in your documents folder anymore! Only two OS images are needed instead of three and they're going to fit!

Here's how you would be able to switch between OS 3.1 + Ndless and OS 3.2:
Yes, 1min 20s
(two reboots: one for the installation and one for launching the new OS)
are needed for the switching.
You might consider this slow, but for the first time in years you've got some kind of a dual boot on your TI-Nspire!
No connection to a computer is needed anymore - just switch between Ndless 3.1 and Lua 3.2 programs using your own handheld and nothing more! ;D

Ready to use
"Ndless 3.2 Switching"
pack:
archives_voir.php?id=10141
Installation how-to:
viewtopic.php?t=11025&p=134150&lang=en