En
Février 2006
,
James Vernon
sortait un chef-d'œuvre vidéoludique monumental sur calculatrice graphique
Texas Instruments
,
Banchor - Legend of the Hellspawn
, initialement pour la non moins légendaire
TI-86
et son écran large
128x64
pixels.
Banchor: Legend of the Hellspawn
est un jeu de type
RPG
dont le
gameplay
est comparable à
, le premier du nom sorti pour la console de jeux japonaise
en février 1986, puis sur sa déclinaison internationale
en juillet 1987.
La légende raconte que

Banchor

, un puissant démon issu des profondeurs de l'Enfer, faisait autrefois des ravages sur l'humanité. Nombre de guerriers audacieux perdirent la vie en l'affrontant. Mais finalement Zehos, un grand sorcier, le renvoya dans les profondeurs infernales et scella la porte avec cinq cristaux magiques. La paix régna pendant quelques siècles, et les cinq cristaux furent perdus et oubliés.

Mais aujourd'hui, dans le vaste royaume de Viridian, le mal, est de retour. Le bon roi Heath est soudain devenu tyrannique, faisant disparaître sa fille la princesse Saphir, tolérant la présence de bêtes sauvages et démons, coupant l'approvisionnement de ton village, décrétant la fermeture du port et emprisonnant tous les guerriers dans ses donjons.
Banchor
te permet donc d'incarner Rex le héros, dans sa quête pour secourir la princesse Saphir et défaire Banchor, le démon de l'enfer. Une aventure très riche au cours de laquelle tu devras améliorer tes armes, ta défense et ton endurance. N'hésite surtout pas à demander informations, conseils ou aide aux nombreux PNJ rencontrés...

Pour fêter les 10 ans de
Banchor
,
James
nous revenait en
octobre 2017
avec un portage pour calculatrice couleur
TI-83 Premium CE
(et
TI-84 Plus CE
dans le monde non francophone)
.
Mais voilà, il s'agissait d'un portage rapide à l'identique. On y retrouvait à l'identique les graphismes de la
TI-86
, juste ici affichés selon un
zoom
x2 pour mieux occuper le nouvel écran
320x240
pixels, et donc toujours en niveaux de gris ce qui pouvait rebuter les plus jeunes et les empêcher d'entrer dans l'univers de
Banchor
.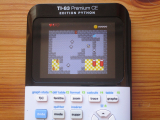 Aujourd'hui à l'occasion des 15 ans de
Banchor
,
James
pense toujours à nous et nous sort enfin la version 2 pour
TI-83 Premium CE
.
Cette mise à jour apporte une toute nouvelle dimension à ton aventure avec de tout nouveaux graphismes couleur conçus sur-mesures pour le nouvel écran.
De quoi désormais pleinement découvrir ou redécouvrir toute la richesse du monde de
Banchor
!

Attention,
Banchor
rentre dans la catégorie des programmes en langage machine dits
ASM
.
Suite à un
acte irresponsable
d'un enseignant de Mathématiques français avec ses gesticulations aveugles dans le contexte de la réforme du lycée,
Texas Instruments
a réagi en supprimant la gestion de tels programmes depuis la mise à jour
5.5.1
.
Si tu es sur une des versions ainsi bridées, tu peux quand même en profiter sans trop d'efforts. Il te faut :
installer

arTIfiCE

pour remettre la possibilité de lancer des programmes

ASM