Hello folks,
Today we would like to announce a new project, XPicoC, which turns your TI-Nspire CX into a powerful programming machine in pure C programming language
WITHOUT NDLESS
!

XPicoC is programmed completely in the Lua scripting language and does not depend on any native code, so it can be run on all TI-Nspire OSes from OS 3.2 to the newest OS 5.1, and only slight changes are needed to make it compatible with OS 3.0 and OS 3.1.
We have implemented all the essential features of ISO C,
including pointer arithmetic
.
Please read the Project GitHub Page for more details about this project.
Project GitHub Page:
https://github.com/ExAcler/XPicoC
Usage:
Play with it by directly typing in C statements.
To execute from a C source file:
Create a Notes application and type in or paste your C source code into the application.
Press Ctrl+A followed by Ctrl+C.
Switch back to XPicoC and press Ctrl+V (Or press Menu and select Run > Run code from clipboard)
Screenshots:
Simple Hello World: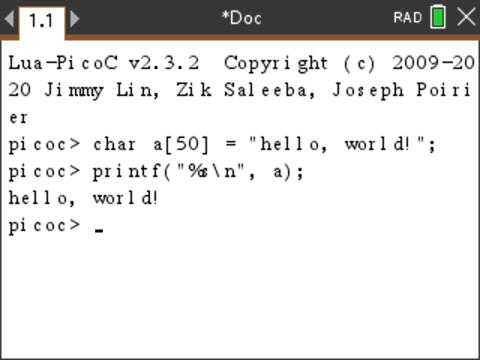 Pointer arithmetic: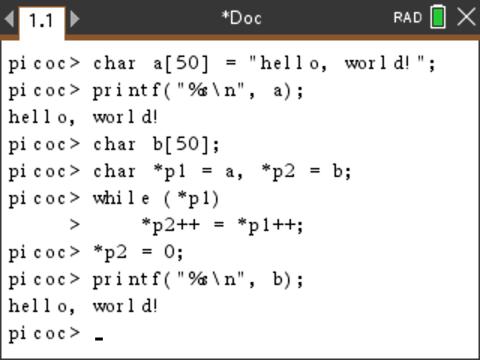 Quicksort: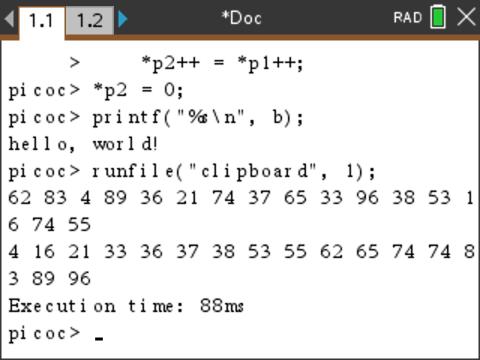 Current version of XPicoC is still being tested and may be error prone. A preview version of XPicoC is available to download now:
archives_voir.php?id=2624026
If you are interested you can clone the project and deploy it yourself to get the latest updates.