Recently I embarked in a journey to try to run Linux on my calculator, because it was always something that I wanted to do, but I´m having some problems that in their majority are screen related problems.
First of, the thing I´m trying to run is Arch Linux described in this omnimaga article: (
https://www.omnimaga.org/ti-nspire-projects/ti-nspire-cx-linux-adventures-(arch-linux-with-x11-internet-audio)/
), with the difference being that I´m only running the calculator with a USB OTG and a Y splitter both connected to a power bank and to the PEN Drive on my revision Y calculator with OS 4.5
Now, because this article isn´t really a tutorial. I came across various posts to see how I could make this work, but everytime I tried and the linuxloader would try to load Arch Linux from the Drive, this would happen:
Because of that I also tried to watch for a newer release of linuxloader and the dtb for the CXII and try to run it again, but still nothing.
Then, to test if it was my mistake, I tried the same files I was using on my calculator with the dtb for the CXII on my friend´s Ti Nspire CX II-T and here it is working as I would expect: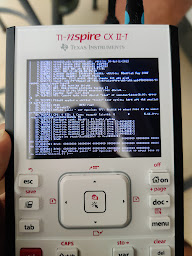 But you can see it´s giving an error saying: "---I end Hernel panic not Syncina: VFS: Unable to mount root is en unknown-block(0,0)", which I don´t know what went wrong, but if anybody knows how to solve it, it would also be great to get this to work in friend´s calculator at least.
The thing here is, no meter what I try to do, linux doesn´t seem to run in my calculator for some reason. I also thinked that it could be because of the Y splitter not giving enough power and something, but in my friend´s calculator I was only using the OTG Cable.
Additional:Also tried to run nLoader with the files that can be found here:
https://github.com/ndless-nspire/Ndless/issues/282#issuecomment-829606820
, but the screen is just infinitely black or becomes white as you can see in the last post that I did in this issue but didn´t comment further because I needed to do more testing and the Y splitter.
Edit:Screenshot of the files in the Linux folder in my calculator