La nouvelle TI-84 Plus C Silver Edition couleur
disponible pour cette rentrée 2013
gère un nouveau type de variable
'background' (image de fond)
.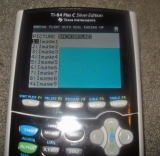 La fabrication de telles images peut se faire via le TI-Screen Capture inclus au logiciel de transfert TI-Connect ou encore par le générateur en ligne
SourceCoder
de Cemetech.
Mais comme sur TI-Nspire, ces images gérées d'origine par le système souffrent de plusieurs limitations qui en rendent l'utilisation peu aisée:
la définition en est limitée à 133x83, soit juste le quart de celle de l'écran (320x240)
on ne peut en avoir simultanément que 10 au maximum sur la calculatrice
Heureusement, et ça aura pris moins de temps que sur TI-Nspire, assemblybandit vient de nous publier IViewer, une application de lecture d'images pour la TI-84 Plus C Silver Edition, ainsi que son convertisseur associé.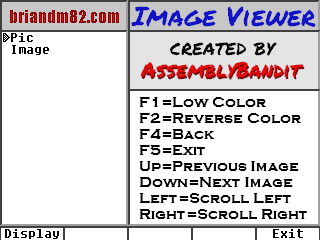 L'application gère un nombre illimité d'images.

Les images peuvent enfin être aussi grandes que l'écran: 320x240.

Les images ne sont plus limitées à la résolution de l'écran!

Le scrolling est géré pour les images débordant de l'écran, mais hélas le faible taux de rafraîchissement obtenu sur cette machine peu puissante en rend l'utilisation peu pratique.
On peut regretter qu'il n'y ait pas de support de zoom pour le moment, ce qui permettrait d'avoir une vue d'ensemble de l'image et de limiter la nécessité de recourir au scrolling.
Mais c'est déjà un excellent début inespéré devant ce que laissaient présager les premiers tests de performance de la machine.

IViewer + convertisseur
The new TI-84 Plus C Silver Edition available for back to school 2013 does support a new kind of image variable: background images.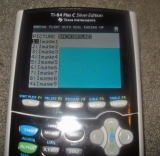 Such images can be generated with the TI-Screen Capture included in the TI-Connect 4.0 software or online thanks to
SourceCoder
on Cemetech.
But like on the TI-Nspire, those images supported natively have many limitations:
image size is limited to 133x83, less than a quarter of the screen resolution
only a maximum of 10 images can be stored simultaneously on the calculator
Fortunately, and it took less time than on the TI-Nspire, assemblybandit has just released IViewer, an image reading application for the TI-84 Plus C Silver Edition, and its convertion tool.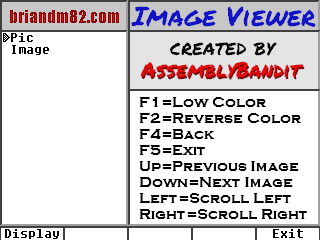 You can store as many images as you want.

Images can now be as large as the screen resolution: 320x240.

Images aren't limited to the screen resolution.

Scrolling is supported for images greater than the screen, but unfortunately the low refresh rate on this powerless hardware doesn't make it that useful.
If the refresh rate cannot be increased, some zoom support might be a good idea in order to limit the scrolling need.
But after the first TI-84 Plus C Silver Edition disappointing performance tests, that's allready far better that what we could expect.

IViewer + convertisseur