Block Dude 2: Trapped
File hierarchy
Downloads
Uploaded files
(

13848

)
TI-Nspire
(2433)

---

Jeux
(307)
Screenshot
Aperçu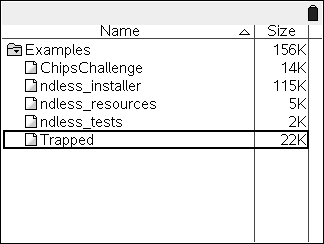 Informations
Auteur

Author

:
apcalc
Type :
Assembleur nécessitant un kernel
Taille

Size

:
42.48
Ko
KB
Mis en ligne

Uploaded

:
13/02/2011 - 04:28:43
Mis à jour

Updated

:
02/01/2012 - 05:23:19
Uploadeur

Uploader

:
critor
(
Profil
)
Téléchargements

Downloads

:
1083
Visibilité

Visibility

:
Archive
publique
Shortlink

:
http://ti-pla.net/a2154
Description
Block Dude 2: Trapped est basé sur le "Trapped!" de Justin Shaler pour les TI-83/84. "Trapped!" est une suite du "Block Dude" de Brandon Sterner.

Les nouveautés dans ce jeu comprennent les bombes et les échelles.
Le jeu utilise un superbe graphisme en 16 niveaux de gris, et reprend 5 niveaux parmi les originaux.

----------

Block Dude 2: Trapped is based on Justin Shaler's "Trapped!" for the TI-83/84 family of calculators ported to the TI-Nspire calculator. "Trapped!" is a sequel to the popular graphing calculator game "Block Dude" by Brandon Sterner. New features in this game added to the original Block Dude are bombs and ladders! This game features beautiful 16-level gray scale graphics and five of the original levels!

Nécessite Ndless.
Archive contents
Contenu de l'archive
Action(s)

Size

Taille

File

Fichier

16.13

Ko

KB

src/main.c
1.89

Ko

KB

src/Makefile
43.43

Ko

KB

src/utils.c
1.07

Ko

KB

src/utils.h
2.18

Ko

KB

ReadMe.txt
21.63

Ko

KB

Trapped.tns
12.10

Ko

KB

Trapped-Beta-1.0.89z
22.90

Ko

KB

Trapped-Beta-1.0-Ndless1.1CAS.tns
22.90

Ko

KB

Trapped-Beta-1.0-Ndless1.1NONCAS.tns
News articles referring to this archive
News mentionnant cette archive
Selection(s) having this archive
Sélection(s) contenant cette archive