Tetrizm
Hierarchy of files
Downloads
Files uploaded
(

12019

)
Casio Graph 90+E/fx-CG
(192)

---

Jeux
(35)
Screenshot
Aperçu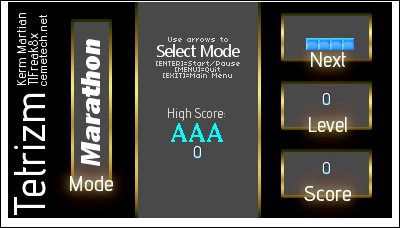 Informations
Auteur

Author

:
Kerm Martian
Type :
Application
Mis en ligne

Uploaded

:
12/09/2017 - 19:59:30
Mis à jour

Updated

:
08/05/2020 - 12:45:42
Téléchargements

Downloads

:
6124
Visibilité

Visibility

:
Archive
publique
Shortlink

:
http://ti-pla.net/a1142630
Via

Via

:

Description
Une adaptation de Tetris pour ta Graph 90+E ou fx-CG10/20/50.

----------

You love the game of Tetris on every platform, from your computer to your GameBoy to your TI calculator, so why not enjoy it in brilliant color on your Casio Prizm calculator? Featuring fast-paced gameplay, four play modes, high score tracking, and much more, this game is sure to be a permanent addition to your Prizm. In Marathon mode, try to complete lines for as long as possible as your score and the speed increase. High Speed mode ups the ante with faster drops at lower levels. If you want to start out in a bad situation, try Touchdown mode. With Collapse mode, you can set up giant stacks of tetrominos to score many lines at once. And to really torture yourself, see how long you can last with no line pieces in Sadistic mode.
News articles referring to this archive
News mentionnant cette archive