The Reign of Legends Complete Collection (Série RPG)
File hierarchy
Downloads
Uploaded files
(

13848

)
TI-82+/83+/84
(1434)

---

Jeux
(511)
Screenshot
Aperçu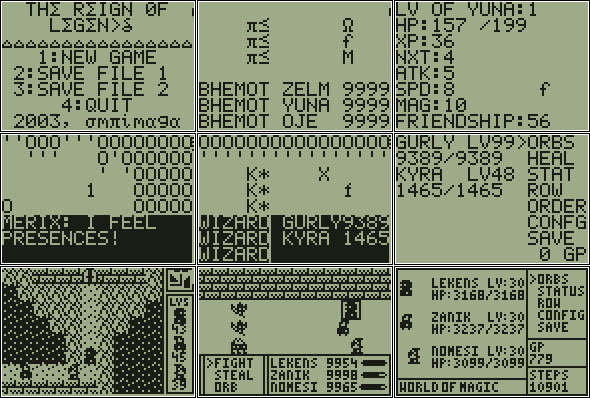 Informations
Auteur

Author

:
DJ Omnimaga
Type :
Basic nécessitant une bibliothèque
Taille

Size

:
581.77
Ko
KB
Mis en ligne

Uploaded

:
28/05/2013 - 07:07:13
Mis à jour

Updated

:
05/02/2015 - 05:46:12
Uploadeur

Uploader

:
DJ Omnimaga
(
Profil
)
Téléchargements

Downloads

:
203
Visibilité

Visibility

:
Archive
publique
Shortlink

:
http://ti-pla.net/a15434
Description
Tous les jeux de rôles de la série Le Règne des Légendes sur TI-84 Plus! Versions françaises et anglaise incluse. Tous les jeux sont écrit en TI-BASIC étendu (avec les librairies ASM d'avant l'époque de la TI-84 Plus)
THE REIGN OF LEGENDS (2003)
Set in a not-so-distant future (which is actually the past now, as of this writing :P), most of the world population was decimated in wars against clones created by an emperor that reigns over the world. You must stop him. This game features two world maps: The overworld and underworld, along with some side quests.
THE REIGN OF LEGENDS 2 (2003)
The most complex of all 3 released ROL games, featuring 9 playable characters (7 being permanent). It is possible to switch around the party like in some Final Fantasy games, there are more options, more plot twists and the game has the largest storyline of all. It is incredibly hard, though.
THE REIGN OF LEGENDS 3 (2004)
This game switches from ASCII art to actual graphical sprites, due to high demand, but at the cost of speed due to outdated ASM libs available in 2004. Although this game is shorter and fewer options than ROL2, it still features a long storyline, plot twists and best of all, you can travel in time like in Chrono Trigger!
Inclut aussi la source du projet ROL4 qui n'a jamais abouti ainsi que de l'info sur les 3 Reign of Legends qui ne sont jamais sortis.
This is the xLIBC version of my color Tunnel game, for use with Doors CSE 8.0 on the TI-84 Plus C Silver Edition. Originally released for the HP Prime graphing calculator and written in HP PPL language, this 84+CSE demake was adapted to run within the limitations of the lower end 15 MHz platforn, as well as those of TI-BASIC and xLIBC. UPDATE: Car is now made of a sprite instead of two rectangles and score displays faster, taking advantage of new xLIBC commands to save extra speed.
Visit codewalr.us for more games from me and a large friendly English-speaking calculator forum!
Archive contents
Contenu de l'archive
Action(s)

Size

Taille

File

Fichier

832

octets

bytes

The Reign of Legends 3/English Version/Archive/Pic1.8xi
832

octets

bytes

The Reign of Legends 3/English Version/Archive/Pic2.8xi
832

octets

bytes

The Reign of Legends 3/English Version/Archive/Pic3.8xi
832

octets

bytes

The Reign of Legends 3/English Version/Archive/Pic4.8xi
832

octets

bytes

The Reign of Legends 3/English Version/Archive/Pic5.8xi
832

octets

bytes

The Reign of Legends 3/English Version/Archive/Pic8.8xi
832

octets

bytes

The Reign of Legends 3/English Version/Archive/Pic9.8xi
2.29

Ko

KB

The Reign of Legends 3/English Version/Archive/R00.8xp
722

octets

bytes

The Reign of Legends 3/English Version/Archive/R01.8xp
1.34

Ko

KB

The Reign of Legends 3/English Version/Archive/R02.8xp
470

octets

bytes

The Reign of Legends 3/English Version/Archive/R03.8xp
2.37

Ko

KB

The Reign of Legends 3/English Version/Archive/R04.8xp
519

octets

bytes

The Reign of Legends 3/English Version/Archive/R05.8xp
515

octets

bytes

The Reign of Legends 3/English Version/Archive/R06.8xp
2.51

Ko

KB

The Reign of Legends 3/English Version/Archive/R07.8xp
564

octets

bytes

The Reign of Legends 3/English Version/Archive/R08.8xp
524

octets

bytes

The Reign of Legends 3/English Version/Archive/R09.8xp
2.17

Ko

KB

The Reign of Legends 3/English Version/Archive/R10.8xp
1.12

Ko

KB

The Reign of Legends 3/English Version/Archive/R11.8xp
1.76

Ko

KB

The Reign of Legends 3/English Version/Archive/R12.8xp
472

octets

bytes

The Reign of Legends 3/English Version/Archive/R13.8xp
2.35

Ko

KB

The Reign of Legends 3/English Version/Archive/R14.8xp
674

octets

bytes

The Reign of Legends 3/English Version/Archive/R15.8xp
569

octets

bytes

The Reign of Legends 3/English Version/Archive/R16.8xp
545

octets

bytes

The Reign of Legends 3/English Version/Archive/R17.8xp
718

octets

bytes

The Reign of Legends 3/English Version/Archive/R18.8xp
3.25

Ko

KB

The Reign of Legends 3/English Version/Archive/R19.8xp
602

octets

bytes

The Reign of Legends 3/English Version/Archive/R20.8xp
337

octets

bytes

The Reign of Legends 3/English Version/Archive/R21.8xp
314

octets

bytes

The Reign of Legends 3/English Version/Archive/R22.8xp
524

octets

bytes

The Reign of Legends 3/English Version/Archive/R23.8xp
677

octets

bytes

The Reign of Legends 3/English Version/Archive/R24.8xp
1.85

Ko

KB

The Reign of Legends 3/English Version/Archive/R25.8xp
992

octets

bytes

The Reign of Legends 3/English Version/Archive/R26.8xp
568

octets

bytes

The Reign of Legends 3/English Version/Archive/R27.8xp
636

octets

bytes

The Reign of Legends 3/English Version/Archive/R28.8xp
679

octets

bytes

The Reign of Legends 3/English Version/Archive/R41.8xp
1.04

Ko

KB

The Reign of Legends 3/English Version/Archive/R42.8xp
961

octets

bytes

The Reign of Legends 3/English Version/Archive/R43.8xp
678

octets

bytes

The Reign of Legends 3/English Version/Archive/R44.8xp
1.27

Ko

KB

The Reign of Legends 3/English Version/Archive/R95.8xp
4.30

Ko

KB

The Reign of Legends 3/English Version/Archive/R96.8xp
1.13

Ko

KB

The Reign of Legends 3/English Version/Archive/R97.8xp
2.61

Ko

KB

The Reign of Legends 3/English Version/Archive/R98.8xp
1.71

Ko

KB

The Reign of Legends 3/English Version/Archive/R99.8xp
5.64

Ko

KB

The Reign of Legends 3/English Version/Archive/RA.8xp
3.92

Ko

KB

The Reign of Legends 3/English Version/Archive/RA2.8xp
652

octets

bytes

The Reign of Legends 3/English Version/Archive/RACE.8xp
180

octets

bytes

The Reign of Legends 3/English Version/Archive/RB.8xp
1.13

Ko

KB

The Reign of Legends 3/English Version/Archive/RB0.8xp
938

octets

bytes

The Reign of Legends 3/English Version/Archive/RB1.8xp
1,017

octets

bytes

The Reign of Legends 3/English Version/Archive/RB2.8xp
707

octets

bytes

The Reign of Legends 3/English Version/Archive/RB3.8xp
995

octets

bytes

The Reign of Legends 3/English Version/Archive/RB4.8xp
953

octets

bytes

The Reign of Legends 3/English Version/Archive/RB5.8xp
1.39

Ko

KB

The Reign of Legends 3/English Version/Archive/RB6.8xp
1.29

Ko

KB

The Reign of Legends 3/English Version/Archive/RB7.8xp
1.46

Ko

KB

The Reign of Legends 3/English Version/Archive/RB8.8xp
826

octets

bytes

The Reign of Legends 3/English Version/Archive/RB9.8xp
951

octets

bytes

The Reign of Legends 3/English Version/Archive/RBA.8xp
1,010

octets

bytes

The Reign of Legends 3/English Version/Archive/RBB.8xp
2.87

Ko

KB

The Reign of Legends 3/English Version/Archive/RBC.8xp
1.31

Ko

KB

The Reign of Legends 3/English Version/Archive/RBD.8xp
1.89

Ko

KB

The Reign of Legends 3/English Version/Archive/RBE.8xp
115

octets

bytes

The Reign of Legends 3/English Version/Archive/RC.8xp
1.49

Ko

KB

The Reign of Legends 3/English Version/Archive/RC1.8xp
1.56

Ko

KB

The Reign of Legends 3/English Version/Archive/RC2.8xp
854

octets

bytes

The Reign of Legends 3/English Version/Archive/RC3.8xp
250

octets

bytes

The Reign of Legends 3/English Version/Archive/RC4.8xp
1.43

Ko

KB

The Reign of Legends 3/English Version/Archive/RD.8xp
132

octets

bytes

The Reign of Legends 3/English Version/Archive/RD1.8xp
159

octets

bytes

The Reign of Legends 3/English Version/Archive/RD2.8xp
205

octets

bytes

The Reign of Legends 3/English Version/Archive/RDR.8xp
2.54

Ko

KB

The Reign of Legends 3/English Version/Archive/RE.8xp
486

octets

bytes

The Reign of Legends 3/English Version/Archive/REER.8xp
358

octets

bytes

The Reign of Legends 3/English Version/Archive/RF.8xp
436

octets

bytes

The Reign of Legends 3/English Version/Archive/RF1.8xp
466

octets

bytes

The Reign of Legends 3/English Version/Archive/RF2.8xp
344

octets

bytes

The Reign of Legends 3/English Version/Archive/RF3.8xp
392

octets

bytes

The Reign of Legends 3/English Version/Archive/RF4.8xp
651

octets

bytes

The Reign of Legends 3/English Version/Archive/RF5.8xp
436

octets

bytes

The Reign of Legends 3/English Version/Archive/RF6.8xp
868

octets

bytes

The Reign of Legends 3/English Version/Archive/RF7.8xp
309

octets

bytes

The Reign of Legends 3/English Version/Archive/RF9.8xp
166

octets

bytes

The Reign of Legends 3/English Version/Archive/RFA.8xp
959

octets

bytes

The Reign of Legends 3/English Version/Archive/RFB.8xp
1.34

Ko

KB

The Reign of Legends 3/English Version/Archive/RH.8xp
816

octets

bytes

The Reign of Legends 3/English Version/Archive/RING.8xp
114

octets

bytes

The Reign of Legends 3/English Version/Archive/RL.8xp
795

octets

bytes

The Reign of Legends 3/English Version/Archive/RL2.8xp
990

octets

bytes

The Reign of Legends 3/English Version/Archive/RL3.8xp
3.32

Ko

KB

The Reign of Legends 3/English Version/Archive/RLOAD.8xp
5.79

Ko

KB

The Reign of Legends 3/English Version/Archive/RM.8xp
159

octets

bytes

The Reign of Legends 3/English Version/Archive/RM0.8xp
230

octets

bytes

The Reign of Legends 3/English Version/Archive/RM1.8xp
308

octets

bytes

The Reign of Legends 3/English Version/Archive/RM2.8xp
191

octets

bytes

The Reign of Legends 3/English Version/Archive/RM3.8xp
270

octets

bytes

The Reign of Legends 3/English Version/Archive/RM4.8xp
781

octets

bytes

The Reign of Legends 3/English Version/Archive/RM5.8xp
89

octets

bytes

The Reign of Legends 3/English Version/Archive/RM6.8xp
190

octets

bytes

The Reign of Legends 3/English Version/Archive/RM7.8xp
157

octets

bytes

The Reign of Legends 3/English Version/Archive/RM8.8xp
258

octets

bytes

The Reign of Legends 3/English Version/Archive/RM9.8xp
124

octets

bytes

The Reign of Legends 3/English Version/Archive/RMA.8xp
136

octets

bytes

The Reign of Legends 3/English Version/Archive/RMB.8xp
438

octets

bytes

The Reign of Legends 3/English Version/Archive/RMC.8xp
117

octets

bytes

The Reign of Legends 3/English Version/Archive/RMD.8xp
136

octets

bytes

The Reign of Legends 3/English Version/Archive/RMENU.8xp
183

octets

bytes

The Reign of Legends 3/English Version/Archive/RMETEO.8xp
89

octets

bytes

The Reign of Legends 3/English Version/Archive/RP.8xp
396

octets

bytes

The Reign of Legends 3/English Version/Archive/RP2.8xp
88

octets

bytes

The Reign of Legends 3/English Version/Archive/RPH.8xp
201

octets

bytes

The Reign of Legends 3/English Version/Archive/RR.8xp
1.21

Ko

KB

The Reign of Legends 3/English Version/Archive/RS.8xp
337

octets

bytes

The Reign of Legends 3/English Version/Archive/RSA.8xp
104

octets

bytes

The Reign of Legends 3/English Version/Archive/RSAFEXIT.8xp
367

octets

bytes

The Reign of Legends 3/English Version/Archive/RSE.8xp
789

octets

bytes

The Reign of Legends 3/English Version/Archive/RSKI.8xp
581

octets

bytes

The Reign of Legends 3/English Version/Archive/RSLOT.8xp
208

octets

bytes

The Reign of Legends 3/English Version/Archive/RT.8xp
1.20

Ko

KB

The Reign of Legends 3/English Version/Archive/Rtheta.8xp
125

octets

bytes

The Reign of Legends 3/English Version/Archive/Rtheta1.8xp
144

octets

bytes

The Reign of Legends 3/English Version/Archive/Rtheta2.8xp
296

octets

bytes

The Reign of Legends 3/English Version/Archive/RthetaA.8xp
392

octets

bytes

The Reign of Legends 3/English Version/Archive/RthetaB.8xp
514

octets

bytes

The Reign of Legends 3/English Version/Archive/RthetaC.8xp
447

octets

bytes

The Reign of Legends 3/English Version/Archive/RthetaD.8xp
653

octets

bytes

The Reign of Legends 3/English Version/Archive/RthetaE.8xp
250

octets

bytes

The Reign of Legends 3/English Version/Archive/RthetaERA.8xp
148

octets

bytes

The Reign of Legends 3/English Version/Archive/RthetaF.8xp
212

octets

bytes

The Reign of Legends 3/English Version/Archive/RthetaG.8xp
325

octets

bytes

The Reign of Legends 3/English Version/Archive/RthetaH.8xp
323

octets

bytes

The Reign of Legends 3/English Version/Archive/RthetaI.8xp
274

octets

bytes

The Reign of Legends 3/English Version/Archive/RU.8xp
676

octets

bytes

The Reign of Legends 3/English Version/Archive/RV.8xp
125

octets

bytes

The Reign of Legends 3/English Version/Archive/RV1.8xp
179

octets

bytes

The Reign of Legends 3/English Version/Archive/RV2.8xp
114

octets

bytes

The Reign of Legends 3/English Version/Archive/RV3.8xp
509

octets

bytes

The Reign of Legends 3/English Version/Archive/RVA.8xp
759

octets

bytes

The Reign of Legends 3/English Version/Archive/RVB.8xp
469

octets

bytes

The Reign of Legends 3/English Version/Archive/RVC.8xp
86

octets

bytes

The Reign of Legends 3/English Version/Archive/RW.8xp
141

octets

bytes

The Reign of Legends 3/English Version/Archive/RX.8xp
233

octets

bytes

The Reign of Legends 3/English Version/Archive/RY.8xp
80

octets

bytes

The Reign of Legends 3/English Version/Archive/RZ.8xp
107

octets

bytes

The Reign of Legends 3/English Version/Archive/RZC.8xp
107

octets

bytes

The Reign of Legends 3/English Version/Archive/RZECRN.8xp
456

octets

bytes

The Reign of Legends 3/English Version/Archive/RZOFF.8xp
106

octets

bytes

The Reign of Legends 3/English Version/Archive/theta.8xp
406

octets

bytes

The Reign of Legends 3/English Version/Archive/Z.8xp
132

octets

bytes

The Reign of Legends 3/English Version/Archive/ZDEL.8xp
1.93

Ko

KB

The Reign of Legends 3/English Version/logo.gif
160

octets

bytes

The Reign of Legends 3/English Version/RAM/LEGENDR3.8xp
908

octets

bytes

The Reign of Legends 3/English Version/RAM/R.8xp
548.00

Ko

KB

The Reign of Legends 3/English Version/readme.doc
18.95

Ko

KB

The Reign of Legends 3/English Version/readme_duplicate.txt
832

octets

bytes

The Reign of Legends 3/Version Française/Archive/Pic1.8xi
832

octets

bytes

The Reign of Legends 3/Version Française/Archive/Pic2.8xi
832

octets

bytes

The Reign of Legends 3/Version Française/Archive/Pic3.8xi
832

octets

bytes

The Reign of Legends 3/Version Française/Archive/Pic4.8xi
832

octets

bytes

The Reign of Legends 3/Version Française/Archive/Pic5.8xi
832

octets

bytes

The Reign of Legends 3/Version Française/Archive/Pic8.8xi
832

octets

bytes

The Reign of Legends 3/Version Française/Archive/Pic9.8xi
2.46

Ko

KB

The Reign of Legends 3/Version Française/Archive/R00.8xp
738

octets

bytes

The Reign of Legends 3/Version Française/Archive/R01.8xp
1.45

Ko

KB

The Reign of Legends 3/Version Française/Archive/R02.8xp
472

octets

bytes

The Reign of Legends 3/Version Française/Archive/R03.8xp
2.46

Ko

KB

The Reign of Legends 3/Version Française/Archive/R04.8xp
524

octets

bytes

The Reign of Legends 3/Version Française/Archive/R05.8xp
518

octets

bytes

The Reign of Legends 3/Version Française/Archive/R06.8xp
2.62

Ko

KB

The Reign of Legends 3/Version Française/Archive/R07.8xp
565

octets

bytes

The Reign of Legends 3/Version Française/Archive/R08.8xp
524

octets

bytes

The Reign of Legends 3/Version Française/Archive/R09.8xp
2.29

Ko

KB

The Reign of Legends 3/Version Française/Archive/R10.8xp
1.16

Ko

KB

The Reign of Legends 3/Version Française/Archive/R11.8xp
1.85

Ko

KB

The Reign of Legends 3/Version Française/Archive/R12.8xp
474

octets

bytes

The Reign of Legends 3/Version Française/Archive/R13.8xp
2.38

Ko

KB

The Reign of Legends 3/Version Française/Archive/R14.8xp
681

octets

bytes

The Reign of Legends 3/Version Française/Archive/R15.8xp
569

octets

bytes

The Reign of Legends 3/Version Française/Archive/R16.8xp
548

octets

bytes

The Reign of Legends 3/Version Française/Archive/R17.8xp
719

octets

bytes

The Reign of Legends 3/Version Française/Archive/R18.8xp
3.36

Ko

KB

The Reign of Legends 3/Version Française/Archive/R19.8xp
603

octets

bytes

The Reign of Legends 3/Version Française/Archive/R20.8xp
338

octets

bytes

The Reign of Legends 3/Version Française/Archive/R21.8xp
314

octets

bytes

The Reign of Legends 3/Version Française/Archive/R22.8xp
526

octets

bytes

The Reign of Legends 3/Version Française/Archive/R23.8xp
681

octets

bytes

The Reign of Legends 3/Version Française/Archive/R24.8xp
1.93

Ko

KB

The Reign of Legends 3/Version Française/Archive/R25.8xp
1.01

Ko

KB

The Reign of Legends 3/Version Française/Archive/R26.8xp
570

octets

bytes

The Reign of Legends 3/Version Française/Archive/R27.8xp
638

octets

bytes

The Reign of Legends 3/Version Française/Archive/R28.8xp
682

octets

bytes

The Reign of Legends 3/Version Française/Archive/R41.8xp
1.04

Ko

KB

The Reign of Legends 3/Version Française/Archive/R42.8xp
962

octets

bytes

The Reign of Legends 3/Version Française/Archive/R43.8xp
677

octets

bytes

The Reign of Legends 3/Version Française/Archive/R44.8xp
1.28

Ko

KB

The Reign of Legends 3/Version Française/Archive/R95.8xp
4.36

Ko

KB

The Reign of Legends 3/Version Française/Archive/R96.8xp
1.14

Ko

KB

The Reign of Legends 3/Version Française/Archive/R97.8xp
2.67

Ko

KB

The Reign of Legends 3/Version Française/Archive/R98.8xp
1.73

Ko

KB

The Reign of Legends 3/Version Française/Archive/R99.8xp
5.65

Ko

KB

The Reign of Legends 3/Version Française/Archive/RA.8xp
3.93

Ko

KB

The Reign of Legends 3/Version Française/Archive/RA2.8xp
843

octets

bytes

The Reign of Legends 3/Version Française/Archive/RACE.8xp
180

octets

bytes

The Reign of Legends 3/Version Française/Archive/RB.8xp
1.17

Ko

KB

The Reign of Legends 3/Version Française/Archive/RB0.8xp
935

octets

bytes

The Reign of Legends 3/Version Française/Archive/RB1.8xp
1,016

octets

bytes

The Reign of Legends 3/Version Française/Archive/RB2.8xp
744

octets

bytes

The Reign of Legends 3/Version Française/Archive/RB3.8xp
1,008

octets

bytes

The Reign of Legends 3/Version Française/Archive/RB4.8xp
964

octets

bytes

The Reign of Legends 3/Version Française/Archive/RB5.8xp
1.43

Ko

KB

The Reign of Legends 3/Version Française/Archive/RB6.8xp
1.33

Ko

KB

The Reign of Legends 3/Version Française/Archive/RB7.8xp
1.46

Ko

KB

The Reign of Legends 3/Version Française/Archive/RB8.8xp
845

octets

bytes

The Reign of Legends 3/Version Française/Archive/RB9.8xp
973

octets

bytes

The Reign of Legends 3/Version Française/Archive/RBA.8xp
1.01

Ko

KB

The Reign of Legends 3/Version Française/Archive/RBB.8xp
2.90

Ko

KB

The Reign of Legends 3/Version Française/Archive/RBC.8xp
1.39

Ko

KB

The Reign of Legends 3/Version Française/Archive/RBD.8xp
1.99

Ko

KB

The Reign of Legends 3/Version Française/Archive/RBE.8xp
115

octets

bytes

The Reign of Legends 3/Version Française/Archive/RC.8xp
1.49

Ko

KB

The Reign of Legends 3/Version Française/Archive/RC1.8xp
1.58

Ko

KB

The Reign of Legends 3/Version Française/Archive/RC2.8xp
854

octets

bytes

The Reign of Legends 3/Version Française/Archive/RC3.8xp
250

octets

bytes

The Reign of Legends 3/Version Française/Archive/RC4.8xp
1.43

Ko

KB

The Reign of Legends 3/Version Française/Archive/RD.8xp
132

octets

bytes

The Reign of Legends 3/Version Française/Archive/RD1.8xp
159

octets

bytes

The Reign of Legends 3/Version Française/Archive/RD2.8xp
205

octets

bytes

The Reign of Legends 3/Version Française/Archive/RDR.8xp
2.54

Ko

KB

The Reign of Legends 3/Version Française/Archive/RE.8xp
492

octets

bytes

The Reign of Legends 3/Version Française/Archive/REER.8xp
358

octets

bytes

The Reign of Legends 3/Version Française/Archive/RF.8xp
436

octets

bytes

The Reign of Legends 3/Version Française/Archive/RF1.8xp
466

octets

bytes

The Reign of Legends 3/Version Française/Archive/RF2.8xp
344

octets

bytes

The Reign of Legends 3/Version Française/Archive/RF3.8xp
392

octets

bytes

The Reign of Legends 3/Version Française/Archive/RF4.8xp
654

octets

bytes

The Reign of Legends 3/Version Française/Archive/RF5.8xp
442

octets

bytes

The Reign of Legends 3/Version Française/Archive/RF6.8xp
868

octets

bytes

The Reign of Legends 3/Version Française/Archive/RF7.8xp
309

octets

bytes

The Reign of Legends 3/Version Française/Archive/RF9.8xp
166

octets

bytes

The Reign of Legends 3/Version Française/Archive/RFA.8xp
959

octets

bytes

The Reign of Legends 3/Version Française/Archive/RFB.8xp
1.33

Ko

KB

The Reign of Legends 3/Version Française/Archive/RH.8xp
821

octets

bytes

The Reign of Legends 3/Version Française/Archive/RING.8xp
114

octets

bytes

The Reign of Legends 3/Version Française/Archive/RL.8xp
795

octets

bytes

The Reign of Legends 3/Version Française/Archive/RL2.8xp
990

octets

bytes

The Reign of Legends 3/Version Française/Archive/RL3.8xp
3.32

Ko

KB

The Reign of Legends 3/Version Française/Archive/RLOAD.8xp
5.79

Ko

KB

The Reign of Legends 3/Version Française/Archive/RM.8xp
159

octets

bytes

The Reign of Legends 3/Version Française/Archive/RM0.8xp
230

octets

bytes

The Reign of Legends 3/Version Française/Archive/RM1.8xp
308

octets

bytes

The Reign of Legends 3/Version Française/Archive/RM2.8xp
191

octets

bytes

The Reign of Legends 3/Version Française/Archive/RM3.8xp
270

octets

bytes

The Reign of Legends 3/Version Française/Archive/RM4.8xp
781

octets

bytes

The Reign of Legends 3/Version Française/Archive/RM5.8xp
89

octets

bytes

The Reign of Legends 3/Version Française/Archive/RM6.8xp
190

octets

bytes

The Reign of Legends 3/Version Française/Archive/RM7.8xp
157

octets

bytes

The Reign of Legends 3/Version Française/Archive/RM8.8xp
258

octets

bytes

The Reign of Legends 3/Version Française/Archive/RM9.8xp
124

octets

bytes

The Reign of Legends 3/Version Française/Archive/RMA.8xp
136

octets

bytes

The Reign of Legends 3/Version Française/Archive/RMB.8xp
438

octets

bytes

The Reign of Legends 3/Version Française/Archive/RMC.8xp
117

octets

bytes

The Reign of Legends 3/Version Française/Archive/RMD.8xp
136

octets

bytes

The Reign of Legends 3/Version Française/Archive/RMENU.8xp
183

octets

bytes

The Reign of Legends 3/Version Française/Archive/RMETEO.8xp
89

octets

bytes

The Reign of Legends 3/Version Française/Archive/RP.8xp
396

octets

bytes

The Reign of Legends 3/Version Française/Archive/RP2.8xp
88

octets

bytes

The Reign of Legends 3/Version Française/Archive/RPH.8xp
201

octets

bytes

The Reign of Legends 3/Version Française/Archive/RR.8xp
1.20

Ko

KB

The Reign of Legends 3/Version Française/Archive/RS.8xp
337

octets

bytes

The Reign of Legends 3/Version Française/Archive/RSA.8xp
104

octets

bytes

The Reign of Legends 3/Version Française/Archive/RSAFEXIT.8xp
367

octets

bytes

The Reign of Legends 3/Version Française/Archive/RSE.8xp
793

octets

bytes

The Reign of Legends 3/Version Française/Archive/RSKI.8xp
582

octets

bytes

The Reign of Legends 3/Version Française/Archive/RSLOT.8xp
208

octets

bytes

The Reign of Legends 3/Version Française/Archive/RT.8xp
1.20

Ko

KB

The Reign of Legends 3/Version Française/Archive/Rtheta.8xp
125

octets

bytes

The Reign of Legends 3/Version Française/Archive/Rtheta1.8xp
144

octets

bytes

The Reign of Legends 3/Version Française/Archive/Rtheta2.8xp
296

octets

bytes

The Reign of Legends 3/Version Française/Archive/RthetaA.8xp
392

octets

bytes

The Reign of Legends 3/Version Française/Archive/RthetaB.8xp
514

octets

bytes

The Reign of Legends 3/Version Française/Archive/RthetaC.8xp
447

octets

bytes

The Reign of Legends 3/Version Française/Archive/RthetaD.8xp
653

octets

bytes

The Reign of Legends 3/Version Française/Archive/RthetaE.8xp
262

octets

bytes

The Reign of Legends 3/Version Française/Archive/RthetaERA.8xp
148

octets

bytes

The Reign of Legends 3/Version Française/Archive/RthetaF.8xp
212

octets

bytes

The Reign of Legends 3/Version Française/Archive/RthetaG.8xp
325

octets

bytes

The Reign of Legends 3/Version Française/Archive/RthetaH.8xp
323

octets

bytes

The Reign of Legends 3/Version Française/Archive/RthetaI.8xp
274

octets

bytes

The Reign of Legends 3/Version Française/Archive/RU.8xp
676

octets

bytes

The Reign of Legends 3/Version Française/Archive/RV.8xp
125

octets

bytes

The Reign of Legends 3/Version Française/Archive/RV1.8xp
179

octets

bytes

The Reign of Legends 3/Version Française/Archive/RV2.8xp
114

octets

bytes

The Reign of Legends 3/Version Française/Archive/RV3.8xp
509

octets

bytes

The Reign of Legends 3/Version Française/Archive/RVA.8xp
759

octets

bytes

The Reign of Legends 3/Version Française/Archive/RVB.8xp
469

octets

bytes

The Reign of Legends 3/Version Française/Archive/RVC.8xp
86

octets

bytes

The Reign of Legends 3/Version Française/Archive/RW.8xp
141

octets

bytes

The Reign of Legends 3/Version Française/Archive/RX.8xp
233

octets

bytes

The Reign of Legends 3/Version Française/Archive/RY.8xp
80

octets

bytes

The Reign of Legends 3/Version Française/Archive/RZ.8xp
107

octets

bytes

The Reign of Legends 3/Version Française/Archive/RZC.8xp
107

octets

bytes

The Reign of Legends 3/Version Française/Archive/RZECRN.8xp
464

octets

bytes

The Reign of Legends 3/Version Française/Archive/RZOFF.8xp
106

octets

bytes

The Reign of Legends 3/Version Française/Archive/theta.8xp
406

octets

bytes

The Reign of Legends 3/Version Française/Archive/Z.8xp
132

octets

bytes

The Reign of Legends 3/Version Française/Archive/ZDEL.8xp
18.53

Ko

KB

The Reign of Legends 3/Version Française/copie_lisez-moi.txt
532.00

Ko

KB

The Reign of Legends 3/Version Française/lisez-moi.doc
1.93

Ko

KB

The Reign of Legends 3/Version Française/logofrench.gif
162

octets

bytes

The Reign of Legends 3/Version Française/RAM/LEGENDR3.8xp
908

octets

bytes

The Reign of Legends 3/Version Française/RAM/R.8xp
121

octets

bytes

The Reign of Legends 4 menu engine/A.8xp
299

octets

bytes

The Reign of Legends 4 menu engine/HELL3.8xp
211

octets

bytes

The Reign of Legends 4 menu engine/L_1_.8xl
247

octets

bytes

The Reign of Legends 4 menu engine/L_2_.8xl
1,021

octets

bytes

The Reign of Legends 4 menu engine/L_3_.8xl
535

octets

bytes

The Reign of Legends 4 menu engine/L_4_.8xl
238

octets

bytes

The Reign of Legends 4 menu engine/L_5_.8xl
139

octets

bytes

The Reign of Legends 4 menu engine/L_6_.8xl
832

octets

bytes

The Reign of Legends 4 menu engine/Pic0.8xi
844

octets

bytes

The Reign of Legends 4 menu engine/Pic1.8xi
832

octets

bytes

The Reign of Legends 4 menu engine/Pic2.8xi
832

octets

bytes

The Reign of Legends 4 menu engine/Pic6.8xi
832

octets

bytes

The Reign of Legends 4 menu engine/Pic7.8xi
1.25

Ko

KB

The Reign of Legends 4 menu engine/RC.8xp
542

octets

bytes

The Reign of Legends 4 menu engine/RCA.8xp
262

octets

bytes

The Reign of Legends 4 menu engine/RCE.8xp
134

octets

bytes

The Reign of Legends 4 menu engine/RCT.8xp
552

octets

bytes

The Reign of Legends 4 menu engine/REDB.8xp
1.16

Ko

KB

The Reign of Legends 4 menu engine/RL4.8xl
258

octets

bytes

The Reign of Legends 4 menu engine/rl4menu.txt
5.96

Ko

KB

The Reign of Legends 4 menu engine/RM.8xp
514

octets

bytes

The Reign of Legends 4 menu engine/RMR.8xp
264

octets

bytes

The Reign of Legends 4 menu engine/RT.8xp
331

octets

bytes

The Reign of Legends 4 menu engine/SS.8xp
96

octets

bytes

The Reign of Legends 4 menu engine/Str1.8xs
832

octets

bytes

The Reign of Legends/english version/Archive/Pic1.8xi
832

octets

bytes

The Reign of Legends/english version/Archive/Pic2.8xi
832

octets

bytes

The Reign of Legends/english version/Archive/Pic3.8xi
832

octets

bytes

The Reign of Legends/english version/Archive/Pic4.8xi
832

octets

bytes

The Reign of Legends/english version/Archive/Pic5.8xi
2.91

Ko

KB

The Reign of Legends/english version/Archive/R1.8xp
420

octets

bytes

The Reign of Legends/english version/Archive/R10.8xp
831

octets

bytes

The Reign of Legends/english version/Archive/R11.8xp
316

octets

bytes

The Reign of Legends/english version/Archive/R12.8xp
756

octets

bytes

The Reign of Legends/english version/Archive/R13.8xp
1.98

Ko

KB

The Reign of Legends/english version/Archive/R14.8xp
1.13

Ko

KB

The Reign of Legends/english version/Archive/R15.8xp
378

octets

bytes

The Reign of Legends/english version/Archive/R16.8xp
2.14

Ko

KB

The Reign of Legends/english version/Archive/R17.8xp
374

octets

bytes

The Reign of Legends/english version/Archive/R18.8xp
203

octets

bytes

The Reign of Legends/english version/Archive/R19.8xp
1.96

Ko

KB

The Reign of Legends/english version/Archive/R2.8xp
406

octets

bytes

The Reign of Legends/english version/Archive/R20.8xp
1.11

Ko

KB

The Reign of Legends/english version/Archive/R21.8xp
2.08

Ko

KB

The Reign of Legends/english version/Archive/R22.8xp
1.28

Ko

KB

The Reign of Legends/english version/Archive/R23.8xp
3.82

Ko

KB

The Reign of Legends/english version/Archive/R24.8xp
506

octets

bytes

The Reign of Legends/english version/Archive/R3.8xp
374

octets

bytes

The Reign of Legends/english version/Archive/R4.8xp
399

octets

bytes

The Reign of Legends/english version/Archive/R5.8xp
605

octets

bytes

The Reign of Legends/english version/Archive/R6.8xp
347

octets

bytes

The Reign of Legends/english version/Archive/R7.8xp
438

octets

bytes

The Reign of Legends/english version/Archive/R8.8xp
730

octets

bytes

The Reign of Legends/english version/Archive/R9.8xp
4.66

Ko

KB

The Reign of Legends/english version/Archive/RA.8xp
148

octets

bytes

The Reign of Legends/english version/Archive/RAR.8xp
120

octets

bytes

The Reign of Legends/english version/Archive/RAURA.8xp
5.19

Ko

KB

The Reign of Legends/english version/Archive/RB0.8xp
322

octets

bytes

The Reign of Legends/english version/Archive/RBLITZ.8xp
2.50

Ko

KB

The Reign of Legends/english version/Archive/RC.8xp
135

octets

bytes

The Reign of Legends/english version/Archive/RCURE.8xp
1.15

Ko

KB

The Reign of Legends/english version/Archive/RD.8xp
157

octets

bytes

The Reign of Legends/english version/Archive/RDR.8xp
1.96

Ko

KB

The Reign of Legends/english version/Archive/RE.8xp
1.75

Ko

KB

The Reign of Legends/english version/Archive/RF.8xp
306

octets

bytes

The Reign of Legends/english version/Archive/RFATAL.8xp
136

octets

bytes

The Reign of Legends/english version/Archive/RFEU.8xp
139

octets

bytes

The Reign of Legends/english version/Archive/RGLACE.8xp
1,019

octets

bytes

The Reign of Legends/english version/Archive/RH.8xp
539

octets

bytes

The Reign of Legends/english version/Archive/RLDLIEU.8xp
1.26

Ko

KB

The Reign of Legends/english version/Archive/RLDLIEU2.8xp
1.66

Ko

KB

The Reign of Legends/english version/Archive/RLOAD.8xp
3.16

Ko

KB

The Reign of Legends/english version/Archive/RM.8xp
1.92

Ko

KB

The Reign of Legends/english version/Archive/RMAP1.8xp
1.67

Ko

KB

The Reign of Legends/english version/Archive/RMAP2.8xp
144

octets

bytes

The Reign of Legends/english version/Archive/RNEO.8xp
6.25

Ko

KB

The Reign of Legends/english version/Archive/ROI.8xp
128

octets

bytes

The Reign of Legends/english version/Archive/RP.8xp
143

octets

bytes

The Reign of Legends/english version/Archive/RR.8xp
831

octets

bytes

The Reign of Legends/english version/Archive/RS.8xp
201

octets

bytes

The Reign of Legends/english version/Archive/RSA.8xp
246

octets

bytes

The Reign of Legends/english version/Archive/RSE.8xp
665

octets

bytes

The Reign of Legends/english version/Archive/RT.8xp
248

octets

bytes

The Reign of Legends/english version/Archive/RU.8xp
584

octets

bytes

The Reign of Legends/english version/Archive/RV.8xp
189

octets

bytes

The Reign of Legends/english version/Archive/RVA.8xp
158

octets

bytes

The Reign of Legends/english version/Archive/RXPLOZ.8xp
1.57

Ko

KB

The Reign of Legends/english version/RAM/R0LEGEND.8xp
132

octets

bytes

The Reign of Legends/english version/RAM/RARC.8xp
121.00

Ko

KB

The Reign of Legends/english version/readme.doc
6.96

Ko

KB

The Reign of Legends/english version/readme.txt
832

octets

bytes

The Reign of Legends/version française/Archive/Pic1.8xi
832

octets

bytes

The Reign of Legends/version française/Archive/Pic2.8xi
832

octets

bytes

The Reign of Legends/version française/Archive/Pic3.8xi
832

octets

bytes

The Reign of Legends/version française/Archive/Pic4.8xi
832

octets

bytes

The Reign of Legends/version française/Archive/Pic5.8xi
2.95

Ko

KB

The Reign of Legends/version française/Archive/R1.8xp
420

octets

bytes

The Reign of Legends/version française/Archive/R10.8xp
818

octets

bytes

The Reign of Legends/version française/Archive/R11.8xp
316

octets

bytes

The Reign of Legends/version française/Archive/R12.8xp
779

octets

bytes

The Reign of Legends/version française/Archive/R13.8xp
2.07

Ko

KB

The Reign of Legends/version française/Archive/R14.8xp
1.17

Ko

KB

The Reign of Legends/version française/Archive/R15.8xp
378

octets

bytes

The Reign of Legends/version française/Archive/R16.8xp
2.14

Ko

KB

The Reign of Legends/version française/Archive/R17.8xp
374

octets

bytes

The Reign of Legends/version française/Archive/R18.8xp
203

octets

bytes

The Reign of Legends/version française/Archive/R19.8xp
1.98

Ko

KB

The Reign of Legends/version française/Archive/R2.8xp
406

octets

bytes

The Reign of Legends/version française/Archive/R20.8xp
1.10

Ko

KB

The Reign of Legends/version française/Archive/R21.8xp
2.13

Ko

KB

The Reign of Legends/version française/Archive/R22.8xp
1.28

Ko

KB

The Reign of Legends/version française/Archive/R23.8xp
3.95

Ko

KB

The Reign of Legends/version française/Archive/R24.8xp
512

octets

bytes

The Reign of Legends/version française/Archive/R3.8xp
374

octets

bytes

The Reign of Legends/version française/Archive/R4.8xp
399

octets

bytes

The Reign of Legends/version française/Archive/R5.8xp
636

octets

bytes

The Reign of Legends/version française/Archive/R6.8xp
347

octets

bytes

The Reign of Legends/version française/Archive/R7.8xp
446

octets

bytes

The Reign of Legends/version française/Archive/R8.8xp
753

octets

bytes

The Reign of Legends/version française/Archive/R9.8xp
4.66

Ko

KB

The Reign of Legends/version française/Archive/RA.8xp
148

octets

bytes

The Reign of Legends/version française/Archive/RAR.8xp
120

octets

bytes

The Reign of Legends/version française/Archive/RAURA.8xp
5.33

Ko

KB

The Reign of Legends/version française/Archive/RB0.8xp
322

octets

bytes

The Reign of Legends/version française/Archive/RBLITZ.8xp
2.49

Ko

KB

The Reign of Legends/version française/Archive/RC.8xp
135

octets

bytes

The Reign of Legends/version française/Archive/RCURE.8xp
1.15

Ko

KB

The Reign of Legends/version française/Archive/RD.8xp
157

octets

bytes

The Reign of Legends/version française/Archive/RDR.8xp
1.96

Ko

KB

The Reign of Legends/version française/Archive/RE.8xp
1.75

Ko

KB

The Reign of Legends/version française/Archive/RF.8xp
306

octets

bytes

The Reign of Legends/version française/Archive/RFATAL.8xp
135

octets

bytes

The Reign of Legends/version française/Archive/RFEU.8xp
141

octets

bytes

The Reign of Legends/version française/Archive/RGLACE.8xp
1,015

octets

bytes

The Reign of Legends/version française/Archive/RH.8xp
539

octets

bytes

The Reign of Legends/version française/Archive/RLDLIEU.8xp
1.30

Ko

KB

The Reign of Legends/version française/Archive/RLDLIEU2.8xp
1.67

Ko

KB

The Reign of Legends/version française/Archive/RLOAD.8xp
3.17

Ko

KB

The Reign of Legends/version française/Archive/RM.8xp
1.92

Ko

KB

The Reign of Legends/version française/Archive/RMAP1.8xp
1.67

Ko

KB

The Reign of Legends/version française/Archive/RMAP2.8xp
145

octets

bytes

The Reign of Legends/version française/Archive/RNEO.8xp
6.71

Ko

KB

The Reign of Legends/version française/Archive/ROI.8xp
128

octets

bytes

The Reign of Legends/version française/Archive/RP.8xp
143

octets

bytes

The Reign of Legends/version française/Archive/RR.8xp
833

octets

bytes

The Reign of Legends/version française/Archive/RS.8xp
201

octets

bytes

The Reign of Legends/version française/Archive/RSA.8xp
246

octets

bytes

The Reign of Legends/version française/Archive/RSE.8xp
666

octets

bytes

The Reign of Legends/version française/Archive/RT.8xp
249

octets

bytes

The Reign of Legends/version française/Archive/RU.8xp
585

octets

bytes

The Reign of Legends/version française/Archive/RV.8xp
190

octets

bytes

The Reign of Legends/version française/Archive/RVA.8xp
158

octets

bytes

The Reign of Legends/version française/Archive/RXPLOZ.8xp
120.50

Ko

KB

The Reign of Legends/version française/lisez-moi.doc
6.58

Ko

KB

The Reign of Legends/version française/lisez-moi.txt
1.62

Ko

KB

The Reign of Legends/version française/RAM/R0LEGEND.8xp
132

octets

bytes

The Reign of Legends/version française/RAM/RARC.8xp
62.02

Ko

KB

The Reign of Legends 2/bestiary.html
832

octets

bytes

The Reign of Legends 2/english version/Archive/Pic0.8xi
832

octets

bytes

The Reign of Legends 2/english version/Archive/Pic1.8xi
832

octets

bytes

The Reign of Legends 2/english version/Archive/Pic2.8xi
832

octets

bytes

The Reign of Legends 2/english version/Archive/Pic3.8xi
832

octets

bytes

The Reign of Legends 2/english version/Archive/Pic4.8xi
832

octets

bytes

The Reign of Legends 2/english version/Archive/Pic5.8xi
832

octets

bytes

The Reign of Legends 2/english version/Archive/Pic6.8xi
832

octets

bytes

The Reign of Legends 2/english version/Archive/Pic7.8xi
967

octets

bytes

The Reign of Legends 2/english version/Archive/R01.8xp
236

octets

bytes

The Reign of Legends 2/english version/Archive/R02.8xp
787

octets

bytes

The Reign of Legends 2/english version/Archive/R03.8xp
1,014

octets

bytes

The Reign of Legends 2/english version/Archive/R04.8xp
1.33

Ko

KB

The Reign of Legends 2/english version/Archive/R05.8xp
387

octets

bytes

The Reign of Legends 2/english version/Archive/R06.8xp
423

octets

bytes

The Reign of Legends 2/english version/Archive/R07.8xp
552

octets

bytes

The Reign of Legends 2/english version/Archive/R08.8xp
916

octets

bytes

The Reign of Legends 2/english version/Archive/R09.8xp
736

octets

bytes

The Reign of Legends 2/english version/Archive/R0A.8xp
903

octets

bytes

The Reign of Legends 2/english version/Archive/R0B.8xp
1.20

Ko

KB

The Reign of Legends 2/english version/Archive/R0C.8xp
1.72

Ko

KB

The Reign of Legends 2/english version/Archive/R0D.8xp
405

octets

bytes

The Reign of Legends 2/english version/Archive/R0E.8xp
409

octets

bytes

The Reign of Legends 2/english version/Archive/R0F.8xp
254

octets

bytes

The Reign of Legends 2/english version/Archive/R0G.8xp
758

octets

bytes

The Reign of Legends 2/english version/Archive/R0H.8xp
637

octets

bytes

The Reign of Legends 2/english version/Archive/R0I.8xp
1.54

Ko

KB

The Reign of Legends 2/english version/Archive/R0J.8xp
419

octets

bytes

The Reign of Legends 2/english version/Archive/R0K.8xp
480

octets

bytes

The Reign of Legends 2/english version/Archive/R0L.8xp
208

octets

bytes

The Reign of Legends 2/english version/Archive/R0M.8xp
600

octets

bytes

The Reign of Legends 2/english version/Archive/R0N.8xp
631

octets

bytes

The Reign of Legends 2/english version/Archive/R0O.8xp
777

octets

bytes

The Reign of Legends 2/english version/Archive/R0P.8xp
446

octets

bytes

The Reign of Legends 2/english version/Archive/R0Q.8xp
1.61

Ko

KB

The Reign of Legends 2/english version/Archive/R0R.8xp
609

octets

bytes

The Reign of Legends 2/english version/Archive/R0S.8xp
1.03

Ko

KB

The Reign of Legends 2/english version/Archive/R0T.8xp
1.96

Ko

KB

The Reign of Legends 2/english version/Archive/R0theta.8xp
460

octets

bytes

The Reign of Legends 2/english version/Archive/R0U.8xp
2.78

Ko

KB

The Reign of Legends 2/english version/Archive/R0V.8xp
3.06

Ko

KB

The Reign of Legends 2/english version/Archive/R0W.8xp
3.98

Ko

KB

The Reign of Legends 2/english version/Archive/R0X.8xp
1.97

Ko

KB

The Reign of Legends 2/english version/Archive/R0Z.8xp
4.84

Ko

KB

The Reign of Legends 2/english version/Archive/RA.8xp
156

octets

bytes

The Reign of Legends 2/english version/Archive/RAR.8xp
118

octets

bytes

The Reign of Legends 2/english version/Archive/RAURA.8xp
2.56

Ko

KB

The Reign of Legends 2/english version/Archive/RB0.8xp
3.04

Ko

KB

The Reign of Legends 2/english version/Archive/RB1.8xp
2.92

Ko

KB

The Reign of Legends 2/english version/Archive/RB2.8xp
2.76

Ko

KB

The Reign of Legends 2/english version/Archive/RB3.8xp
2.76

Ko

KB

The Reign of Legends 2/english version/Archive/RB4.8xp
3.31

Ko

KB

The Reign of Legends 2/english version/Archive/RB5.8xp
2.54

Ko

KB

The Reign of Legends 2/english version/Archive/RB6.8xp
219

octets

bytes

The Reign of Legends 2/english version/Archive/RBLITZ.8xp
3.67

Ko

KB

The Reign of Legends 2/english version/Archive/RC.8xp
223

octets

bytes

The Reign of Legends 2/english version/Archive/RC2.8xp
1.50

Ko

KB

The Reign of Legends 2/english version/Archive/RCH.8xp
123

octets

bytes

The Reign of Legends 2/english version/Archive/RCURE.8xp
1.46

Ko

KB

The Reign of Legends 2/english version/Archive/RD.8xp
176

octets

bytes

The Reign of Legends 2/english version/Archive/RDR.8xp
2.20

Ko

KB

The Reign of Legends 2/english version/Archive/RE.8xp
658

octets

bytes

The Reign of Legends 2/english version/Archive/RF.8xp
1.72

Ko

KB

The Reign of Legends 2/english version/Archive/RF1.8xp
325

octets

bytes

The Reign of Legends 2/english version/Archive/RFATAL.8xp
124

octets

bytes

The Reign of Legends 2/english version/Archive/RFEU.8xp
128

octets

bytes

The Reign of Legends 2/english version/Archive/RGLACE.8xp
1.09

Ko

KB

The Reign of Legends 2/english version/Archive/RH.8xp
373

octets

bytes

The Reign of Legends 2/english version/Archive/RL.8xp
390

octets

bytes

The Reign of Legends 2/english version/Archive/RLDLIEU.8xp
1.29

Ko

KB

The Reign of Legends 2/english version/Archive/RLDLIEU2.8xp
2.20

Ko

KB

The Reign of Legends 2/english version/Archive/RLOAD.8xp
132

octets

bytes

The Reign of Legends 2/english version/Archive/RLOAE.8xp
5.67

Ko

KB

The Reign of Legends 2/english version/Archive/RM.8xp
188

octets

bytes

The Reign of Legends 2/english version/Archive/RMENU.8xp
121

octets

bytes

The Reign of Legends 2/english version/Archive/RNEO.8xp
406

octets

bytes

The Reign of Legends 2/english version/Archive/RP.8xp
260

octets

bytes

The Reign of Legends 2/english version/Archive/RR.8xp
1,003

octets

bytes

The Reign of Legends 2/english version/Archive/RS.8xp
402

octets

bytes

The Reign of Legends 2/english version/Archive/RSA.8xp
123

octets

bytes

The Reign of Legends 2/english version/Archive/RSB.8xp
282

octets

bytes

The Reign of Legends 2/english version/Archive/RSE.8xp
237

octets

bytes

The Reign of Legends 2/english version/Archive/RT.8xp
2.54

Ko

KB

The Reign of Legends 2/english version/Archive/Rtheta.8xp
248

octets

bytes

The Reign of Legends 2/english version/Archive/RU.8xp
583

octets

bytes

The Reign of Legends 2/english version/Archive/RV.8xp
614

octets

bytes

The Reign of Legends 2/english version/Archive/RVA.8xp
132

octets

bytes

The Reign of Legends 2/english version/Archive/RXPLOZ.8xp
83

octets

bytes

The Reign of Legends 2/english version/Archive/RZ.8xp
107

octets

bytes

The Reign of Legends 2/english version/Archive/RZC.8xp
107

octets

bytes

The Reign of Legends 2/english version/Archive/RZECRN.8xp
92

octets

bytes

The Reign of Legends 2/english version/Archive/RZINVD.8xp
90

octets

bytes

The Reign of Legends 2/english version/Archive/RZINVE.8xp
100

octets

bytes

The Reign of Legends 2/english version/Archive/RZOFF.8xp
461

octets

bytes

The Reign of Legends 2/english version/RAM/R00LEGEN.8xp
132

octets

bytes

The Reign of Legends 2/english version/RAM/RARC.8xp
196.00

Ko

KB

The Reign of Legends 2/readme.doc
13.87

Ko

KB

The Reign of Legends 2/readme.txt
832

octets

bytes

The Reign of Legends 2/version française/Archive/Pic0.8xi
832

octets

bytes

The Reign of Legends 2/version française/Archive/Pic1.8xi
832

octets

bytes

The Reign of Legends 2/version française/Archive/Pic2.8xi
832

octets

bytes

The Reign of Legends 2/version française/Archive/Pic3.8xi
832

octets

bytes

The Reign of Legends 2/version française/Archive/Pic4.8xi
832

octets

bytes

The Reign of Legends 2/version française/Archive/Pic5.8xi
832

octets

bytes

The Reign of Legends 2/version française/Archive/Pic6.8xi
832

octets

bytes

The Reign of Legends 2/version française/Archive/Pic7.8xi
968

octets

bytes

The Reign of Legends 2/version française/Archive/R01.8xp
236

octets

bytes

The Reign of Legends 2/version française/Archive/R02.8xp
811

octets

bytes

The Reign of Legends 2/version française/Archive/R03.8xp
1.02

Ko

KB

The Reign of Legends 2/version française/Archive/R04.8xp
1.33

Ko

KB

The Reign of Legends 2/version française/Archive/R05.8xp
387

octets

bytes

The Reign of Legends 2/version française/Archive/R06.8xp
423

octets

bytes

The Reign of Legends 2/version française/Archive/R07.8xp
552

octets

bytes

The Reign of Legends 2/version française/Archive/R08.8xp
915

octets

bytes

The Reign of Legends 2/version française/Archive/R09.8xp
722

octets

bytes

The Reign of Legends 2/version française/Archive/R0A.8xp
911

octets

bytes

The Reign of Legends 2/version française/Archive/R0B.8xp
1.31

Ko

KB

The Reign of Legends 2/version française/Archive/R0C.8xp
1.87

Ko

KB

The Reign of Legends 2/version française/Archive/R0D.8xp
405

octets

bytes

The Reign of Legends 2/version française/Archive/R0E.8xp
409

octets

bytes

The Reign of Legends 2/version française/Archive/R0F.8xp
254

octets

bytes

The Reign of Legends 2/version française/Archive/R0G.8xp
788

octets

bytes

The Reign of Legends 2/version française/Archive/R0H.8xp
637

octets

bytes

The Reign of Legends 2/version française/Archive/R0I.8xp
1.59

Ko

KB

The Reign of Legends 2/version française/Archive/R0J.8xp
419

octets

bytes

The Reign of Legends 2/version française/Archive/R0K.8xp
480

octets

bytes

The Reign of Legends 2/version française/Archive/R0L.8xp
208

octets

bytes

The Reign of Legends 2/version française/Archive/R0M.8xp
601

octets

bytes

The Reign of Legends 2/version française/Archive/R0N.8xp
647

octets

bytes

The Reign of Legends 2/version française/Archive/R0O.8xp
803

octets

bytes

The Reign of Legends 2/version française/Archive/R0P.8xp
446

octets

bytes

The Reign of Legends 2/version française/Archive/R0Q.8xp
1.60

Ko

KB

The Reign of Legends 2/version française/Archive/R0R.8xp
634

octets

bytes

The Reign of Legends 2/version française/Archive/R0S.8xp
1.10

Ko

KB

The Reign of Legends 2/version française/Archive/R0T.8xp
1.96

Ko

KB

The Reign of Legends 2/version française/Archive/R0theta.8xp
460

octets

bytes

The Reign of Legends 2/version française/Archive/R0U.8xp
2.90

Ko

KB

The Reign of Legends 2/version française/Archive/R0V.8xp
3.31

Ko

KB

The Reign of Legends 2/version française/Archive/R0W.8xp
4.18

Ko

KB

The Reign of Legends 2/version française/Archive/R0X.8xp
1.97

Ko

KB

The Reign of Legends 2/version française/Archive/R0Z.8xp
4.84

Ko

KB

The Reign of Legends 2/version française/Archive/RA.8xp
156

octets

bytes

The Reign of Legends 2/version française/Archive/RAR.8xp
118

octets

bytes

The Reign of Legends 2/version française/Archive/RAURA.8xp
2.63

Ko

KB

The Reign of Legends 2/version française/Archive/RB0.8xp
3.10

Ko

KB

The Reign of Legends 2/version française/Archive/RB1.8xp
3.09

Ko

KB

The Reign of Legends 2/version française/Archive/RB2.8xp
2.97

Ko

KB

The Reign of Legends 2/version française/Archive/RB3.8xp
2.97

Ko

KB

The Reign of Legends 2/version française/Archive/RB4.8xp
3.62

Ko

KB

The Reign of Legends 2/version française/Archive/RB5.8xp
2.56

Ko

KB

The Reign of Legends 2/version française/Archive/RB6.8xp
219

octets

bytes

The Reign of Legends 2/version française/Archive/RBLITZ.8xp
3.66

Ko

KB

The Reign of Legends 2/version française/Archive/RC.8xp
223

octets

bytes

The Reign of Legends 2/version française/Archive/RC2.8xp
1.57

Ko

KB

The Reign of Legends 2/version française/Archive/RCH.8xp
123

octets

bytes

The Reign of Legends 2/version française/Archive/RCURE.8xp
1.46

Ko

KB

The Reign of Legends 2/version française/Archive/RD.8xp
176

octets

bytes

The Reign of Legends 2/version française/Archive/RDR.8xp
2.20

Ko

KB

The Reign of Legends 2/version française/Archive/RE.8xp
658

octets

bytes

The Reign of Legends 2/version française/Archive/RF.8xp
1.72

Ko

KB

The Reign of Legends 2/version française/Archive/RF1.8xp
325

octets

bytes

The Reign of Legends 2/version française/Archive/RFATAL.8xp
124

octets

bytes

The Reign of Legends 2/version française/Archive/RFEU.8xp
128

octets

bytes

The Reign of Legends 2/version française/Archive/RGLACE.8xp
1.09

Ko

KB

The Reign of Legends 2/version française/Archive/RH.8xp
373

octets

bytes

The Reign of Legends 2/version française/Archive/RL.8xp
390

octets

bytes

The Reign of Legends 2/version française/Archive/RLDLIEU.8xp
1.29

Ko

KB

The Reign of Legends 2/version française/Archive/RLDLIEU2.8xp
2.22

Ko

KB

The Reign of Legends 2/version française/Archive/RLOAD.8xp
132

octets

bytes

The Reign of Legends 2/version française/Archive/RLOAE.8xp
5.67

Ko

KB

The Reign of Legends 2/version française/Archive/RM.8xp
188

octets

bytes

The Reign of Legends 2/version française/Archive/RMENU.8xp
121

octets

bytes

The Reign of Legends 2/version française/Archive/RNEO.8xp
406

octets

bytes

The Reign of Legends 2/version française/Archive/RP.8xp
260

octets

bytes

The Reign of Legends 2/version française/Archive/RR.8xp
1,006

octets

bytes

The Reign of Legends 2/version française/Archive/RS.8xp
402

octets

bytes

The Reign of Legends 2/version française/Archive/RSA.8xp
123

octets

bytes

The Reign of Legends 2/version française/Archive/RSB.8xp
282

octets

bytes

The Reign of Legends 2/version française/Archive/RSE.8xp
237

octets

bytes

The Reign of Legends 2/version française/Archive/RT.8xp
2.54

Ko

KB

The Reign of Legends 2/version française/Archive/Rtheta.8xp
248

octets

bytes

The Reign of Legends 2/version française/Archive/RU.8xp
583

octets

bytes

The Reign of Legends 2/version française/Archive/RV.8xp
614

octets

bytes

The Reign of Legends 2/version française/Archive/RVA.8xp
132

octets

bytes

The Reign of Legends 2/version française/Archive/RXPLOZ.8xp
83

octets

bytes

The Reign of Legends 2/version française/Archive/RZ.8xp
107

octets

bytes

The Reign of Legends 2/version française/Archive/RZC.8xp
107

octets

bytes

The Reign of Legends 2/version française/Archive/RZECRN.8xp
92

octets

bytes

The Reign of Legends 2/version française/Archive/RZINVD.8xp
90

octets

bytes

The Reign of Legends 2/version française/Archive/RZINVE.8xp
100

octets

bytes

The Reign of Legends 2/version française/Archive/RZOFF.8xp
499

octets

bytes

The Reign of Legends 2/version française/RAM/R00LEGEN.8xp
132

octets

bytes

The Reign of Legends 2/version française/RAM/RARC.8xp
3.04

Ko

KB

readme.txt