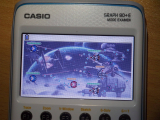 Inspiration : MyShmup
Le
jeudi 4 mai 2023
, ce sera la journée annuelle de
Star Wars
, et pour fêter cet événement
Casio
organise un nouveau concours, à l'attention des collégiens-collégiennes et lycéens-lycéennes.
Pour y gagner de superbes cadeaux, il te faudra justement créer un programme sur le thème de
Star Wars
.
Casio
a prévu de plus des ateliers en ligne
mercredi 10 mai
afin de te communiquer les modalités du concours, te montrer quelques exemples de productions attendues et t'entraîner pour que tu puisses proposer un super programme :
atelier Collège :

14-15h

atelier Lycée :

15-16h
May the force be with you !

Inscription

:
https://www.casio-education.fr/ateliers ... es-eleves/