Several of us in the community have been spending time, over the years, collecting and documenting many TI graphing calculators.
In particular, in no specific order:
Joerg Woerner
(of Datamath),
(mr womp womp)
,
(notipa)
,
BrandonW
,
(myself)
.
We have worked on gathering as much information as possible from extremely rare prototypes to boringly-common models: OS versions, PCB pictures, chips information, behavior differences over time, hardware revisions and differences across factories, datecodes, serial number formats, etc. etc. All this in forum topics, wikis, shared documents, collaborative spreadsheets (like
this one
, or
that one
, or
that one
...), databases, dedicated websites (like
MyCalcs
), ...
But these days,
we need your help
before it's too late and some model revisions vanish in the black hole of time, never having been properly documented

We know it can be annoying to open your calculator to take a picture of the insides, or maybe you lack the time or knowledge to do so properly (and safely)...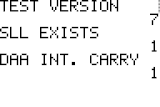 Good news!
ASM programs
(more details
in his topic
), among which
Z80Test
.
It comes with another program, in TI-Basic, called "
BZ80TEST
", that launches the ASM one and produces a readable output

You can run
BZ80Test
on your
TI-83/83+/84+/86
calculator(s) (soon more models, but
not CE
for now), and it will poke around the insides and correlate both documented and undocumented behavior back to the hardware that produces it. The program can uniquely identify any ASIC used in all supported calculators, identify the display driver used, and even distinguish clones!
---
As a bonus, we're thinking about gifting TI-Planet
premium
accounts if you happen to submit new/valuable information
(and possibly even goodies, like stickers, if you go as far as contributing new PCB pics) !

Plusieurs d'entre nous dans la communauté ont passé du temps, au fil des ans, à collecter et à documenter de nombreuses calculatrices graphiques TI. En particulier, sans ordre spécifique :
Joerg Woerner
(de Datamath),
(mr womp womp)
,
(notipa)
,
BrandonW
,
(moi-même)
.
Nous nous sommes attelé à rassembler autant d'informations que possible, des prototypes extrêmement rares jusqu'aux modèles communs peu passionnants : versions du système d'exploitation, photos des cartes électroniques, informations sur les composants, différences de comportement au fil du temps, révisions matérielles et différences entre les usines, codes de date, formats de numéros de série, etc. etc. Tout cela dans des topics de forums, des wikis, des documents partagés, des spreadsheets collaboratives (comme
celle-ci
, ou
celle-là
, ou
celle-là
...), des bases de données, des sites dédiés (comme
MyCalcs
), ...
Mais maintenant,
nous avons besoin de votre aide
avant qu'il ne soit trop tard et que certaines révisions de modèles disparaissent dans les oubliettes du temps, sans jamais avoir été correctement documentées

On sait bien qu'il peut être ennuyeux d'ouvrir votre calculatrice pour prendre une photo de ses entrailles, ou peut-être que vous manquez de temps, de matériel, de connaissances pour le faire correctement (et de manière
safe
).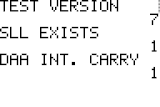 Bonne nouvelle !
programmes ASM d'analyse du matériel
(plus de détails
dans son topic
), dont
Z80Test
.
Il vient avec un autre programme, écrit en TI-Basic, appelé "
BZ80TEST
", qui lance celui en ASM et produit une sortie lisible

Vous pouvez exécuter
BZ80Test
sur votre calculatrice(s)
TI-83/83+/84+/86
(et bientôt d'autres, mais
pas CE
pour l'instant), et il analysera le comportement de la calculatrice pour mettre en corrélation les comportements (documentés et non documentés) avec le matériel qui le produit. Le programme peut identifier de manière unique tout ASIC utilisé dans toutes les calculatrices gérées, identifier le pilote d'affichage (LCD Driver) utilisé et même distinguer les clones !
---
En bonus, nous pensons offrir des comptes TI-Planet
premium
si vous soumettez des informations nouvelles/précieuses
(et peut-être même des goodies, comme des stickers, si vous allez jusqu'à contribuer de nouvelles photos de cartes mères) !