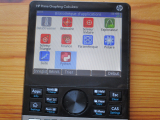 Rentrée 2013 sortait la formidable calculatrice
HP Prime
.
Hewlett Packard
avait dès le début fait le choix de se distinguer de la concurrence de l'époque, avec un logiciel d'émulation
HP Prime
pour ordinateurs complet et entièrement gratuit, à l'époque pour
Windows
.
L'écosystème logiciel n'a eu de cesse de s'étoffer depuis. On peut citer :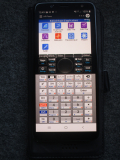 Les logiciels d'émulation sont tous gratuits. Pour les applications d'émulation par contre, les versions intégrales sont payantes.
Les versions gratuites des applications
HP Prime
sont en effet limitées à l'utilisation de seulement 9 des applications de la calculatrice :
Fonction

Graphiques avancés

Stats 1Var

Stats 2Var

Inférence

Résoudre

Paramétrique

Polaire

Suite
Les applications gratuites n'en restent pas moins fort utiles si ton enseignant t'autorise le
smartphone
en devoir surveillé, chaque application de la calculatrice pouvant être basculée dans sa vue
CAS
autorisant le calcul formel !

Et puis, gros incident pour la rentrée 2020.
Google
a décidé de
supprimer
les deux applications
HP Prime
du
Play Store
, un sale coup en pleine période de rentrée.
L'un des deux développeurs de la
HP Prime
,
Tim Wessman
, avait rapidement
communiqué
à ce sujet dès le 17 septembre 2020 :
Tim Wessman wrote:it got pulled automatically due to needing a small tweak to an openFile api. Kind of a surprise to us as well
On pouvait donc s'attendre à un retour rapide de l'application après une très légère correction.
Hélas, rien depuis des mois.
Cyrille de Brébisson
, l'autre développeur de la
HP Prime
, avait apporté depuis des informations complémentaires dans le cadre de sa participation à la conférence en ligne
HPCC 2021
. Deux passages à ce sujet :
de 8:21 à 8:49
de 13:27 à 17:41
Les développeurs n'arrivaient tout simplement pas à recompiler les applications
HP Prime
pour
Android
avec les nouvelles exigences de
Google
.
Problème enfin résolu. Après cette très longue attente les applications
HP Prime
pour
Android
sont aujourd'hui enfin à nouveau disponibles sur le
Play Store
, dans une nouvelle version
2.1.14591
toute fraîchement compilée du
14 Mai 2021
!

Attention toutefois, malgré le numéro de version il semble ne s'agir que d'une simple mise à jour mineure, ne touchant à rien d'autre que ce qui a été exigé par
Google
.

En effet, que ce soit dans la version gratuite ou la version intégrale, aucune des
formidables nouveautés
apportées au cours du mois dernier sur la calculatrice avec les mises à jour
à
Python
.

appli d'émulation

HP Prime

:

logiciel d'émulation

HP Prime

:

(gratuit)




2.1.14575

pour

2.1.14425

pour

2.1.14288

pour

mise à jour

2.1.14588

pour

HP Prime

logiciel de connectivité

HP Prime

:


2.1.14425

pour

2.1.14575

pour

(défectueux + expire le

28 juin 2021

)
https://www.hpmuseum.org/forum/thread-16949.html