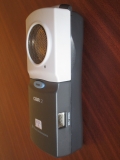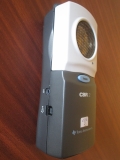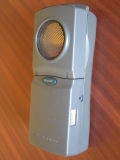 Les
et
TI-CBR2
sont des périphériques d'acquisition de mesures physiques pour les calculatrices graphiques
Texas Instruments
. Plus précisément il s'agit de sonars, destinés donc à mesurer la distance à un obstacle par émission et réception de salves sonores.
Niveau connectivité ils disposent tous les deux :
d'un port de communication série , qui ne peut donc pas être utilisé avec les modèles récents où ce port a été remplacé par la diode examen
d'un port de communication

(British Telecom Analogic)

pour connexion à la calculatrice via une interface d'acquision si compatible

(

TI-CBL

,

TI-CBL2

,

Vernier EasyLink

,

Vernier LabPro

,

TI-Nspire Lab Cradle

)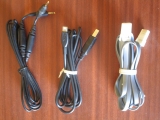 Par contre, le
TI-CBR2
dispose d'une connectivité supplémentaire,
USB B
. Il peut donc être relié directement à toute calculatrice
Texas Instruments USB
à l'aide d'un câble
USB mini-A ↔ USB B
ou
USB mini-OTG ↔ USB B
certes difficile à trouver. Des adaptateurs
ou
un peu moins rares permettent toutefois d'obtenir des assemblages équivalents.
Puisque le
TI-CBR2
dispose donc d'une connectivité
USB
, profitons-en pour récupérer ses descripteurs
USB
au branchement sur ordinateur :
Code: Select all

Information for device Go! Motion ver 1.02 (VID=0x08F7 PID=0x0004):

Connection Information:
------------------------------
Device current bus speed: LowSpeed
Device supports USB 1.1 specification
Device supports USB 2.0 specification
Device address: 0x0031
Current configuration value: 0x00
Number of open pipes: 0

Device Descriptor:
------------------------------
0x12 bLength
0x01 bDescriptorType
0x0110 bcdUSB
0x00 bDeviceClass
0x00 bDeviceSubClass
0x00 bDeviceProtocol
0x08 bMaxPacketSize0 (8 bytes)
0x08F7 idVendor
0x0004 idProduct
0x0102 bcdDevice
0x01 iManufacturer "Vernier Software & Technology"
0x02 iProduct "Go! Motion ver 1.02"
0x00 iSerialNumber
0x01 bNumConfigurations

Configuration Descriptor:
------------------------------
0x09 bLength
0x02 bDescriptorType
0x0022 wTotalLength (34 bytes)
0x01 bNumInterfaces
0x01 bConfigurationValue
0x00 iConfiguration
0x80 bmAttributes (Bus-powered Device)
0x64 bMaxPower (200 mA)

Interface Descriptor:
------------------------------
0x09 bLength
0x04 bDescriptorType
0x00 bInterfaceNumber
0x00 bAlternateSetting
0x01 bNumEndPoints
0x03 bInterfaceClass (Human Interface Device Class)
0x00 bInterfaceSubClass
0x00 bInterfaceProtocol
0x00 iInterface

HID Descriptor:
------------------------------
0x09 bLength
0x21 bDescriptorType
0x0110 bcdHID
0x00 bCountryCode
0x01 bNumDescriptors
0x22 bDescriptorType (Report descriptor)
0x0032 bDescriptorLength

Endpoint Descriptor:
------------------------------
0x07 bLength
0x05 bDescriptorType
0x81 bEndpointAddress (IN endpoint 1)
0x03 bmAttributes (Transfer: Interrupt / Synch: None / Usage: Data)
0x0008 wMaxPacketSize (1 x 8 bytes)
0x0A bInterval (10 frames)

Microsoft OS Descriptor is not available. Error code: 0x0000001F

String Descriptor Table
--------------------------------
Index LANGID String
0x00 0x0000 0x0409
0x01 0x0409 "Vernier Software & Technology"
0x02 0x0409 "Go! Motion ver 1.02"

------------------------------

Connection path for device:
Contrôleur d'hôte compatible xHCI USB
Root Hub
Go! Motion ver 1.02 (VID=0x08F7 PID=0x0004) Port: 1

Running on: Windows 10 or greater

Brought to you by TDD v2.11.0, Mar 26 2018, 09:54:50
Le
TI-CBR2
utilise donc :
l'identifiant vendeur

0x8F7

, qui bizarrement ne correspond pas à mais à

Vernier

l'identifiant produit

0x004
Et justement, tout aussi bizarrement, il ne fournit pas comme nom
TI-CBR2
, mais
Go! Motion ver 1.02
.

Nous découvrons en fait rapidement que le
Go! Motion
est en fait le nom d'un autre sonar de chez
Vernier
, en tous points identique.
Voici donc enfin découvert et révélé l'ultime secret du
TI-CBR2
, il s'agit en fait d'un
Vernier Go! Motion
maquillé dans un boîtier estampillé
Texas Instruments
.