Sharp
fait partie intégrante de l'histoire des calculatrices graphiques.
Il sortit son premier modèle, la
, dès 1986 soit juste après
et sa
de 1985 !

Il montra même la voie avec plusieurs innovations majeures :
la première calculatrice graphique à saisie en écriture naturelle, la , dès 1992 soit bien avant les et de 2003 et 2004 ou de 2007 !
la première calculatrice graphique à écran tactile, la , dès 1997 soit bien avant les de 2003 et de 2013 !
Hélas pour une raison que nous ignorons, depuis maintenant à peu près deux décennies, il semble que les calculatrices
Sharp
ne soient plus distribuées en France.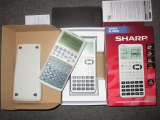 Ce qui n'empêche pas
Sharp
de continuer leur développement On peut citer :
la

EL-9900

de 2005, avec différents claviers amovibles interchangeables comme sur la de 2007
la

EL-9950

de 2016 qui abandonne cette fonctionnalité, mais passe à un boîtier blanc immaculé comme la de 2015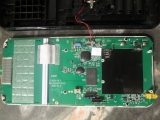 Si l'on ouvre notre calculatrice
Sharp EL-9950
, on trouve une carte mère de référence
EL9950-KEY
apparemment conçue ou assemblée le
5 décembre 2016
.
Le processeur et la RAM ne sont hélas pas identifiables, puisque noyés sous des gouttes d'epoxy solififié comme chez
.
Par contre comme autre puce remarquable, nous avons une
Sharp LH28F800BJE-PTTL90
qui est une
Flash-ROM
de
1Mio
.
Un indice qui nous indiquerait donc que la
Sharp EL-9950
est comparable à une
TI-82 Advanced
ou
TI-84 Plus
, si l'on veut bien oublier l'absence de connectivité USB
(défaut inexcusable en 2016)
, mais nous verrons ultérieurement après d'autres tests.
Mais si la
Sharp EL-9950
dispose de la technologie
Flash
, alors logiquement il devrait être possible de mettre à jour son OS.
Effectivement, nous trouvons une version
1.2
téléchargeable sur le
site de

Sharp
.

Génial, le fichier
el9950_ver120.bin
alors extrait fait exactement
1Mio
, ce qui voudrait dire qu'il continue une image brute de l'ensemble de la ROM et de son OS !

Peut-être moyen donc d'identifier le processeur...
Et bingo, à partir de l'offset 0x3CF3 on trouve ce qui ressemble énormément à l'arborescence d'un menu d'auto-test, comme on en trouve chez
et
:

Main Menu


DIAG

AGING FAST
AGING SLOW
LB CHECK

SIO Check Menu


Send H
Send and Recv
Recv and Send
MASTER
3PIN CHECK

ESD Menu


WRITE RAM
READ RAM
WRITEšREAD RAM
READ MEMORY
W!RAMšR!MEM
FROM WRITE

DIAG*MENU+


LCD CHECK
ROM CHECK
RAM CHECK
KEY CHECK
3PIN CHECK
UNIT SW CNT

RAM Menu


View RAM
Backup RAM
Restore RAM

PROGRAM Menu


Receive
Send
Send*with Boot Page+

OHP Menu


Launch OHP Diag
Controll OHP
PIO Check Mode
PIO Chk Master Mode
Disconnect
La question maintenant, c'est quelle est la combinaison de touches permettant de lancer ce menu secret sur une calculatrice
EL-9950
?...