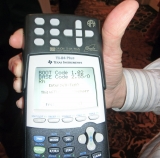 Dans une
actualité précédente
, Adriweb vous présentait la TI-84 Plus Orion, la première calculatrice graphique parlante pour les malvoyants en cette rentrée 2013. Grâce à lui, nous découvrions que ces calculatrices TI-84 Plus spéciales utilisaient un système d'exploitation modifié,
2.55/ORh
au lieu de
2.55MP
dans le cas du prototype d'Adriweb.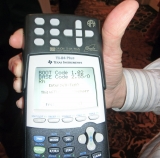 In a
previous news item
, Adriweb showcased the TI-84+ Orion, the first graphing calculator aimed at sight-impaired persons, for this '2013 school year. Thanks to him, we discovered that those special 84+ calculators used a modified OS,
2.55/ORh
instead of
2.55MP
for Adriweb's prototype.
Aujourd'hui, grâce à Adriweb qui vous en dira un peu plus si il veut bien, nous disposons du système d'exploitation équipant les calculatrices TI-84 Pus Orion de production, le
2.55/ORk
. Il reste donc basé sur le système
2.55MP
de TI, et la version du code spécifique au fonctionnement du module vocal Orion est indiquée par la dernière lettre. On peut donc supposer l'existence entre temps d'au moins deux versions intermédiaires:
2.55/ORi
et
2.55/ORj
.
Today, thanks again to Adriweb who will tell you more about it if he feels like, we have the OS which powers the production 84+ Orion calculators, which has version
2.55/ORk
. It's still based on TI's
2.55MP
OS, and the version tag specific to the vocal Orion module's operation is indicated by the last letter. We can suppose that at least two intermediary versions have existed:
2.55/ORi
and
2.55/ORj
.
Même si sans le module vocal Orion qui n'est pas commercialisé séparément c'est une manipulation totalement inutile comme on aime bien en faire souvent sur TI-Planet, l'installation de ce système sur TI-84 normales nous permet de faire une superbe découverte:
Even if without the Orion module, which is not sold separately, installing this OS on standard 84+ calculators is completely useless (we like such manipulations on TI-Planet) shows a nice discovery:
Non seulement le système TI-84 Plus Orion est capable de fonctionner sur les TI-84 normales, mais il supporte aussi les TI-84 Plus Silver Edition où du code spécifique affiche correctement malgré le peu d'espace un nouveau nom de modèle:
Orion TI-84 Plus Silver Edition
au lieu de
Orion TI-84 Plus
!

Peut-être donc ce modèle inédit deviendra-t-il réalité dans une future évolution si il y a du succès

Not only the 84+ Orion OS can work correctly on normal 84+ calculators, but it contains some support for 84+SE calculators, where some code snippet specific to that model correctly displays the new model name, despite the low width:
Orion TI-84 Plus Silver Edition
instead of
Orion TI-84 Plus
!

Maybe 84+SE Orion calculators will become reality in a future evolution of the platform, if the 84+ Orion model is successful enough

Notons que le module vocal Orion dispose lui aussi d'un firmware spécifique qui peut être mis à jour en USB depuis un ordinateur, actuellement en version 1.00.04 disponible ci-dessous.
Il serait sans doute intéressant de le regarder et de remplacer les données audio en anglais par d'autres langues...

Note that the Orion vocal module has its own specific firmware, which can be upgraded through USB from a computer, currently at version 1.00.04, available below.
It would certainly be interesting to have a look at it, and replace English audio data by data for other languages...

A bientôt pour de nouvelles découvertes !
See you soon for more discoveries !
OS TI-84 Plus Orion 2.55/ORk
Firmware module vocal Orion 1.00.04