Dans
une actualité précédente
, nous t'annoncions l'arrivée pour cette rentrée 2013 d'une nouvelle révision matérielle J pour les TI-Nspire CX. Les TI-Nspire CX équipées de ce nouveau matériel ne peuvent pas faire fonctionner correctement les anciennes versions 3.1 du système et du Boot2, et il n'y a donc à ce jour aucun moyen d'utiliser Ndless ou Nlaunch dessus.
In
a previous news
, we announced you the arrival for back to school 2013 of a new TI-Nspire CX hardware revision. TI-Nspire CX equipped with this new hardware could not properly run system and Boot2 versions 3.1, and thus there was no way to use Ndless or Nlaunch on them.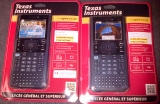 Par la suite
nous t'apprenions, pour la France, à différencier ces calculatrices des anciens modèles compatibles Ndless/Nlaunch directement en magasin, sans aucun besoin d'ouvrir l'emballage.

Next
we did teach you, at least for France, how to spot old Ndless/Nlaunch compatible calcultors directly in stores without having to unseal the bundle.


Enfin
, nous te faisions découvrir ce nouveau matériel.
Finally
, we made you discover this new hardware.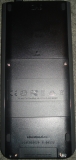 Les calculatrices équipées de la révision matérielle J signalées jusqu'à présent portaient à droite de leur numéro de série au dos l'inscription
"P-0313J"
ou
"P-0413J"
. Cela signifiait donc qu'elles avaient été fabriquées en Chine en mars et avril 2013.
HW-J calculators reported to us so far had the
"P-0313J"
or
"P-0413J"
datestamps on the back at the right of the serial. This meant that they were manufactured in China in March and April 2013.
La communauté Ndless/Nlaunch n'a même pas encore eu le temps de comprendre exactement ce qui a changé, que Texas Instruments nous sort déjà la version suivante avec la révision matérielle K, signalée ce jour sur notre chat. Le
"P-0613K"
au dos indique logiquement une fabrication plus récente, en juin 2013.
The Ndless/Nlaunch community hasn't even been able yet to understand exactly which change in the new hardware was responsible for the 3.1 incompatibility, that Texas Instruments has already released a new hardware version, hardware revision K which was reported today on the TI-Planet chat. The
"P-0613K"
on the back shows us it was manufactured in june 2013.
Nous ignorons à ce jour s'il s'agit d'une simple révision mineure du matériel J, ou si il y a eu encore ajout de protections supplémentaires. Mais dans la course à la fermeture et à la "sécurité" des TI-Nspire CX que semble avoir entamée Texas Instruments, cette dernière éventualité est parfaitement possible.
We don't know yet if HW-K is a minor HW-J revision, or if new protections were added. In its sudden race for the closure and the safety of the TI-Nspire CX it's very likely that Texas Instruments did add some additional protection again, to be sure that Ndless and Nlaunch will never come back.