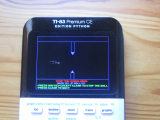 Après une adaptation de
pour ta
TI-83 Premium CE
dans une actualité précédente, aujourd'hui nous te proposons de changer de camp et de combattre ce satané virus.
Stop The Virus
, le dernier jeu en ce sens de
randomguy
, est un jeu de réflexes. Afin d'aider à la réalisation d'un vaccin tu dois réussir à isoler le virus au moment où il franchit les électrodes. Pour cela il te suffit d'appuyer sur une touche au bon moment, mais attention le jeu accélère après chaque succès.

Attention,
Stop The Virus
est un programme en langage machine dit
ASM
.

Si ta calculatrice fait tourner une version système
5.5.1
ou supérieure c'est compliqué ;
Texas Instruments
combattant désormais farouchement la création de logiciels tiers pour la
TI-83 Premium CE
.

Il te faut :
installer

arTIfiCE

pour remettre la possibilité de lancer des programmes

ASM