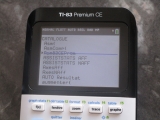 Ajout :
Attention, la mise à jour en
5.3.1
bloque de façon permanente
les programmes assembleur non compressés (non "squishés" via AsmComp).

De plus, elle interdit tout retour à une version
ou antérieure, et cette régression en fonctionnalités est donc pour le moment définitive.

Installation fortement déconseillée.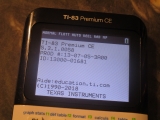 Aujourd'hui soit juste à temps pour les enseignants et institutionnels qui visiteront le
salon
demain,
Texas Instruments
nous sort sa mise à jour système
5.3.1
pour
TI-83 Premium CE
et
TI-84 Plus CE
. Plus précisément cela nous fait passer de la version
à la version
5.3.1.0058
compilée le 22 février 2018.
Comme on peut s'en douter avec cette numérotation extrêmement proche, il n'y a pas à notre connaissance d'amélioration visible niveau fonctionnalités.
On peut par contre s'attendre à des corrections de bugs, et effectivement selon nos premiers tests il y a plusieurs durcissements de la sécurité du mode examen.
Une combinaison de touches dans un certain menu était mal gérée et permettait de lister puis exécuter/éditer les programmes préexistants en mémoire: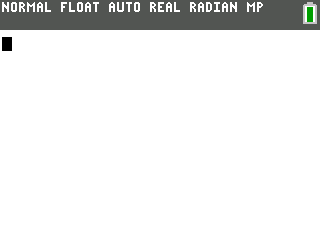 Une faille très facile à découvrir par hasard et qui s'est pas mal répandue parmi les lycéens ces derniers mois, même si elle était difficile à bien maîtriser puisque le comportement du menu alors obtenu était tout sauf normal.
Ce bug est désormais corrigé en version
5.3.1
.
Pour exécuter des programmes assembleur, on avait historiquement besoin de la commande
Asm(
, commande bloquée en mode examen.
Mais avec la version
la commande
Asm(
est devenue optionnelle. La commande de déclaration
Asm83CEPrgm
n'étant quant à elle pas bloquée, il devenait donc possible de saisir un programme assembleur en mode examen puis de l'exécuter.
De quoi peut-être permettre d'accéder à ses données sans éteindre la diode ou changer la couleur de la barre de titre. Fallait-il encore être suffisamment astucieux pour que le programme assembleur faisant tout ça soit suffisamment court pour que sa série d'octets puisse être retenue par coeur et donc être saisie à la main en début d'épreuve après activation du mode examen.
Dans tous les cas cette faille est désormais refermée en version
5.3.1
, la commande
Asm83CEPrgm
étant à son tour bloquée en mode examen.
La commande
AsmComp(
a également été bloquée au passage de façon similaire, même si nous n'avons pas connaissance de possibilités l'exploitant.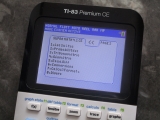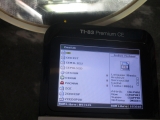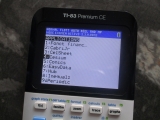 Avec des programmes assembleur on peut modifier le contenu de la mémoire Flash absolument comme on veut, à l'exception des zones vitales du
protégées contre l'écriture. Comme on pouvait le voir avec les premières versions "application"
(communautaires)
de
pour CE: il était possible d'en altérer les drapeaux d'autorisations
(présents sur la 1ère page mémoire de chaque application)
. On pouvait alors rendre n'importe quelle application disponible en mode examen :
aussi bien des applications officielles interdites

(ce qui concerne plutôt la

TI-84 Plus CE / CE-T

)

que des applications officielles modifiées
ou même des applications non officielles
Il suffisait donc de se rendre disponible en mode examen une application capable de lister et exécuter des programmes, et c'est justement la fonctionnalité principale de
(mais qui, depuis quelques temps, contient des mesures spécifiques pour justement éviter tout comportement anormal en mode examen).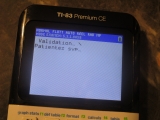 Cette faille a elle aussi été colmatée en version
5.3.1
. Désormais, l'activation du mode examen ne se contente plus de vérifier les seuls drapeaux d'autorisations que l'on pouvait modifier n'importe comment. Non, le mode examen se donne désormais la peine de vérifier l'intégrité de chaque application présente en mémoire, c'est-à-dire de revalider sa signature électronique 2048-bits qu'il est impossible de falsifier à ce jour (et qu'il sera impossible de falsifier avant longtemps, sauf avancée technologique majeure). Toute application échouant à ce test, que ce soit une application officielle modifiée ou une application non officielle, sera tout bonnement effacée.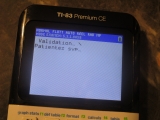 This hole was also plugged in version
5.3.1
. From now on, enabling the exam mode will no longer only check the activation flags which could have been modified in arbitrary ways. Instead, the exam mode goes through the pain of checking the integrity of every FlashApp contained in the calculator's memory, that is, validating the 2048-bit signature which can't be forged at the time of this writing (and won't be forgeable for a long time, unless there's a major technological breakthrough). Any application failing the validation, be it a modified version of an official application or an unofficial application, is simply erased during the exam mode bringup process.
Mais cette solution extrême n'est pas sans inconvénients. Elle embête tout-le-monde, y compris les utilisateurs honnêtes qui n'ont rien demandé et les surveillants. En effet le mode examen
TI-83 Premium CE
une fois mis à jour en version
5.3.1
ne met plus 1 seconde à s'activer, mais près de 1min30s si toutes les applications officielles sont bien présentes en mémoire
(ce qui est de plus en plus souvent le cas avec le nouveau format bundle réunissant applications et OS)
, devenant ainsi le mode examen le plus lent à s'activer tous modèles conformes 2019 confondus, battant au passage la
et ses 55 secondes
(le mode examen redémarrant la machine)
...

Un nouveau défaut qui se ressentira dans nos tests de rentrée QCC, la complexité + rapidité d'activation du mode examen faisant bien partie des critères évalués à la rentrée 2017.
Les surveillants auront-ils la patience en 2019 de faire attendre toute la salle le temps que les diodes des nombreuses
TI-83 Premium CE
veuillent bien commencer à clignoter ?


Tu vas avoir intérêt à effacer de ta mémoire toutes les applications inutiles à ton examen, à commencer par les langues autres que le français,
,
,
et
.
Nous ignorons si le virage sécuritaire brutal pris par cette mise à jour est en rapport avec le report du mode examen 2018.
Nous avions souvent dit que le mode examen était une vraie passoire, et ce sur l'ensemble des modèles conformes 2019. La
TI-83 Premium CE
nous semblerait donc d'un côté désormais bien blindée pour 2019. Il reste sûrement des failles comme toujours, mais elles deviennent à force de plus en plus rares et complexes à trouver et exploiter.

Mais d'un autre côté nous nous demandons si le constructeur n'est pas cette fois-ci allé trop loin avec ce dernier point. Historiquement pour les autres modèles, c'est toujours quand la sécurité a commencé à impacter l'ensemble des utilisateurs dans leur usage normal de la calculatrice que des contournements se sont mis à sortir...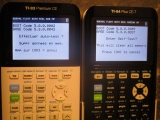 Attention, l'installation de l'
OS 5.3.1
augmente la version minimale autorisée inscrite dans la mémoire permanente de la calculatrice à
5.3.1
. Il n'existe aucun outil de réinitialisation à ce jour.
Si tu as une machine supportant cette protection, c'est-à-dire munie d'un
Boot Code 5.1.5
ou supérieur, après mise à jour il te sera impossible de réinstaller une version d'OS
ou inférieure.
Si cela importe pour toi, il te suffit de taper



pour vérifier.
Si ta version
Boot Code
est inférieure à
5.1.5
comme ci-contre, tu peux oublier ce passage.