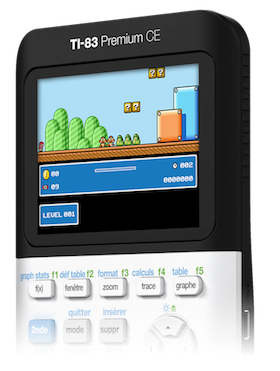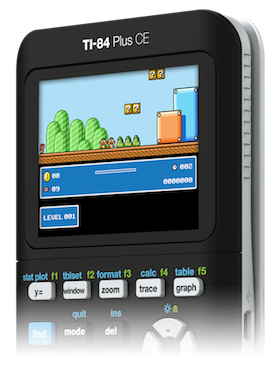 Depuis la rentrée 2016 vous étiez très nombreux à le réclamer… Et en ce début d'année 2017,
Super Mario
, la
star
du jeu vidéo est de retour, pour la première fois enfin sur ton extraordinaire
TI-83 Premium CE
!
Sous la griffe de
(créateur/contributeur principal de CEmu, des bibliothèques C et des outils de programmation native pour CE)
,
Oiram CE
te fera vivre de nouvelles aventures originelles et inédites au royaume champignon, à l'assaut du repère de l'infâme
Bowser Reswob
.
La fluidité du jeu ainsi que des diverses animations est absolument remarquable, probablement sur ce critère le meilleur
Mario-like
jamais développé sur calculatrice graphique !

For a few months now, more and more people have been waiting for it... And now, with 2017 only beginning,
Super Mario
, the
star
of video games, is back, for the first time on your great
TI-84 Plus CE
!
Programmed by
(creator/main contributor of CEmu, the C libraries and CE native programming tools)
,
Oiram CE
will make you live both familiar and new adventures in the mushroom kingdom, to the assault of the lair of the infamous
Bowser Reswob
.
The game's smoothness as well as the various animations are absolutely amazing, making it on this criterion the best
Mario-like
game ever made on a graphing calculator!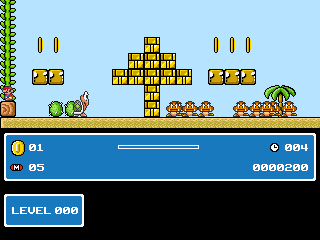 Les divers éléments graphiques viennent pour leur part de
"Super Mario Advance 4 - Super Mario Bros 3"
, le
remake
2003 amélioré pour console portable
Nintendo Game Boy Advance
de l'inoubliable
Super Mario Bros 3
de 1988 sur
NES
.
Si le 1
er
des 12 niveaux fait clairement hommage au monde 1 niveau 1 de
Super Mario Bros 3
, on part très vite dans de l'inédit même si cela ne t'empêchera pas de retrouver quelques éléments empruntés par-ci par-là.
Le jeu se montre très fidèle à l'univers, tout l'écosystème de
Super Mario Bros 3
étant présent : des guerriers champignons aux plantes carnivores ou cracheuses de boules de feu, en passant par toutes les races de tortues. Pour sortir victorieux,
Oiram
peut acquérir ses pouvoirs habituels :
grandir et casser des briques en mangeant un champignon
lancer des boules de feu en mangeant une fleur
se transformer en raton-laveur pour donner des coups de queue, planer et s'envoler
...
The various graphical elements come from
"Super Mario Advance 4 - Super Mario Bros 3"
, the 2003
remake
improved for the
Nintendo Game Boy Advance
of the legendary
Super Mario Bros 3
from 1988 on the
NES
.
If the 1
st
of the 12 levels is clearly like the first of
Super Mario Bros 3
, we leave quickly for brand new content, although inspired from some actual Mario levels here and there.
The game is very faithful to the universe, the whole ecosystem of
Super Mario Bros 3
being present: mushroom warriors with carnivorous plants or spitting fireballs, and of course turtles. To win the game,
Oiram
can acquire his usual powers throughout the levels:
grow and break walls when eating mushrooms
Launch fireballs eating flowers
turn into racoon-oiram to be able to kick and fly
...
Le jeu a été développé en langage C
, et nécessitera l'installation des
bibliothèques C
téléchargeables ci-après.
Un tuto-vidéo est également disponible et t'expliquera les choses pas à pas si c'est ta première fois :
The game is programmed in C
, and requires the
C libraries
downloadable below.
A video-tutorial is also available to show you all the steps if it's your first time:
Envie de poursuivre l'aventure ? N'oublions pas de mentionner que MateoConLechuga a aussi programmé pour Windows
(et compatible macOS/Linux avec wine)
un éditeur de niveaux Oiram, entièrement graphique et fort pratique !
Edit :
Plusieurs créations
sont déjà disponibles !

Want to continue the adventure? Let's not forget to mention that MateoConLechuga has also programmed for Windows
(compatible macOS/Linux through wine)
a level editor for Oiram, entirely graphical and easy to use!
Edit :
Several custom levels
are already available !

Arriveras-tu à triompher de tous les niveaux du pack par défaut ? Amuse-toi bien !
Will you master all the levels of the default pack? Have fun !
Téléchargement / Download
: