La dernière version bêta (r685) de Ndless 3.1 a été publiée en août dernier, il y a bientôt 8 mois.

The latest beta version (r685) of Ndless 3.1 was published last August, nearly 8 months ago.

Ndless 3.1 gérait jusqu'à présent les modèles TI-Nspire suivants:
Until now, Ndless 3.1 handled the following Nspire models:
TI-Nspire & TI-Nspire CAS
TI-Nspire TouchPad & TI-Nspire CAS TouchPad
TI-Nspire CX & TI-Nspire CX CAS
TI-Nspire CX-C & TI-Nspire CX-C CAS
Autrement dit, il y a deux modèles TI-Nspire dont les utilisateurs étaient jusqu'à présent privés de la possibilité d'utiliser Ndless, les
modèles low-cost pour la Chine
:

In other words, until now, the users of two Nspire models were unable to use Ndless: the
low-cost models for China
:

TI-Nspire CM-C
TI-Nspire CM-C CAS
Ce soir, nous avons donc le plaisir de sortir un portage de Ndless pour la TI-Nspire CM-C, incomplet mais largement suffisant pour faire tourner la majorité des programmes!
Tonight, it's our the pleasure to release Ndless for the Nspire CM-C, an incomplete port but good enough to make it possible to run most programs!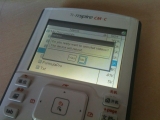 Après la TI-Nspire CAS+, Ndless a donc désormais été porté sur tous les modèles TI-Nspire !

After the Nspire CAS+, Ndless has therefore been ported to all Nspire models!

En fait, cette gestion partielle de la TI-Nspire CM-C existe depuis des mois et devait initialement être intégré à Ndless. Ca ne s'est pas encore produit.
In fact, this partial CM-C support was made months ago, and it was supposed to be integrated to Ndless. It didn't get done yet.
Nous pensons qu'il n'est pas une bonne chose que les utilisateurs de TI-Nspire CM-C qui ont des examens bientôt soient défavorisés par rapport aux utilisateurs de TI-Nspire CX (encore plus que par le fait d'utiliser un modèle inférieur), nous sortons donc Ndless CM 3.1 en tant que fork de Ndless 3.1. Nous espérons que son intégration pourra être effectuée un jour.
We think that the fact that Nspire CM-C users, who will soon be taking exams, have access to reduced functionality (even more so than by the mere fact of using an inferior model, that is), is no good, so we're releasing Ndless CM 3.1 as a fork of Ndless 3.1. We hope that the integration to the main Ndless can be done some day.
Ndless CM 3.1 nécessite bien évidemment l'utilisation de l'OS 3.1, puisque les failles utilisées pour l'installation de Ndless ont toutes été corrigées simultanément dans les OS 3.2.
Obviously, Ndless CM 3.1 requires using OS 3.1, as the vulnerabilities exploited to install Ndless have been simultaneously fixed in the OS 3.2 versions.
Pour fonctionner sur CM-C, les programmes Ndless qui n'utilisent pas leurs propres définitions de syscalls ne doivent pas être recompilés avec Ndless CM 3.1; les autres doivent être adaptés.
In order to work on the CM-C, those Ndless programs which do not use their own syscall definitions do not need to be recompiled with Ndless CM 3.1; others need to be adapted.
Ndless continue d'avancer sur TI-Planet!

Ndless CM 3.1