A la rentrée 2019 en Seconde, le programme de Physique-Chimie fait en effet appel aux scripts
Python
afin d'illustrer graphiquement divers phénomènes physiques. La
NumWorks
est à ce jour la seule calculatrice venant avec un langage
Python
qui intègre des possibilités graphiques.

Dans un
article précédent
, nous traitions déjà de mettre le spectre continu de la lumière visible dans ta
NumWorks
.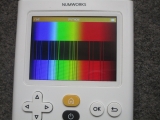 Voici aujourd'hui un script
Python
toujours dans le cadre de la partie
du programme de Seconde, mais qui va ici un petit peu plus loin en te juxtaposant les spectres de raies d'émission et d'absorption d'un élément chimique au choix. En prime il tient même compte de l'intensité pour chaque affichage de raie !

Une belle illustration des formidables capacités graphiques du
Python
sur calculatrice
NumWorks
, sans comparaison possible à ce jour !

Les données sont extraites du catalogue
Line Spectra of the Elements
de 1981 par
Reader J.
et
Corliss Ch.H.
.
Toutefois, seules les données concernant les 8 premiers éléments chimiques sont actuellement incluses dans le script, soit tout de même déjà 443 raies, transcodées dans un format binaire afin de minimiser la place occupée en mémoire.
Malheureusement, le facteur limitant nous empêchant d'intégrer davantage d'éléments dans ce script est la capacité de la mémoire de travail
Python
NumWorks
, avec seulement dans les
16Kio
, actuellement la pire capacité parmi toutes les solutions concurrentes.
archives_voir.php?id=2119058