Sur le compte "hpcomputers" officiel de YouTube, on trouve maintenant une
vidéo promotionnelle de la calculatrice HP Prime

On the official "hpcomputers" Youtube account, there's now a
marketing clip of the HP Prime calculator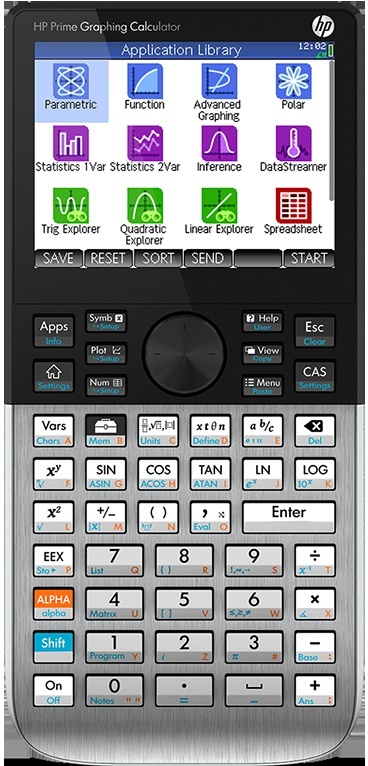 L'écran couleur 3.5" multi-touch est mentionné, et on voit notamment le clavier alphabétique superposé au reste (comme les TI-Z80, TI-68k et de nombreux modèles d'autres fabricants), ainsi que la batterie

En revanche, aucune info sur le processeur, la RAM et l'espace de stockage dans la vidéo - ce sont les infos qui m'intéressent le plus, car ce sont celles qui définissent véritablement une plate-forme

The 3.5" multi-touch color screen is mentioned, and we can also see the alpha keys superposed to other keys (like on the TI-Z80, TI-68k and many other models from other manufacturers), as well as a battery

However, no information about the CPU, RAM and storage room - which are the pieces of information of highest interest to me, as they truly are what defines a platform

A travers des fonctionnalités comme la géométrie dynamique, et des mentions spécifiques des
students
, on voit que la calculatrice est beaucoup plus orientée éducation que de nombreux autres modèles d'HP.
Through functionalities such as dynamic geometry, and specific
students
mention, we can see that the calculator is much more students-oriented than many other HP calculator models.
A titre personnel, je trouve beaucoup plus pratique cette superposition alphabétique que les touches séparés des claviers Nspire et leurs touches minuscules - même avec de longs doigts fins.
Speaking on my own, I think that the alpha keys superposed with other keys are much more convenient than the Nspire keyboards' two sets of keys and their tiny keys - even with long, thin fingers.
Manifestement, d'après la vidéo et l'image, ceux qui indiquaient qu'elle avait la même résolution d'écran et les mêmes caractéristiques CPU / mémoire que la 50g n'avaient pas accès aux infos correctes.
Looks like, from the clip and image, that those who indicated that its screen resolution and CPU / memory characteristics were the same as the 50g's, didn't have access to the correct pieces of information.
En tout cas, c'est une machine qui rapproche, techniquement, les machines HP de l'état de l'art en calculatrices, ou même qui définit l'état de l'art

Bien sûr, la calculatrice ne va certainement pas être donnée, mais elles sont
toutes
beaucoup trop chères pour ce qu'elles sont... Je lisais encore toute à l'heure un post sur une plate-forme proche de son vrai prix: un téléphone à 12$:
http://www.bunniestudios.com/blog/?p=3040
...
Anyway, this calculator technically makes HP calculators much closer to the state of the art in the matter of calculators, or even define said state of the art

Of course, this calculator is unlikely to be cheap, but
all
calculators are too expensive for the limited functionality they provide. Earlier today, I read once again about a platform much closer to its real price: a $12 phone:
http://www.bunniestudios.com/blog/?p=3040
...
On verra ce que TI va faire avec la
CX Premium

We'll see what TI does with the
CX Premium

Edit :
On peut trouver sur le net (Sillicium.org), des informations non-officielles détaillant certaines caractéristiques : processeur ARM9 à 400 MHz, 32 Mo de RAM, 256 Mo de ROM...
On the internet (Sillicium.org), we can find some unofficial information with some tech specs : 400 MHZ ARM9 processor, 32 MB of RAM, 256 MB of ROM...