La fx-82ES Plus est la calculatrice scientifique de base pour le primaire et le collège, commercialisée internationalement par Casio.
The fx-82ES Plus is a scientific calculator aimed for primary and secondary school, marketed worldwidely by Casio.
Mais en France, cette calculatrice a été remplacée par un modèle spécifique, la fx-92 Collège 2D+ dont le clavier et le système ont été traduits en français.
But in France, this calculator was replaced by a specific model, the fx-92 Collège 2D+ whose keyboard and system were translated in French.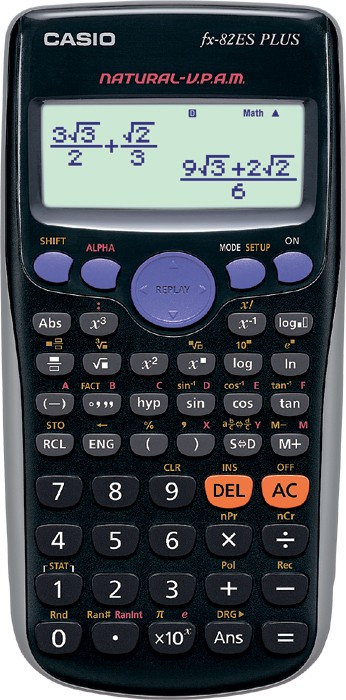 De façon similaire, Casio sort une version spécifique au marché chinois, la fx-82ES Plus A, ce qui nous rappelle la récente version chinoise de la Casio Prizm, la
fx-CG20CN
.
Similarly, Casio released a specific version for the chinese market, the fx-82ES Plus A, which reminds us of the recent chinese version of the Casio Prizm, the
fx-CG20CN
.
On sera étonné du 'A' d'ailleurs. Est-ce pour 'Asie' alors que le continent est bien loin de se réduire à la Chine? Pourquoi pas un 'C' comme pour les TI-Nspire CM-C et TI-Nspire CX-C ou encore un 'CN' comme la fx-CG20CN?...
By the way we would be stunned of the 'A'. Does it stand for 'Asia' whereas the continent is far away from being closed to China? Why not a 'C' like for TI-Nspire CM-C and TI-Nspire CX-C, or even a 'CN' like for the fx-CG20CN?...
On remarque la petite étiquette holographique sous le nom de marque, un signe distinctif spécifique à la Chine et destiné à combattre les contrefaçons.
We can spot the holographic label under the brand's name, a distinctive sign specifically destined for China and to struggle against counterfeiting..
Cette calculatrice sera donc disponible en plusieurs coloris:
les versions avec les habillages noir et gris internationaux
les versions bleue et rose pour les garçons et les filles comme on y a longtemps eu droit chez Texas Instruments avec les TI-83 Plus et TI-84 Plus notamment
This calculator will be available in multiple flavors:
versions with a black and grey international skins
blue and pink versions for boys and girls like we've seen by Texas Instruments with its notable TI-83 Plus and TI-84 Plus
Le clavier ne semble toutefois pas avoir été traduit en chinois. Une seule mention en chinois est présente en haut de l'écran pour l'affichage en écriture naturelle.
However, the keyboard seems not translated in chinese. A chinese mention is seen at the top of the screen of VPAM's (natural writing) Casio.
Qu'y a-t-il donc de spécifique à la Chine à part une mention sur le boîtier et un sticker? On y arrive:
But what is specific for China except a mention on the case and a sticker ? We're coming about this:
Et oui, le système de ce modèle a été partiellement traduit en chinois, et son affichage ne pose aucune difficulté à l'écran matriciel de la calculatrice.
And yes, the model's system was partially translated in chinese, and its display doesn't give difficulty for the calculator's matrix screen.
http://www.cncalc.org/thread-9125-1-1.html
http://www.cncalc.org/forum.php?mod=viewthread&tid=9111