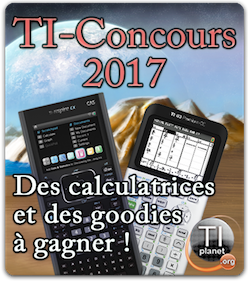 Il y a
moins de deux semaines
, j'avais le grand plaisir d'annoncer le retour du TI-Concours, pour une nouvelle édition en 2017.
Comme convenu, ce samedi 25 mars marque le début des hostilités, avec la publication des sujets !

Petit rappel du règlement
Trois sujets ont été publiés peu après minuit.
Le but est d'en faire au moins deux
, et de nous envoyer,
d'ici 30 jours le 30 avril prochain à 23h59 (UTC+2)
, ce que tu as été capable de faire. À la fin, tes deux meilleurs scores (sur trois, en théorie) sont pris en compte pour le classement final, qui désignera le grand vainqueur du concours.

À noter que les trois sujets couvrent chacun un "thème" différent. La difficulté des différents sujets n'est pas forcément équivalente. Néanmoins, tes scores seront harmonisés, afin que personne ne soit pénalisé par ses choix.

En d'autres termes, le but, c'est juste de faire mieux que les autres !

Les sujets
À noter que, cette année, les sujets contiennent des références à des membres notables de TI-Planet. Si tu ne les comprends pas, n'hésite pas à demander.


Mise en garde

À la fin, tu dois transférer tes programmes depuis la calculatrice vers votre ordinateur.
Ne t'y prends pas à la dernière minute, surtout si tu n'as pas l'habitude !
Lors des éditions précédentes, on a eu plusieurs cas de participants n'ayant pu envoyer leur programme dans les temps à cause d'un problème lié au transfert de programmes.
Autres remarques
Si une ambiguïté s'est glissée dans un sujet, n'hésite pas à m'en faire part au plus vite. Dans les pires cas, les sujets pourront être mis à jour, afin que tout le monde profite des modifications apportées.
N'oublie pas que l'important, c'est de participer : nous espérons que tu prendras beaucoup de plaisir à réaliser les différents programmes qui te sont demandés. En particulier, t'investir dans ce concours te permettra probablement d'apprendre des choses, dans le domaine de la programmation et de l'algorithmique en général.

Bonne chance à tous et à toutes !

Less than two weeks ago
, I was glad to announce that the TI-Concours would be held once again in 2017.
As promised, the contest starts today, Saturday March 25th, with the release of tasks!

Rules (reminder)
Three tasks were published shortly after midnight.
The goal is to make something for at least two of them
, and send us what you were able to do,
less than 30 days after the contest has started until April 30th, 23:59 (UTC+2)
. At the end, your two best scores (out of at most three) are considered to make the final ranking, which will let us know who is the winner of this contest.

Please not that all three tasks cover a different topic. The difficulty is not necessarily the same for all three tasks. Nevertheless, all scores will be harmonized, so that you will be penalized by which tasks you decided to solve.

In other words, the goal is just to do something better than others!

Tasks
This year, the tasks sometimes refer to things that happened in TI-Planet. If you do not understand what there are referring to, do not hesitate to ask.


Warning

At the end, you have to send your programs from your calculator to your computer.
Don't do it at the very last minute, especially if you are not used to it!
During previous editions, there were a few participants that could not send their program before the deadline because they were facing issues related to this.
Other remarks
If you find anything weird in one of the three documents, please tell me as quickly as possible. In the worst cases, tasks might be updated, so that everyone can know which modifications were made.
Do not forget that the most important is to participate: we hope that you will have a lot of fun making the various programs that are asked to you. Especially, investing in this contest may let you learn new things, related to programmation and algorithmic.

Good luck to everyone !