Il est communément admis et explicité sur nombre de sites distribuant des images de ROMs
(notamment pour consoles de jeux)
qu'il est légal de les télécharger et de les émuler si l'on dispose du matériel contenant cette ROM.
It is commonly held, and explained on many sites distributing ROM images
(for instance for gaming consoles)
, that downloading them for emulation purposes is legal if one has the hardware containing said ROM image.
En fait le problème est beaucoup plus compliqué et cette "règle" n'a rien de légal, au sens où elle ne fait partie d'aucun texte de loi.
Actually, the problem is much more complicated, and this "rule" is not legal, in the sense that it's not part of any piece of law.
Au siècle dernier, la communauté TI s'était donnée beaucoup de mal afin de produire des émulateurs de calculatrices TI, qui devaient être chargés manuellement par chaque utilisateur avec une image de ROM ou OS récupérée par ses soins. Ainsi, les auteurs d'émulateurs se déchargeant ainsi des problèmes légaux éventuels vers leurs utilisateurs.
At the end of the previous century, the TI calculators community spent significant effort on producing TI graphing calculator emulators, in which each user had to manually enter a ROM or OS image retrieved by his/her own means. That way, emulator authors passed legal problems (if any) on to their users.
Ces dernières années, il y a eu nombre de changements dans le monde de l'émulation:
Over the last few years, many changes have occurred in the emulation field:
nombre d'émulateurs communautaires de qualités diverses ont fleuri pour téléphones et tablettes

many community emulators of various quality and completeness have blossomed for smartphones and tablets

la communauté offre désormais des émulateurs en ligne qui déchargent donc largement l'utilisateur des contraintes de compatibilités entre les différents types d'ordinateurs ou d'installation

(on peut citer TI8XEmu sur TI-Planet ou jsTIfied sur Cemetech)

the community now provides online emulators, which largely free users from compatibility headaches between computer types or installation procedures

(let's mention TI8XEmu on TI-Planet or jsTIfied on Cemetech)

Mais du côté de TI aussi il s'est passé des choses:
However, things also evolved on TI's side
TI s'est mis sérieusement à la simulation (moins avancée que l'émulation) de ses machines via le logiciels Nspire (ou encore TI-SmartView pour TI-83+, TI-84, TI-73, TI-Collège Plus, TI-30X MultiView, TI-30X Pro MultiView, TI-34 MultiView, logiciels de qualité)

TI started to take seriously the simulation (less advanced than emulation) of their machines, through the Nspire software (or TI-SmartView for pour TI-83+, TI-84, TI-73, TI-Collège Plus, TI-30X MultiView, TI-30X Pro MultiView, TI-34 MultiView, which are quality software)

TI offre une sorte de simulateur de TI-Nspire en ligne via le TI-Nspire Document Player

TI offers some sort of online Nspire simulator, through the TI-Nspire Document Player

TI a récemment commencé à vendre un simulateur de TI-Nspire pour tablette iPad

TI recently started to sell a Nspire simulator for the iPad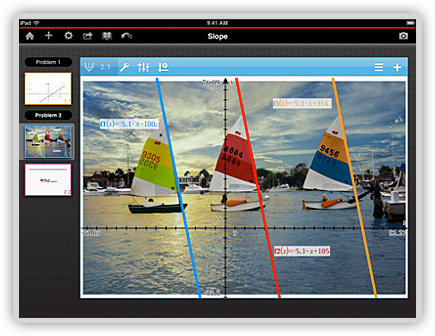 Dans ce contexte, comme signalé sur #cemetech, un "petit" changement vient d'être introduit dans la licence TI-Software/App consultable lorsque l'on télécharge un OS sur le site de TI:
In this context, as mentioned on #cemetech, a "small" change has just been introduced in the TI-Software/App license, presented to users when downloading an OS from TI's site: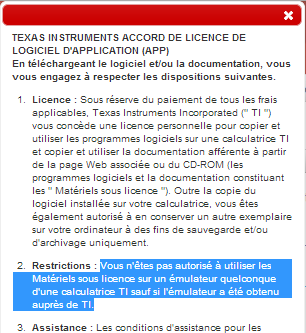 Soit en français :
TI wrote:

TEXAS INSTRUMENTS ACCORD DE LICENCE DE LOGICIEL D'APPLICATION (APP)

En téléchargeant le logiciel et/ou la documentation, vous vous engagez à respecter les dispositions suivantes.



Licence

: Sous réserve du paiement de tous les frais applicables, Texas Instruments Incorporated (" TI ") vous concède une licence personnelle pour copier et utiliser les programmes logiciels sur une calculatrice TI et copier et utiliser la documentation afférente à partir de la page Web associée ou du CD-ROM (les programmes logiciels et la documentation constituant les " Matériels sous licence "). Outre la copie du logiciel installée sur votre calculatrice, vous êtes également autorisé à en conserver un autre exemplaire sur votre ordinateur à des fins de sauvegarde et/ou d'archivage uniquement.





Restrictions

:

[..]

Vous n'êtes pas autorisé à utiliser les Matériels sous licence sur un émulateur quelconque d'une calculatrice TI sauf si l'émulateur a été obtenu auprès de TI.
TI wrote:

TEXAS INSTRUMENTS APP SOFTWARE LICENSE AGREEMENT

By downloading the software and/or documentation you agree to abide by the following provisions.



Licence

: Subject to your payment of any applicable license fee, Texas Instruments Incorporated ("TI") grants you a license to copy and use the software program(s) on a TI calculator and copy and use the documentation from the linked web page or CD ROM (both software programs and documentation being "Licensed Materials"). In addition to the copy resident on your calculator, you may keep a copy on your computer for backup / archive purposes only.

Restrictions

:

[..]

: You may not use the Licensed Materials on any emulator of a TI calculator unless the emulator is obtained from TI.
Et oui, désormais, vous avez interdiction d'utiliser les images d'OS de TI avec des émulateurs de calculatrices TI communautaires, en contradiction totale avec la règle simpliste énoncée en introduction.

Yup, from now on, using TI's OS images with community TI calculator emulators is forbidden, which is in complete contradiction with the simplistic rule mentioned at the beginning of this post.

On pourrait bien sûr se dire que ces calculatrices virtuelles gratuites que nous donnent les émulateurs entrent en conflit avec la vente des calculatrices : pourquoi acheter une calculatrice physique quand on peut en avoir une gratuite sur son ordinateur ?
Il y a quelques années la question ne se posait pas, mais maintenant que certains ordinateurs prennent la forme de téléphones ou tablettes pas plus encombrants (et
beaucoup
plus puissants !) que des calculatrices, la situation a changé...
Of course, we can think of the fact that no-fee virtual calculators that emulators provide conflict with calculator sales: why buy a physical calculator when one can have a virtual calculator on the computer for no fee ?
Several years ago, the "problem" didn't exist, but nowadays, smartphone or tablet are computers with a form factor not larger than calculators (and they're
much
more powerful !), so the situation changed...
Certains diront peut-être que c'est un combat dépassé, que TI se doit d'évoluer...
Mais justement essayons de regarder au-delà de ça, car il y a peut-être un enjeu encore plus important derrière. Nous n'avons donc le droit d'utiliser les images ROMs et OS qu'avec les émulateurs fournis par TI... TI aurait-il l'intention de s'investir encore plus dans le monde de la simulation et de l'émulation de leurs produits ?
Some persons will say that TI needs to evolve instead of taking part in downhill battles...
But however, let's try to look beyond the facts, as there might be even more important issues at stake. So, as we're now allowed to use ROM and OS images only with emulators provided by TI... would this mean that TI intends on investing even further in the area of simulation and emulation of their products?
Nous attendons donc avec impatience et excitation:
un émulateur de TI-84+ en ligne pour remplacer TI8XEmu

(TI-Planet)

et jsTIfied

(Cemetech)

que nous n'avons désormais apparemment plus le droit d'utiliser
un émulateur de TI-89/92+/Voyage 200
We're impatiently and excitingly awaiting:
an online TI-84+ emulator, in order to replace TI8XEmu

(TI-Planet)

and jsTIfied

(Cemetech)

which we seemingly no longer have the right to use
a 89/92+/V200/89T emulator
Mais nous pouvons également souhaiter que TI annule des clauses de ce genre...
But we can also wish that TI removes such clauses...
Situation à suivre...
Situation to be watched...
Source:
#cemetech
Edit:

Et en effet bingo: TI prépare un émulateur en ligne de TI-84 pour les "PARCC mathematics assessments for High School" comme déjà annoncé ici:
viewtopic.php?f=41&t=10813
Edit:

Indeed, TI is planning an online TI-84 emulator for the PARCC mathematics assessments for High School as you could allready read here (in french):
viewtopic.php?f=41&t=10813